{"id":10262780291,"title":"Readtopia - Adapted Reading Curriculum 1 Year Subscription","handle":"readtopia-curriculum","description":"\u003ch2\u003eComprehensive Reading, ELA, Social Studies, and Science - all in one experiential instructional program, specially designed for students with complex learning needs. \u003c\/h2\u003e\n\u003cp\u003eIdeal for middle and high school students with autism and other complex needs, Readtopia \u003cspan\u003ebrings unique levelled graphic novels, purposeful and engaging videos and a plethora of teacher materials for effective reading instruction. \u003c\/span\u003e\u003c\/p\u003e\n\u003cp\u003e\u003cem\u003e\u003cstrong\u003eMulti-year and multi-teacher discounts available. \u003ca href=\"mailto:info@bridges-canada.com\" target=\"_blank\" rel=\"noopener noreferrer\"\u003eContact us\u003c\/a\u003e for a quote.\u003c\/strong\u003e\u003c\/em\u003e\u003c\/p\u003e\n\u003cp\u003e \u003c\/p\u003e\n\u003cp\u003e\u003cspan\u003eFor many, reading is not a natural act, but everyone naturally derives learning from first-hand experience.\u003cbr\u003e\u003cbr\u003eReadtopia brings first-hand \u003cstrong\u003eexperiential learning\u003c\/strong\u003e into the classroom, so students can \u003cem\u003ebridge the gap between learning through reading, and learning through experiencing\u003c\/em\u003e.\u003cbr\u003e\u003cbr\u003eThis approach taps students' natural learning capabilities, and channels them into reading capabilities so students can begin to more fully participate both in school and in life.\u003cbr\u003e\u003cbr\u003e\u003c\/span\u003e\u003c\/p\u003e\n\u003cul\u003e\n\u003cli\u003eReadtopia takes students down 1,000 feet in a submarine as they learn about oceanography.\u003c\/li\u003e\n\u003cli\u003eStudents hear from Sacagawea to understand the journey Lewis and Clark faced heading west.\u003c\/li\u003e\n\u003cli\u003eReadtopia brings students into a volcano in Iceland as a way to introduce them to the book Journey to the Center of the Earth.\u003c\/li\u003e\n\u003c\/ul\u003e\n\u003cp\u003e\u003cspan\u003e\u003cbr\u003eAll of this is supported by authentic literature, phonics\/early reading instruction, and informational text that builds foundational reading skills. Readtopia delivers the curriculum through thematic units that will help you transform classrooms into laboratories of experiential learning.\u003c\/span\u003e\u003c\/p\u003e\n\u003cp\u003e\u003cspan\u003eReadtopia materials include: \u003c\/span\u003e\u003c\/p\u003e\n\u003cul\u003e\n\u003cli\u003eOriginal video\u003c\/li\u003e\n\u003cli\u003eGraphic novels (at six levels)\u003c\/li\u003e\n\u003cli\u003eAuthentic text (chapter book)\u003c\/li\u003e\n\u003cli\u003eLeveled Informational Text\u003c\/li\u003e\n\u003cli\u003ePhonic\/Word Study\u003c\/li\u003e\n\u003cli\u003eAssessment\u003c\/li\u003e\n\u003cli\u003eTeacher guide that pulls everything together into incredible instruction\u003c\/li\u003e\n\u003c\/ul\u003e\n\u003cp\u003eThe Readtopia curriculum covers a full-range of Reading and ELA skills \u003c\/p\u003e\n\u003cp\u003e\u003cimg src=\"\/\/cdn.shopify.com\/s\/files\/1\/1192\/0390\/files\/standardsalignment.JPG?v=1494611555\" alt=\"Readtopia curriculum covers a full-range of Reading and ELA skills\"\u003e\u003c\/p\u003e\n\u003cp\u003e \u003c\/p\u003e\n\u003ch5\u003eProgram Components\u003c\/h5\u003e\n\u003cp\u003e\u003cspan\u003eAll of the Readtopia resources are available online to subscribers. Browse the tabs to see each program component in detail including Videos, Leveled Text Graphic Novels and Authentic Text, Informational Text, Phonics \/ Sight Words \/ Vocabulary, and Assessment.\u003c\/span\u003e\u003c\/p\u003e\n\u003cp\u003e\u003cspan\u003e\u003cstrong\u003eTeacher Guide\u003c\/strong\u003e\u003cbr\u003e\u003c\/span\u003e\u003c\/p\u003e\n\u003cp\u003e\u003cspan\u003eA Teacher Guide is included with each thematic unit. It walks teachers through each step of implementation chapter-by-chapter.\u003c\/span\u003e\u003c\/p\u003e\n\u003cp\u003e\u003cspan\u003eEach chapter contains several lessons covering different aspects of instruction.\u003cbr\u003e\u003cbr\u003eHere's how a typical chapter unfolds. In addition, understanding is assessed three times per unit.\u003cbr\u003e\u003cbr\u003eThe sequence of instruction for the first chapter in Westward Expansion is laid out below.\u003cbr\u003e\u003cbr\u003eLesson Plan:\u003cbr\u003eWestward Expansion\u003cbr\u003e\u003cstrong\u003eSacagawea (Chapter 1)\u003c\/strong\u003e\u003c\/span\u003e\u003c\/p\u003e\n\u003cul\u003e\n\u003cli\u003eVideo Lesson: Sacagawea\u003c\/li\u003e\n\u003cli\u003eLiterature Comprehension Lesson Focus | Related Ideas\u003c\/li\u003e\n\u003cli\u003ePhonics Lesson: making Words or Word Study: Change the Word\u003c\/li\u003e\n\u003cli\u003eClose Reading Lesson Graph | Population\u003c\/li\u003e\n\u003cli\u003eIndependent Reading\/Shared Reading Lesson Graphic Novels\u003c\/li\u003e\n\u003cli\u003ePhonics Lesson: making Words or Word Study: Word Builder\u003c\/li\u003e\n\u003c\/ul\u003e\n\u003cp\u003e \u003c\/p\u003e\n\u003cp style=\"text-align: center;\"\u003e\u003cimg alt=\"Readtopia Program Comonents\" src=\"\/\/cdn.shopify.com\/s\/files\/1\/1192\/0390\/files\/teachig-is-exploring-westward-expansion_large.jpg?v=1494600138\" style=\"display: block; margin-left: auto; margin-right: auto; float: none;\"\u003e\u003c\/p\u003e\n\u003cp\u003e \u003c\/p\u003e\n\u003ch5\u003eVideos\u003c\/h5\u003e\n\u003cp\u003e\u003cspan\u003eReadtopia videos play a crucial part in learning. They form a window into the content that is crucial to support students as they learn to read. These videos are designed to build background knowledge, establish vocabulary, and build visual mental models of the materials covered in subsequent lessons and in the reading. All this, \u003c\/span\u003e\u003cem\u003eand they're engaging\u003c\/em\u003e\u003cspan\u003e!\u003c\/span\u003e\u003c\/p\u003e\n\u003cp\u003e \u003c\/p\u003e\n\u003ch5\u003e\u003cspan\u003eLevelled Text Graphic Novels \u003c\/span\u003e\u003c\/h5\u003e\n\u003cp\u003e \u003c\/p\u003e\n\u003cp style=\"text-align: center;\"\u003e\u003cimg alt=\"Reatopia reading levelled text graphic novels\" src=\"\/\/cdn.shopify.com\/s\/files\/1\/1192\/0390\/files\/graphic-novels.jpg?v=1494610202\" style=\"float: none;\"\u003e\u003c\/p\u003e\n\u003cp\u003e\u003cspan\u003eGraphic novels use age-respectful images to reinforce text. The book covers are all the same, but inside, the text is carefully \u003cstrong\u003eleveled\u003c\/strong\u003e! Here's the first page in the graphic novel Sacagawea at six levels:\u003c\/span\u003e\u003c\/p\u003e\n\u003cp style=\"text-align: left;\"\u003e\u003cspan\u003e\u003cimg alt=\"Readtopia - levelled text graphic novels \" src=\"\/\/cdn.shopify.com\/s\/files\/1\/1192\/0390\/files\/levelled_text_Readtopia_grande.JPG?v=1494600665\" style=\"display: block; margin-left: auto; margin-right: auto; float: none;\"\u003e\u003c\/span\u003e\u003c\/p\u003e\n\u003cp style=\"text-align: center;\"\u003e\u003cimg alt=\"Reatopia Level 7 – Authentic Literature – Chapter books\" src=\"\/\/cdn.shopify.com\/s\/files\/1\/1192\/0390\/files\/top_levelled_text_grande.JPG?v=1494600803\" style=\"float: none;\"\u003e\u003c\/p\u003e\n\u003ch5 style=\"text-align: left;\"\u003e\u003cspan\u003eInformational Text\u003c\/span\u003e\u003c\/h5\u003e\n\u003cp style=\"text-align: left;\"\u003e\u003cspan\u003eStudents experience 10 different text types including:\u003cbr\u003e\u003cbr\u003e\u003c\/span\u003e\u003c\/p\u003e\n\u003cul\u003e\n\u003cli\u003eCompare and Contrast\u003c\/li\u003e\n\u003cli\u003eBibliography\u003c\/li\u003e\n\u003cli\u003eMap\u003c\/li\u003e\n\u003cli\u003eChart\/Graph\u003c\/li\u003e\n\u003cli\u003eDirections\u003c\/li\u003e\n\u003cli\u003eTimeline\u003c\/li\u003e\n\u003cli\u003eArticle with a Sidebar\u003c\/li\u003e\n\u003cli\u003eTwo Text Types (with same subject)\u003c\/li\u003e\n\u003cli\u003eClaim\/Evidence\u003c\/li\u003e\n\u003cli\u003eFantastic Facts\u003c\/li\u003e\n\u003c\/ul\u003e\n\u003cp style=\"text-align: left;\"\u003e\u003cspan\u003eAll of the text types are covered in each Thematic Unit. Below is an example of the Timeline text type at four levels for the Westward Expansion Thematic Unit. Comprehension tasks (on the back activities) are included at each level.\u003c\/span\u003e\u003c\/p\u003e\n\u003cp style=\"text-align: left;\"\u003e \u003c\/p\u003e\n\u003cp style=\"text-align: center;\"\u003e\u003cstrong\u003eLevel 1 Timeline\u003c\/strong\u003e\u003c\/p\u003e\n\u003cp style=\"text-align: center;\"\u003e\u003cimg alt=\"Reatopia - Level 1 Timeline\" src=\"\/\/cdn.shopify.com\/s\/files\/1\/1192\/0390\/files\/Timeline-1_large.jpg?v=1494604571\" style=\"float: none;\"\u003e\u003c\/p\u003e\n\u003cp style=\"text-align: center;\"\u003e \u003c\/p\u003e\n\u003cp style=\"text-align: center;\"\u003e\u003cstrong\u003eLevel 1 Comprehension Activity\u003c\/strong\u003e\u003c\/p\u003e\n\u003cp style=\"text-align: center;\"\u003e\u003cimg alt=\"Readtopia Level 1 comprehension activity\" src=\"\/\/cdn.shopify.com\/s\/files\/1\/1192\/0390\/files\/Timeline-1comprehension_large.jpg?v=1494604601\" style=\"float: none;\"\u003e\u003c\/p\u003e\n\u003cp style=\"text-align: center;\"\u003e \u003c\/p\u003e\n\u003cp style=\"text-align: center;\"\u003e\u003cstrong\u003eLevel 2 Timeline\u003c\/strong\u003e\u003c\/p\u003e\n\u003cp style=\"text-align: center;\"\u003e\u003cimg alt=\"Reatopia Level 2 Timeline\" src=\"\/\/cdn.shopify.com\/s\/files\/1\/1192\/0390\/files\/Timeline-2_large.jpg?v=1494604637\" style=\"float: none;\"\u003e\u003c\/p\u003e\n\u003cp style=\"text-align: center;\"\u003e \u003c\/p\u003e\n\u003cp style=\"text-align: center;\"\u003e\u003cstrong\u003eLevel 2 Comprehension Activity\u003c\/strong\u003e  \u003c\/p\u003e\n\u003cp style=\"text-align: center;\"\u003e\u003cimg alt=\"Readtopia Level 2 comprehension activity\" src=\"\/\/cdn.shopify.com\/s\/files\/1\/1192\/0390\/files\/Timeline-2comprehension_large.jpg?v=1494604666\" style=\"float: none;\"\u003e\u003c\/p\u003e\n\u003cp style=\"text-align: center;\"\u003e \u003c\/p\u003e\n\u003cp style=\"text-align: center;\"\u003e\u003cstrong\u003eLevel 4 Timeline\u003c\/strong\u003e\u003c\/p\u003e\n\u003cp style=\"text-align: center;\"\u003e\u003cimg alt=\"Readtopia Level 4 Timeline\" src=\"\/\/cdn.shopify.com\/s\/files\/1\/1192\/0390\/files\/Timeline-4_large.jpg?v=1494609627\" style=\"float: none;\"\u003e\u003c\/p\u003e\n\u003cp style=\"text-align: center;\"\u003e\u003cstrong\u003eLevel 4 Comprehension Activity\u003c\/strong\u003e \u003c\/p\u003e\n\u003cp style=\"text-align: center;\"\u003e\u003cimg alt=\"Readtopia Level 4 Comprehension Activity\" src=\"\/\/cdn.shopify.com\/s\/files\/1\/1192\/0390\/files\/Timeline-4comprehension_large.jpg?v=1494609756\" style=\"float: none;\"\u003e\u003c\/p\u003e\n\u003cp style=\"text-align: center;\"\u003e \u003c\/p\u003e\n\u003ch5 style=\"text-align: left;\"\u003ePhonics\/ Sight Words\/ Vocabulary \u003c\/h5\u003e\n\u003cp style=\"text-align: left;\"\u003e \u003c\/p\u003e\n\u003cp style=\"text-align: center;\"\u003e\u003cimg alt=\"Readtopia - studying phonics\" src=\"\/\/cdn.shopify.com\/s\/files\/1\/1192\/0390\/files\/Phonics2.jpg?v=1494610155\" style=\"float: none;\"\u003e\u003c\/p\u003e\n\u003cp style=\"text-align: left;\"\u003e \u003c\/p\u003e\n\u003cp style=\"text-align: left;\"\u003ePhonics \/ Sight Words \/ Word Study lessons cover both vocabulary in the thematic unit and high frequency word sets for general word identification.\u003cbr\u003e\u003cbr\u003eBook-specific phonics lessons (15 lessons per thematic unit) are divided into 5-types: Change the Word, Word Builder, Slice and Dice, Word + Word, Word in a Word.\u003cbr\u003e\u003cbr\u003eSight words for each chapter include AAC Core Vocabulary Words.\u003c\/p\u003e\n\u003cp style=\"text-align: left;\"\u003e \u003c\/p\u003e\n\u003cp style=\"text-align: center;\"\u003e\u003cimg alt=\"Reatopia Phonics \/ Sight Words \/ Word Study\" src=\"\/\/cdn.shopify.com\/s\/files\/1\/1192\/0390\/files\/Word-Study-Change-the-Word-1_large.jpg?v=1494609922\" style=\"float: none;\"\u003e\u003c\/p\u003e\n\u003cdiv style=\"text-align: center;\"\u003e\u003cimg alt=\"Readtopia Phonics \/ Sight Words \/ Word Study\" src=\"http:\/\/donjohnston.com\/wp-content\/uploads\/2017\/03\/Sacagawea-Vocabulary-Cards-1.jpg\" style=\"float: none;\"\u003e\u003c\/div\u003e\n\u003cdiv style=\"text-align: center;\"\u003e\u003c\/div\u003e\n\u003cp style=\"text-align: center;\"\u003e\u003cimg alt=\"Reatopia Phonics \/ Sight Words \/ Word Study\" src=\"\/\/cdn.shopify.com\/s\/files\/1\/1192\/0390\/files\/Sacagawea-Word-Study_21b44037-77d3-494c-b760-788f85d857ac_large.jpg?v=1494609972\" style=\"float: none;\"\u003e\u003c\/p\u003e\n\u003cp style=\"text-align: center;\"\u003e \u003c\/p\u003e\n\u003ch5 style=\"text-align: left;\"\u003eAssessment\u003c\/h5\u003e\n\u003cp style=\"text-align: left;\"\u003e \u003c\/p\u003e\n\u003cp style=\"text-align: center;\"\u003e\u003cimg alt=\"Readtopia Assessment\" src=\"\/\/cdn.shopify.com\/s\/files\/1\/1192\/0390\/files\/Assessment-student.jpg?v=1494611332\" style=\"float: none;\"\u003e\u003c\/p\u003e\n\u003cp style=\"text-align: left;\"\u003eStudent response to instruction is assessed several times during each Thematic Unit. Data is easily collected and compared across units.\u003cbr\u003e\u003cbr\u003e\u003cstrong\u003eCloze Maze assessment examples\u003c\/strong\u003e\u003cbr\u003e\u003cstrong\u003eWestward Expansion\u003c\/strong\u003e\u003c\/p\u003e\n\u003cp style=\"text-align: center;\"\u003e\u003cstrong\u003e Level 1 \u003c\/strong\u003e\u003c\/p\u003e\n\u003cp style=\"text-align: center;\"\u003e\u003cimg alt=\"Readtopia Cloze Maze assessment level 1\" src=\"\/\/cdn.shopify.com\/s\/files\/1\/1192\/0390\/files\/Sac-Cloze-Maze-Level1_large.jpg?v=1494610338\" style=\"float: none;\"\u003e\u003c\/p\u003e\n\u003cp style=\"text-align: center;\"\u003e \u003c\/p\u003e\n\u003cp style=\"text-align: center;\"\u003e\u003cstrong\u003eLevel 2\u003c\/strong\u003e\u003c\/p\u003e\n\u003cp style=\"text-align: center;\"\u003e\u003cimg alt=\"Readtopia - Cloze Maze assessment level 2\" src=\"\/\/cdn.shopify.com\/s\/files\/1\/1192\/0390\/files\/Sac-Cloze-Maze-L2_large.jpg?v=1494610366\" style=\"float: none;\"\u003e\u003c\/p\u003e\n\u003cp style=\"text-align: center;\"\u003e \u003c\/p\u003e\n\u003cp style=\"text-align: center;\"\u003e\u003cstrong\u003eLevel 3\u003c\/strong\u003e\u003c\/p\u003e\n\u003cp style=\"text-align: center;\"\u003e\u003cimg alt=\"Readtopia Cloze Maze assessment level 3\" src=\"\/\/cdn.shopify.com\/s\/files\/1\/1192\/0390\/files\/Sac-Maze-Assessment-L3_large.jpg?v=1494610410\" style=\"float: none;\"\u003e\u003c\/p\u003e\n\u003cp style=\"text-align: center;\"\u003e \u003c\/p\u003e\n\u003ch5 style=\"text-align: left;\"\u003eThematic Units \u003c\/h5\u003e\n\u003cp style=\"text-align: left;\"\u003eWith your Readtopia subscription, you get access to ALL current titles as well as all future releases. Each thematic unit contains 6-12 weeks worth of content.\u003cbr\u003e\u003cbr\u003eCurrent Thematic Units (first release):\u003c\/p\u003e\n\u003cp style=\"text-align: left;\"\u003e \u003c\/p\u003e\n\u003cp style=\"text-align: center;\"\u003e\u003cstrong\u003eWestward Expansion | \u003cem\u003eSacagawea\u003c\/em\u003e\u003c\/strong\u003e\u003c\/p\u003e\n\u003cp style=\"text-align: center;\"\u003e\u003cimg src=\"\/\/cdn.shopify.com\/s\/files\/1\/1192\/0390\/files\/Sacagawea-comb_large.jpg?v=1494611066\" alt=\"\"\u003e\u003c\/p\u003e\n\u003cp style=\"text-align: center;\"\u003e \u003c\/p\u003e\n\u003cp style=\"text-align: center;\"\u003e\u003cstrong\u003eGeology \/ Dinosaurs | \u003cem\u003eJourney to the Center of the Earth\u003c\/em\u003e\u003c\/strong\u003e\u003c\/p\u003e\n\u003cp style=\"text-align: center;\"\u003e\u003cimg src=\"\/\/cdn.shopify.com\/s\/files\/1\/1192\/0390\/files\/Journey-comb_large.jpg?v=1494611102\" alt=\"\"\u003e\u003c\/p\u003e\n\u003cp style=\"text-align: center;\"\u003e \u003c\/p\u003e\n\u003cp style=\"text-align: center;\"\u003e\u003cstrong\u003eWWII | \u003cem\u003eThe Story of Anne Frank\u003c\/em\u003e\u003c\/strong\u003e\u003c\/p\u003e\n\u003cp style=\"text-align: center;\"\u003e\u003cimg src=\"\/\/cdn.shopify.com\/s\/files\/1\/1192\/0390\/files\/WWII-comb_large.jpg?v=1494611125\" alt=\"\"\u003e\u003c\/p\u003e\n\u003cp style=\"text-align: center;\"\u003e \u003c\/p\u003e\n\u003cp style=\"text-align: center;\"\u003e\u003cb\u003eOceanography | 20,000 Leagues Under the Sea\u003c\/b\u003e\u003c\/p\u003e\n\u003cp style=\"text-align: center;\"\u003e\u003cimg src=\"\/\/cdn.shopify.com\/s\/files\/1\/1192\/0390\/files\/20000-Leagues-comb_large.jpg?v=1494611160\" alt=\"\"\u003e\u003c\/p\u003e\n\u003cp style=\"text-align: center;\"\u003e \u003c\/p\u003e\n\u003cp style=\"text-align: center;\"\u003e\u003cstrong\u003eAncient Civilization \/ Maya\u003c\/strong\u003e\u003cstrong\u003e\/ The Planets | \u003cem\u003eThe Secrets of Old Mexico\u003c\/em\u003e\u003c\/strong\u003e\u003c\/p\u003e\n\u003cp style=\"text-align: center;\"\u003e\u003cimg src=\"\/\/cdn.shopify.com\/s\/files\/1\/1192\/0390\/files\/Maya-comb_large.jpg?v=1494611209\" alt=\"\"\u003e\u003c\/p\u003e\n\u003cp style=\"text-align: center;\"\u003e \u003c\/p\u003e\n\u003cp style=\"text-align: left;\"\u003e\u003cstrong\u003eUpcoming Thematic Units (second release summer 2017):\u003c\/strong\u003e\u003cbr\u003e\u003cbr\u003e\u003c\/p\u003e\n\u003cul\u003e\n\u003cli\u003eAncient Egypt \/ Cleopatra\u003c\/li\u003e\n\u003cli\u003eScientific Method \/ Glaciers \/ Frankenstein\u003c\/li\u003e\n\u003cli\u003eShakespearean times \/ Romeo \u0026amp; Juliet\u003c\/li\u003e\n\u003cli\u003eWeather and Stars \/ The Adventures of Huckleberry Finn\u003c\/li\u003e\n\u003cli\u003eEnglish History and Exploration \/ The Prince and the Pauper\u003c\/li\u003e\n\u003cli\u003eMarine Science and Navigation \/ Mutiny on the Bounty\u003c\/li\u003e\n\u003c\/ul\u003e\n\u003cp\u003e\u003cstrong\u003eFuture planned thematic units:\u003c\/strong\u003e\u003cspan\u003e Native Americans, Civil Rights, Slavery and Equality, Underground Railroad, American Revolution, Jane Goodall\u003c\/span\u003e\u003c\/p\u003e\n\u003cp\u003e \u003c\/p\u003e\n\u003ch5\u003e\u003cspan\u003eAuthenticity \u003c\/span\u003e\u003c\/h5\u003e\n\u003cp\u003e\u003cspan\u003eLine drawings can be appropriate for young elementary students, but in middle and high schools, these materials look "babyish." Engagement plummets.\u003cbr\u003e\u003cbr\u003eReadtopia materials are full of real photos and age-respectful illustrations—giving students an authentic understanding!\u003c\/span\u003e\u003c\/p\u003e\n\u003cp\u003e \u003c\/p\u003e\n\u003cp style=\"text-align: center;\"\u003e\u003cimg alt=\"Authentic, age-appropriate content in Readtopia \" src=\"\/\/cdn.shopify.com\/s\/files\/1\/1192\/0390\/files\/authenticity.JPG?v=1494612331\" style=\"float: none;\"\u003e\u003c\/p\u003e\n\u003cp style=\"text-align: center;\"\u003e \u003c\/p\u003e\n\u003ch5 style=\"text-align: left;\"\u003eSamples\u003c\/h5\u003e\n\u003cp style=\"text-align: left;\"\u003e \u003c\/p\u003e\n\u003cspan style=\"text-decoration: underline;\"\u003e\u003cstrong\u003e\u003ca href=\"https:\/\/marketing.donjohnston.com\/acton\/form\/4529\/0239:d-0002\/0\/-\/-\/-\/-\/index.htm\" target=\"_blank\" title=\"Readtopia Demo Site\" rel=\"noopener noreferrer\"\u003eCLICK HERE to explore  the Readtopia Demo Site.\u003c\/a\u003e\u003c\/strong\u003e\u003c\/span\u003e\n\u003cp style=\"text-align: left;\"\u003e \u003c\/p\u003e\n\u003cp style=\"text-align: left;\"\u003eSee the video below for a compilation of  clips from various Readtopia videos.\u003c\/p\u003e\n\u003cp style=\"text-align: center;\"\u003e\u003ciframe src=\"https:\/\/player.vimeo.com\/video\/210463327\" width=\"640\" height=\"360\" frameborder=\"0\" webkitallowfullscreen=\"\" mozallowfullscreen=\"\" allowfullscreen=\"\"\u003e\u003c\/iframe\u003e\u003c\/p\u003e\n\u003cp\u003e\u003ca href=\"https:\/\/vimeo.com\/210463327\"\u003eReadtopia Video Clip Compliation\u003c\/a\u003e from \u003ca href=\"https:\/\/vimeo.com\/donjohnstoninc\"\u003eDonJohnstonInc\u003c\/a\u003e on \u003ca href=\"https:\/\/vimeo.com\"\u003eVimeo\u003c\/a\u003e.\u003c\/p\u003e\n\u003cp\u003e \u003c\/p\u003e","published_at":"2017-05-15T09:30:11-04:00","created_at":"2017-05-11T14:04:41-04:00","vendor":"Don Johnston Incorporated","type":"Subscription","tags":["Early and Pre-Readiness","Emergent Literacy Level","Learning Area_Literacy","Learning Area_Math","Learning Area_Reading","Type_Curriculum","Type_Exclusives","Type_Subscription"],"price":67500,"price_min":67500,"price_max":67500,"available":true,"price_varies":false,"compare_at_price":null,"compare_at_price_min":0,"compare_at_price_max":0,"compare_at_price_varies":false,"variants":[{"id":38632091651,"title":"Default Title","option1":"Default Title","option2":null,"option3":null,"sku":"22RT0105","requires_shipping":false,"taxable":true,"featured_image":null,"available":true,"name":"Readtopia - Adapted Reading Curriculum 1 Year Subscription","public_title":null,"options":["Default Title"],"price":67500,"weight":0,"compare_at_price":null,"inventory_quantity":-9,"inventory_management":"shopify","inventory_policy":"continue","barcode":"","requires_selling_plan":false,"selling_plan_allocations":[]}],"images":["\/\/cdn.shopify.com\/s\/files\/1\/1192\/0390\/products\/readtopia-adapted-reading-curriculum-1-year-subscription-subscription-don-johnston-incorporated-assistive-technology-179942.jpg?v=1571439657","\/\/cdn.shopify.com\/s\/files\/1\/1192\/0390\/products\/readtopia-adapted-reading-curriculum-1-year-subscription-subscription-don-johnston-incorporated-assistive-technology-382047.jpg?v=1571439657","\/\/cdn.shopify.com\/s\/files\/1\/1192\/0390\/products\/readtopia-adapted-reading-curriculum-1-year-subscription-subscription-don-johnston-incorporated-assistive-technology-646678.jpg?v=1571439657","\/\/cdn.shopify.com\/s\/files\/1\/1192\/0390\/products\/readtopia-adapted-reading-curriculum-1-year-subscription-subscription-don-johnston-incorporated-assistive-technology-749323.jpg?v=1571439657","\/\/cdn.shopify.com\/s\/files\/1\/1192\/0390\/products\/readtopia-adapted-reading-curriculum-1-year-subscription-subscription-don-johnston-incorporated-assistive-technology-543472.JPG?v=1571439657","\/\/cdn.shopify.com\/s\/files\/1\/1192\/0390\/products\/readtopia-adapted-reading-curriculum-1-year-subscription-subscription-don-johnston-incorporated-assistive-technology-365427.jpg?v=1571439657","\/\/cdn.shopify.com\/s\/files\/1\/1192\/0390\/products\/readtopia-adapted-reading-curriculum-1-year-subscription-subscription-don-johnston-incorporated-assistive-technology-234417.jpg?v=1571439657","\/\/cdn.shopify.com\/s\/files\/1\/1192\/0390\/products\/readtopia-adapted-reading-curriculum-1-year-subscription-subscription-don-johnston-incorporated-assistive-technology-561613.jpg?v=1571439657","\/\/cdn.shopify.com\/s\/files\/1\/1192\/0390\/products\/readtopia-adapted-reading-curriculum-1-year-subscription-subscription-don-johnston-incorporated-assistive-technology-274344.jpg?v=1571439657"],"featured_image":"\/\/cdn.shopify.com\/s\/files\/1\/1192\/0390\/products\/readtopia-adapted-reading-curriculum-1-year-subscription-subscription-don-johnston-incorporated-assistive-technology-179942.jpg?v=1571439657","options":["Title"],"media":[{"alt":"Readtopia - Adapted Reading Curriculum 1 Year Subscription - Bridges Canada","id":229772853330,"position":1,"preview_image":{"aspect_ratio":1.778,"height":1080,"width":1920,"src":"https:\/\/cdn.shopify.com\/s\/files\/1\/1192\/0390\/products\/readtopia-adapted-reading-curriculum-1-year-subscription-subscription-don-johnston-incorporated-assistive-technology-179942.jpg?v=1568912345"},"aspect_ratio":1.778,"height":1080,"media_type":"image","src":"https:\/\/cdn.shopify.com\/s\/files\/1\/1192\/0390\/products\/readtopia-adapted-reading-curriculum-1-year-subscription-subscription-don-johnston-incorporated-assistive-technology-179942.jpg?v=1568912345","width":1920},{"alt":"Readtopia - Adapted Reading Curriculum 1 Year Subscription - Bridges Canada","id":229772886098,"position":2,"preview_image":{"aspect_ratio":1.778,"height":720,"width":1280,"src":"https:\/\/cdn.shopify.com\/s\/files\/1\/1192\/0390\/products\/readtopia-adapted-reading-curriculum-1-year-subscription-subscription-don-johnston-incorporated-assistive-technology-382047.jpg?v=1568912345"},"aspect_ratio":1.778,"height":720,"media_type":"image","src":"https:\/\/cdn.shopify.com\/s\/files\/1\/1192\/0390\/products\/readtopia-adapted-reading-curriculum-1-year-subscription-subscription-don-johnston-incorporated-assistive-technology-382047.jpg?v=1568912345","width":1280},{"alt":"Readtopia - Adapted Reading Curriculum 1 Year Subscription - Bridges Canada","id":229772918866,"position":3,"preview_image":{"aspect_ratio":2.715,"height":221,"width":600,"src":"https:\/\/cdn.shopify.com\/s\/files\/1\/1192\/0390\/products\/readtopia-adapted-reading-curriculum-1-year-subscription-subscription-don-johnston-incorporated-assistive-technology-646678.jpg?v=1568912345"},"aspect_ratio":2.715,"height":221,"media_type":"image","src":"https:\/\/cdn.shopify.com\/s\/files\/1\/1192\/0390\/products\/readtopia-adapted-reading-curriculum-1-year-subscription-subscription-don-johnston-incorporated-assistive-technology-646678.jpg?v=1568912345","width":600},{"alt":"Readtopia - Adapted Reading Curriculum 1 Year Subscription - Bridges Canada","id":229772951634,"position":4,"preview_image":{"aspect_ratio":1.925,"height":400,"width":770,"src":"https:\/\/cdn.shopify.com\/s\/files\/1\/1192\/0390\/products\/readtopia-adapted-reading-curriculum-1-year-subscription-subscription-don-johnston-incorporated-assistive-technology-749323.jpg?v=1568912345"},"aspect_ratio":1.925,"height":400,"media_type":"image","src":"https:\/\/cdn.shopify.com\/s\/files\/1\/1192\/0390\/products\/readtopia-adapted-reading-curriculum-1-year-subscription-subscription-don-johnston-incorporated-assistive-technology-749323.jpg?v=1568912345","width":770},{"alt":"Readtopia - Adapted Reading Curriculum 1 Year Subscription - Bridges Canada","id":229772984402,"position":5,"preview_image":{"aspect_ratio":0.996,"height":834,"width":831,"src":"https:\/\/cdn.shopify.com\/s\/files\/1\/1192\/0390\/products\/readtopia-adapted-reading-curriculum-1-year-subscription-subscription-don-johnston-incorporated-assistive-technology-543472.JPG?v=1568912345"},"aspect_ratio":0.996,"height":834,"media_type":"image","src":"https:\/\/cdn.shopify.com\/s\/files\/1\/1192\/0390\/products\/readtopia-adapted-reading-curriculum-1-year-subscription-subscription-don-johnston-incorporated-assistive-technology-543472.JPG?v=1568912345","width":831},{"alt":"Readtopia - Adapted Reading Curriculum 1 Year Subscription - Bridges Canada","id":229773017170,"position":6,"preview_image":{"aspect_ratio":1.76,"height":937,"width":1649,"src":"https:\/\/cdn.shopify.com\/s\/files\/1\/1192\/0390\/products\/readtopia-adapted-reading-curriculum-1-year-subscription-subscription-don-johnston-incorporated-assistive-technology-365427.jpg?v=1568912345"},"aspect_ratio":1.76,"height":937,"media_type":"image","src":"https:\/\/cdn.shopify.com\/s\/files\/1\/1192\/0390\/products\/readtopia-adapted-reading-curriculum-1-year-subscription-subscription-don-johnston-incorporated-assistive-technology-365427.jpg?v=1568912345","width":1649},{"alt":"Readtopia - Adapted Reading Curriculum 1 Year Subscription - Bridges Canada","id":229773049938,"position":7,"preview_image":{"aspect_ratio":0.771,"height":280,"width":216,"src":"https:\/\/cdn.shopify.com\/s\/files\/1\/1192\/0390\/products\/readtopia-adapted-reading-curriculum-1-year-subscription-subscription-don-johnston-incorporated-assistive-technology-234417.jpg?v=1568912345"},"aspect_ratio":0.771,"height":280,"media_type":"image","src":"https:\/\/cdn.shopify.com\/s\/files\/1\/1192\/0390\/products\/readtopia-adapted-reading-curriculum-1-year-subscription-subscription-don-johnston-incorporated-assistive-technology-234417.jpg?v=1568912345","width":216},{"alt":"Readtopia - Adapted Reading Curriculum 1 Year Subscription - Bridges Canada","id":229773082706,"position":8,"preview_image":{"aspect_ratio":1.675,"height":921,"width":1543,"src":"https:\/\/cdn.shopify.com\/s\/files\/1\/1192\/0390\/products\/readtopia-adapted-reading-curriculum-1-year-subscription-subscription-don-johnston-incorporated-assistive-technology-561613.jpg?v=1568912345"},"aspect_ratio":1.675,"height":921,"media_type":"image","src":"https:\/\/cdn.shopify.com\/s\/files\/1\/1192\/0390\/products\/readtopia-adapted-reading-curriculum-1-year-subscription-subscription-don-johnston-incorporated-assistive-technology-561613.jpg?v=1568912345","width":1543},{"alt":"Readtopia - Adapted Reading Curriculum 1 Year Subscription - Bridges Canada","id":229773115474,"position":9,"preview_image":{"aspect_ratio":1.605,"height":919,"width":1475,"src":"https:\/\/cdn.shopify.com\/s\/files\/1\/1192\/0390\/products\/readtopia-adapted-reading-curriculum-1-year-subscription-subscription-don-johnston-incorporated-assistive-technology-274344.jpg?v=1568912345"},"aspect_ratio":1.605,"height":919,"media_type":"image","src":"https:\/\/cdn.shopify.com\/s\/files\/1\/1192\/0390\/products\/readtopia-adapted-reading-curriculum-1-year-subscription-subscription-don-johnston-incorporated-assistive-technology-274344.jpg?v=1568912345","width":1475}],"requires_selling_plan":false,"selling_plan_groups":[],"content":"\u003ch2\u003eComprehensive Reading, ELA, Social Studies, and Science - all in one experiential instructional program, specially designed for students with complex learning needs. \u003c\/h2\u003e\n\u003cp\u003eIdeal for middle and high school students with autism and other complex needs, Readtopia \u003cspan\u003ebrings unique levelled graphic novels, purposeful and engaging videos and a plethora of teacher materials for effective reading instruction. \u003c\/span\u003e\u003c\/p\u003e\n\u003cp\u003e\u003cem\u003e\u003cstrong\u003eMulti-year and multi-teacher discounts available. \u003ca href=\"mailto:info@bridges-canada.com\" target=\"_blank\" rel=\"noopener noreferrer\"\u003eContact us\u003c\/a\u003e for a quote.\u003c\/strong\u003e\u003c\/em\u003e\u003c\/p\u003e\n\u003cp\u003e \u003c\/p\u003e\n\u003cp\u003e\u003cspan\u003eFor many, reading is not a natural act, but everyone naturally derives learning from first-hand experience.\u003cbr\u003e\u003cbr\u003eReadtopia brings first-hand \u003cstrong\u003eexperiential learning\u003c\/strong\u003e into the classroom, so students can \u003cem\u003ebridge the gap between learning through reading, and learning through experiencing\u003c\/em\u003e.\u003cbr\u003e\u003cbr\u003eThis approach taps students' natural learning capabilities, and channels them into reading capabilities so students can begin to more fully participate both in school and in life.\u003cbr\u003e\u003cbr\u003e\u003c\/span\u003e\u003c\/p\u003e\n\u003cul\u003e\n\u003cli\u003eReadtopia takes students down 1,000 feet in a submarine as they learn about oceanography.\u003c\/li\u003e\n\u003cli\u003eStudents hear from Sacagawea to understand the journey Lewis and Clark faced heading west.\u003c\/li\u003e\n\u003cli\u003eReadtopia brings students into a volcano in Iceland as a way to introduce them to the book Journey to the Center of the Earth.\u003c\/li\u003e\n\u003c\/ul\u003e\n\u003cp\u003e\u003cspan\u003e\u003cbr\u003eAll of this is supported by authentic literature, phonics\/early reading instruction, and informational text that builds foundational reading skills. Readtopia delivers the curriculum through thematic units that will help you transform classrooms into laboratories of experiential learning.\u003c\/span\u003e\u003c\/p\u003e\n\u003cp\u003e\u003cspan\u003eReadtopia materials include: \u003c\/span\u003e\u003c\/p\u003e\n\u003cul\u003e\n\u003cli\u003eOriginal video\u003c\/li\u003e\n\u003cli\u003eGraphic novels (at six levels)\u003c\/li\u003e\n\u003cli\u003eAuthentic text (chapter book)\u003c\/li\u003e\n\u003cli\u003eLeveled Informational Text\u003c\/li\u003e\n\u003cli\u003ePhonic\/Word Study\u003c\/li\u003e\n\u003cli\u003eAssessment\u003c\/li\u003e\n\u003cli\u003eTeacher guide that pulls everything together into incredible instruction\u003c\/li\u003e\n\u003c\/ul\u003e\n\u003cp\u003eThe Readtopia curriculum covers a full-range of Reading and ELA skills \u003c\/p\u003e\n\u003cp\u003e\u003cimg src=\"\/\/cdn.shopify.com\/s\/files\/1\/1192\/0390\/files\/standardsalignment.JPG?v=1494611555\" alt=\"Readtopia curriculum covers a full-range of Reading and ELA skills\"\u003e\u003c\/p\u003e\n\u003cp\u003e \u003c\/p\u003e\n\u003ch5\u003eProgram Components\u003c\/h5\u003e\n\u003cp\u003e\u003cspan\u003eAll of the Readtopia resources are available online to subscribers. Browse the tabs to see each program component in detail including Videos, Leveled Text Graphic Novels and Authentic Text, Informational Text, Phonics \/ Sight Words \/ Vocabulary, and Assessment.\u003c\/span\u003e\u003c\/p\u003e\n\u003cp\u003e\u003cspan\u003e\u003cstrong\u003eTeacher Guide\u003c\/strong\u003e\u003cbr\u003e\u003c\/span\u003e\u003c\/p\u003e\n\u003cp\u003e\u003cspan\u003eA Teacher Guide is included with each thematic unit. It walks teachers through each step of implementation chapter-by-chapter.\u003c\/span\u003e\u003c\/p\u003e\n\u003cp\u003e\u003cspan\u003eEach chapter contains several lessons covering different aspects of instruction.\u003cbr\u003e\u003cbr\u003eHere's how a typical chapter unfolds. In addition, understanding is assessed three times per unit.\u003cbr\u003e\u003cbr\u003eThe sequence of instruction for the first chapter in Westward Expansion is laid out below.\u003cbr\u003e\u003cbr\u003eLesson Plan:\u003cbr\u003eWestward Expansion\u003cbr\u003e\u003cstrong\u003eSacagawea (Chapter 1)\u003c\/strong\u003e\u003c\/span\u003e\u003c\/p\u003e\n\u003cul\u003e\n\u003cli\u003eVideo Lesson: Sacagawea\u003c\/li\u003e\n\u003cli\u003eLiterature Comprehension Lesson Focus | Related Ideas\u003c\/li\u003e\n\u003cli\u003ePhonics Lesson: making Words or Word Study: Change the Word\u003c\/li\u003e\n\u003cli\u003eClose Reading Lesson Graph | Population\u003c\/li\u003e\n\u003cli\u003eIndependent Reading\/Shared Reading Lesson Graphic Novels\u003c\/li\u003e\n\u003cli\u003ePhonics Lesson: making Words or Word Study: Word Builder\u003c\/li\u003e\n\u003c\/ul\u003e\n\u003cp\u003e \u003c\/p\u003e\n\u003cp style=\"text-align: center;\"\u003e\u003cimg alt=\"Readtopia Program Comonents\" src=\"\/\/cdn.shopify.com\/s\/files\/1\/1192\/0390\/files\/teachig-is-exploring-westward-expansion_large.jpg?v=1494600138\" style=\"display: block; margin-left: auto; margin-right: auto; float: none;\"\u003e\u003c\/p\u003e\n\u003cp\u003e \u003c\/p\u003e\n\u003ch5\u003eVideos\u003c\/h5\u003e\n\u003cp\u003e\u003cspan\u003eReadtopia videos play a crucial part in learning. They form a window into the content that is crucial to support students as they learn to read. These videos are designed to build background knowledge, establish vocabulary, and build visual mental models of the materials covered in subsequent lessons and in the reading. All this, \u003c\/span\u003e\u003cem\u003eand they're engaging\u003c\/em\u003e\u003cspan\u003e!\u003c\/span\u003e\u003c\/p\u003e\n\u003cp\u003e \u003c\/p\u003e\n\u003ch5\u003e\u003cspan\u003eLevelled Text Graphic Novels \u003c\/span\u003e\u003c\/h5\u003e\n\u003cp\u003e \u003c\/p\u003e\n\u003cp style=\"text-align: center;\"\u003e\u003cimg alt=\"Reatopia reading levelled text graphic novels\" src=\"\/\/cdn.shopify.com\/s\/files\/1\/1192\/0390\/files\/graphic-novels.jpg?v=1494610202\" style=\"float: none;\"\u003e\u003c\/p\u003e\n\u003cp\u003e\u003cspan\u003eGraphic novels use age-respectful images to reinforce text. The book covers are all the same, but inside, the text is carefully \u003cstrong\u003eleveled\u003c\/strong\u003e! Here's the first page in the graphic novel Sacagawea at six levels:\u003c\/span\u003e\u003c\/p\u003e\n\u003cp style=\"text-align: left;\"\u003e\u003cspan\u003e\u003cimg alt=\"Readtopia - levelled text graphic novels \" src=\"\/\/cdn.shopify.com\/s\/files\/1\/1192\/0390\/files\/levelled_text_Readtopia_grande.JPG?v=1494600665\" style=\"display: block; margin-left: auto; margin-right: auto; float: none;\"\u003e\u003c\/span\u003e\u003c\/p\u003e\n\u003cp style=\"text-align: center;\"\u003e\u003cimg alt=\"Reatopia Level 7 – Authentic Literature – Chapter books\" src=\"\/\/cdn.shopify.com\/s\/files\/1\/1192\/0390\/files\/top_levelled_text_grande.JPG?v=1494600803\" style=\"float: none;\"\u003e\u003c\/p\u003e\n\u003ch5 style=\"text-align: left;\"\u003e\u003cspan\u003eInformational Text\u003c\/span\u003e\u003c\/h5\u003e\n\u003cp style=\"text-align: left;\"\u003e\u003cspan\u003eStudents experience 10 different text types including:\u003cbr\u003e\u003cbr\u003e\u003c\/span\u003e\u003c\/p\u003e\n\u003cul\u003e\n\u003cli\u003eCompare and Contrast\u003c\/li\u003e\n\u003cli\u003eBibliography\u003c\/li\u003e\n\u003cli\u003eMap\u003c\/li\u003e\n\u003cli\u003eChart\/Graph\u003c\/li\u003e\n\u003cli\u003eDirections\u003c\/li\u003e\n\u003cli\u003eTimeline\u003c\/li\u003e\n\u003cli\u003eArticle with a Sidebar\u003c\/li\u003e\n\u003cli\u003eTwo Text Types (with same subject)\u003c\/li\u003e\n\u003cli\u003eClaim\/Evidence\u003c\/li\u003e\n\u003cli\u003eFantastic Facts\u003c\/li\u003e\n\u003c\/ul\u003e\n\u003cp style=\"text-align: left;\"\u003e\u003cspan\u003eAll of the text types are covered in each Thematic Unit. Below is an example of the Timeline text type at four levels for the Westward Expansion Thematic Unit. Comprehension tasks (on the back activities) are included at each level.\u003c\/span\u003e\u003c\/p\u003e\n\u003cp style=\"text-align: left;\"\u003e \u003c\/p\u003e\n\u003cp style=\"text-align: center;\"\u003e\u003cstrong\u003eLevel 1 Timeline\u003c\/strong\u003e\u003c\/p\u003e\n\u003cp style=\"text-align: center;\"\u003e\u003cimg alt=\"Reatopia - Level 1 Timeline\" src=\"\/\/cdn.shopify.com\/s\/files\/1\/1192\/0390\/files\/Timeline-1_large.jpg?v=1494604571\" style=\"float: none;\"\u003e\u003c\/p\u003e\n\u003cp style=\"text-align: center;\"\u003e \u003c\/p\u003e\n\u003cp style=\"text-align: center;\"\u003e\u003cstrong\u003eLevel 1 Comprehension Activity\u003c\/strong\u003e\u003c\/p\u003e\n\u003cp style=\"text-align: center;\"\u003e\u003cimg alt=\"Readtopia Level 1 comprehension activity\" src=\"\/\/cdn.shopify.com\/s\/files\/1\/1192\/0390\/files\/Timeline-1comprehension_large.jpg?v=1494604601\" style=\"float: none;\"\u003e\u003c\/p\u003e\n\u003cp style=\"text-align: center;\"\u003e \u003c\/p\u003e\n\u003cp style=\"text-align: center;\"\u003e\u003cstrong\u003eLevel 2 Timeline\u003c\/strong\u003e\u003c\/p\u003e\n\u003cp style=\"text-align: center;\"\u003e\u003cimg alt=\"Reatopia Level 2 Timeline\" src=\"\/\/cdn.shopify.com\/s\/files\/1\/1192\/0390\/files\/Timeline-2_large.jpg?v=1494604637\" style=\"float: none;\"\u003e\u003c\/p\u003e\n\u003cp style=\"text-align: center;\"\u003e \u003c\/p\u003e\n\u003cp style=\"text-align: center;\"\u003e\u003cstrong\u003eLevel 2 Comprehension Activity\u003c\/strong\u003e  \u003c\/p\u003e\n\u003cp style=\"text-align: center;\"\u003e\u003cimg alt=\"Readtopia Level 2 comprehension activity\" src=\"\/\/cdn.shopify.com\/s\/files\/1\/1192\/0390\/files\/Timeline-2comprehension_large.jpg?v=1494604666\" style=\"float: none;\"\u003e\u003c\/p\u003e\n\u003cp style=\"text-align: center;\"\u003e \u003c\/p\u003e\n\u003cp style=\"text-align: center;\"\u003e\u003cstrong\u003eLevel 4 Timeline\u003c\/strong\u003e\u003c\/p\u003e\n\u003cp style=\"text-align: center;\"\u003e\u003cimg alt=\"Readtopia Level 4 Timeline\" src=\"\/\/cdn.shopify.com\/s\/files\/1\/1192\/0390\/files\/Timeline-4_large.jpg?v=1494609627\" style=\"float: none;\"\u003e\u003c\/p\u003e\n\u003cp style=\"text-align: center;\"\u003e\u003cstrong\u003eLevel 4 Comprehension Activity\u003c\/strong\u003e \u003c\/p\u003e\n\u003cp style=\"text-align: center;\"\u003e\u003cimg alt=\"Readtopia Level 4 Comprehension Activity\" src=\"\/\/cdn.shopify.com\/s\/files\/1\/1192\/0390\/files\/Timeline-4comprehension_large.jpg?v=1494609756\" style=\"float: none;\"\u003e\u003c\/p\u003e\n\u003cp style=\"text-align: center;\"\u003e \u003c\/p\u003e\n\u003ch5 style=\"text-align: left;\"\u003ePhonics\/ Sight Words\/ Vocabulary \u003c\/h5\u003e\n\u003cp style=\"text-align: left;\"\u003e \u003c\/p\u003e\n\u003cp style=\"text-align: center;\"\u003e\u003cimg alt=\"Readtopia - studying phonics\" src=\"\/\/cdn.shopify.com\/s\/files\/1\/1192\/0390\/files\/Phonics2.jpg?v=1494610155\" style=\"float: none;\"\u003e\u003c\/p\u003e\n\u003cp style=\"text-align: left;\"\u003e \u003c\/p\u003e\n\u003cp style=\"text-align: left;\"\u003ePhonics \/ Sight Words \/ Word Study lessons cover both vocabulary in the thematic unit and high frequency word sets for general word identification.\u003cbr\u003e\u003cbr\u003eBook-specific phonics lessons (15 lessons per thematic unit) are divided into 5-types: Change the Word, Word Builder, Slice and Dice, Word + Word, Word in a Word.\u003cbr\u003e\u003cbr\u003eSight words for each chapter include AAC Core Vocabulary Words.\u003c\/p\u003e\n\u003cp style=\"text-align: left;\"\u003e \u003c\/p\u003e\n\u003cp style=\"text-align: center;\"\u003e\u003cimg alt=\"Reatopia Phonics \/ Sight Words \/ Word Study\" src=\"\/\/cdn.shopify.com\/s\/files\/1\/1192\/0390\/files\/Word-Study-Change-the-Word-1_large.jpg?v=1494609922\" style=\"float: none;\"\u003e\u003c\/p\u003e\n\u003cdiv style=\"text-align: center;\"\u003e\u003cimg alt=\"Readtopia Phonics \/ Sight Words \/ Word Study\" src=\"http:\/\/donjohnston.com\/wp-content\/uploads\/2017\/03\/Sacagawea-Vocabulary-Cards-1.jpg\" style=\"float: none;\"\u003e\u003c\/div\u003e\n\u003cdiv style=\"text-align: center;\"\u003e\u003c\/div\u003e\n\u003cp style=\"text-align: center;\"\u003e\u003cimg alt=\"Reatopia Phonics \/ Sight Words \/ Word Study\" src=\"\/\/cdn.shopify.com\/s\/files\/1\/1192\/0390\/files\/Sacagawea-Word-Study_21b44037-77d3-494c-b760-788f85d857ac_large.jpg?v=1494609972\" style=\"float: none;\"\u003e\u003c\/p\u003e\n\u003cp style=\"text-align: center;\"\u003e \u003c\/p\u003e\n\u003ch5 style=\"text-align: left;\"\u003eAssessment\u003c\/h5\u003e\n\u003cp style=\"text-align: left;\"\u003e \u003c\/p\u003e\n\u003cp style=\"text-align: center;\"\u003e\u003cimg alt=\"Readtopia Assessment\" src=\"\/\/cdn.shopify.com\/s\/files\/1\/1192\/0390\/files\/Assessment-student.jpg?v=1494611332\" style=\"float: none;\"\u003e\u003c\/p\u003e\n\u003cp style=\"text-align: left;\"\u003eStudent response to instruction is assessed several times during each Thematic Unit. Data is easily collected and compared across units.\u003cbr\u003e\u003cbr\u003e\u003cstrong\u003eCloze Maze assessment examples\u003c\/strong\u003e\u003cbr\u003e\u003cstrong\u003eWestward Expansion\u003c\/strong\u003e\u003c\/p\u003e\n\u003cp style=\"text-align: center;\"\u003e\u003cstrong\u003e Level 1 \u003c\/strong\u003e\u003c\/p\u003e\n\u003cp style=\"text-align: center;\"\u003e\u003cimg alt=\"Readtopia Cloze Maze assessment level 1\" src=\"\/\/cdn.shopify.com\/s\/files\/1\/1192\/0390\/files\/Sac-Cloze-Maze-Level1_large.jpg?v=1494610338\" style=\"float: none;\"\u003e\u003c\/p\u003e\n\u003cp style=\"text-align: center;\"\u003e \u003c\/p\u003e\n\u003cp style=\"text-align: center;\"\u003e\u003cstrong\u003eLevel 2\u003c\/strong\u003e\u003c\/p\u003e\n\u003cp style=\"text-align: center;\"\u003e\u003cimg alt=\"Readtopia - Cloze Maze assessment level 2\" src=\"\/\/cdn.shopify.com\/s\/files\/1\/1192\/0390\/files\/Sac-Cloze-Maze-L2_large.jpg?v=1494610366\" style=\"float: none;\"\u003e\u003c\/p\u003e\n\u003cp style=\"text-align: center;\"\u003e \u003c\/p\u003e\n\u003cp style=\"text-align: center;\"\u003e\u003cstrong\u003eLevel 3\u003c\/strong\u003e\u003c\/p\u003e\n\u003cp style=\"text-align: center;\"\u003e\u003cimg alt=\"Readtopia Cloze Maze assessment level 3\" src=\"\/\/cdn.shopify.com\/s\/files\/1\/1192\/0390\/files\/Sac-Maze-Assessment-L3_large.jpg?v=1494610410\" style=\"float: none;\"\u003e\u003c\/p\u003e\n\u003cp style=\"text-align: center;\"\u003e \u003c\/p\u003e\n\u003ch5 style=\"text-align: left;\"\u003eThematic Units \u003c\/h5\u003e\n\u003cp style=\"text-align: left;\"\u003eWith your Readtopia subscription, you get access to ALL current titles as well as all future releases. Each thematic unit contains 6-12 weeks worth of content.\u003cbr\u003e\u003cbr\u003eCurrent Thematic Units (first release):\u003c\/p\u003e\n\u003cp style=\"text-align: left;\"\u003e \u003c\/p\u003e\n\u003cp style=\"text-align: center;\"\u003e\u003cstrong\u003eWestward Expansion | \u003cem\u003eSacagawea\u003c\/em\u003e\u003c\/strong\u003e\u003c\/p\u003e\n\u003cp style=\"text-align: center;\"\u003e\u003cimg src=\"\/\/cdn.shopify.com\/s\/files\/1\/1192\/0390\/files\/Sacagawea-comb_large.jpg?v=1494611066\" alt=\"\"\u003e\u003c\/p\u003e\n\u003cp style=\"text-align: center;\"\u003e \u003c\/p\u003e\n\u003cp style=\"text-align: center;\"\u003e\u003cstrong\u003eGeology \/ Dinosaurs | \u003cem\u003eJourney to the Center of the Earth\u003c\/em\u003e\u003c\/strong\u003e\u003c\/p\u003e\n\u003cp style=\"text-align: center;\"\u003e\u003cimg src=\"\/\/cdn.shopify.com\/s\/files\/1\/1192\/0390\/files\/Journey-comb_large.jpg?v=1494611102\" alt=\"\"\u003e\u003c\/p\u003e\n\u003cp style=\"text-align: center;\"\u003e \u003c\/p\u003e\n\u003cp style=\"text-align: center;\"\u003e\u003cstrong\u003eWWII | \u003cem\u003eThe Story of Anne Frank\u003c\/em\u003e\u003c\/strong\u003e\u003c\/p\u003e\n\u003cp style=\"text-align: center;\"\u003e\u003cimg src=\"\/\/cdn.shopify.com\/s\/files\/1\/1192\/0390\/files\/WWII-comb_large.jpg?v=1494611125\" alt=\"\"\u003e\u003c\/p\u003e\n\u003cp style=\"text-align: center;\"\u003e \u003c\/p\u003e\n\u003cp style=\"text-align: center;\"\u003e\u003cb\u003eOceanography | 20,000 Leagues Under the Sea\u003c\/b\u003e\u003c\/p\u003e\n\u003cp style=\"text-align: center;\"\u003e\u003cimg src=\"\/\/cdn.shopify.com\/s\/files\/1\/1192\/0390\/files\/20000-Leagues-comb_large.jpg?v=1494611160\" alt=\"\"\u003e\u003c\/p\u003e\n\u003cp style=\"text-align: center;\"\u003e \u003c\/p\u003e\n\u003cp style=\"text-align: center;\"\u003e\u003cstrong\u003eAncient Civilization \/ Maya\u003c\/strong\u003e\u003cstrong\u003e\/ The Planets | \u003cem\u003eThe Secrets of Old Mexico\u003c\/em\u003e\u003c\/strong\u003e\u003c\/p\u003e\n\u003cp style=\"text-align: center;\"\u003e\u003cimg src=\"\/\/cdn.shopify.com\/s\/files\/1\/1192\/0390\/files\/Maya-comb_large.jpg?v=1494611209\" alt=\"\"\u003e\u003c\/p\u003e\n\u003cp style=\"text-align: center;\"\u003e \u003c\/p\u003e\n\u003cp style=\"text-align: left;\"\u003e\u003cstrong\u003eUpcoming Thematic Units (second release summer 2017):\u003c\/strong\u003e\u003cbr\u003e\u003cbr\u003e\u003c\/p\u003e\n\u003cul\u003e\n\u003cli\u003eAncient Egypt \/ Cleopatra\u003c\/li\u003e\n\u003cli\u003eScientific Method \/ Glaciers \/ Frankenstein\u003c\/li\u003e\n\u003cli\u003eShakespearean times \/ Romeo \u0026amp; Juliet\u003c\/li\u003e\n\u003cli\u003eWeather and Stars \/ The Adventures of Huckleberry Finn\u003c\/li\u003e\n\u003cli\u003eEnglish History and Exploration \/ The Prince and the Pauper\u003c\/li\u003e\n\u003cli\u003eMarine Science and Navigation \/ Mutiny on the Bounty\u003c\/li\u003e\n\u003c\/ul\u003e\n\u003cp\u003e\u003cstrong\u003eFuture planned thematic units:\u003c\/strong\u003e\u003cspan\u003e Native Americans, Civil Rights, Slavery and Equality, Underground Railroad, American Revolution, Jane Goodall\u003c\/span\u003e\u003c\/p\u003e\n\u003cp\u003e \u003c\/p\u003e\n\u003ch5\u003e\u003cspan\u003eAuthenticity \u003c\/span\u003e\u003c\/h5\u003e\n\u003cp\u003e\u003cspan\u003eLine drawings can be appropriate for young elementary students, but in middle and high schools, these materials look "babyish." Engagement plummets.\u003cbr\u003e\u003cbr\u003eReadtopia materials are full of real photos and age-respectful illustrations—giving students an authentic understanding!\u003c\/span\u003e\u003c\/p\u003e\n\u003cp\u003e \u003c\/p\u003e\n\u003cp style=\"text-align: center;\"\u003e\u003cimg alt=\"Authentic, age-appropriate content in Readtopia \" src=\"\/\/cdn.shopify.com\/s\/files\/1\/1192\/0390\/files\/authenticity.JPG?v=1494612331\" style=\"float: none;\"\u003e\u003c\/p\u003e\n\u003cp style=\"text-align: center;\"\u003e \u003c\/p\u003e\n\u003ch5 style=\"text-align: left;\"\u003eSamples\u003c\/h5\u003e\n\u003cp style=\"text-align: left;\"\u003e \u003c\/p\u003e\n\u003cspan style=\"text-decoration: underline;\"\u003e\u003cstrong\u003e\u003ca href=\"https:\/\/marketing.donjohnston.com\/acton\/form\/4529\/0239:d-0002\/0\/-\/-\/-\/-\/index.htm\" target=\"_blank\" title=\"Readtopia Demo Site\" rel=\"noopener noreferrer\"\u003eCLICK HERE to explore  the Readtopia Demo Site.\u003c\/a\u003e\u003c\/strong\u003e\u003c\/span\u003e\n\u003cp style=\"text-align: left;\"\u003e \u003c\/p\u003e\n\u003cp style=\"text-align: left;\"\u003eSee the video below for a compilation of  clips from various Readtopia videos.\u003c\/p\u003e\n\u003cp style=\"text-align: center;\"\u003e\u003ciframe src=\"https:\/\/player.vimeo.com\/video\/210463327\" width=\"640\" height=\"360\" frameborder=\"0\" webkitallowfullscreen=\"\" mozallowfullscreen=\"\" allowfullscreen=\"\"\u003e\u003c\/iframe\u003e\u003c\/p\u003e\n\u003cp\u003e\u003ca href=\"https:\/\/vimeo.com\/210463327\"\u003eReadtopia Video Clip Compliation\u003c\/a\u003e from \u003ca href=\"https:\/\/vimeo.com\/donjohnstoninc\"\u003eDonJohnstonInc\u003c\/a\u003e on \u003ca href=\"https:\/\/vimeo.com\"\u003eVimeo\u003c\/a\u003e.\u003c\/p\u003e\n\u003cp\u003e \u003c\/p\u003e"}
Readtopia - Adapted Reading Curriculum 1 Year Subscription
Readtopia - Adapted Reading Curriculum 1 Year Subscription
Comprehensive Reading, ELA, Social Studies, and Science - all in one experiential instructional program, specially designed for students with complex learning needs. 
Ideal for middle and high school students with autism and other complex needs, Readtopia brings unique levelled graphic novels, purposeful and engaging videos and a plethora of teacher materials for effective reading instruction. 
Multi-year and multi-teacher discounts available. Contact us for a quote.
For many, reading is not a natural act, but everyone naturally derives learning from first-hand experience.

Readtopia brings first-hand experiential learning into the classroom, so students can bridge the gap between learning through reading, and learning through experiencing.

This approach taps students' natural learning capabilities, and channels them into reading capabilities so students can begin to more fully participate both in school and in life.


Readtopia takes students down 1,000 feet in a submarine as they learn about oceanography.
Students hear from Sacagawea to understand the journey Lewis and Clark faced heading west.
Readtopia brings students into a volcano in Iceland as a way to introduce them to the book Journey to the Center of the Earth.

All of this is supported by authentic literature, phonics/early reading instruction, and informational text that builds foundational reading skills. Readtopia delivers the curriculum through thematic units that will help you transform classrooms into laboratories of experiential learning.
Readtopia materials include: 
Original video
Graphic novels (at six levels)
Authentic text (chapter book)
Leveled Informational Text
Phonic/Word Study
Assessment
Teacher guide that pulls everything together into incredible instruction
The Readtopia curriculum covers a full-range of Reading and ELA skills 
Program Components
All of the Readtopia resources are available online to subscribers. Browse the tabs to see each program component in detail including Videos, Leveled Text Graphic Novels and Authentic Text, Informational Text, Phonics / Sight Words / Vocabulary, and Assessment.
Teacher Guide

A Teacher Guide is included with each thematic unit. It walks teachers through each step of implementation chapter-by-chapter.
Each chapter contains several lessons covering different aspects of instruction.

Here's how a typical chapter unfolds. In addition, understanding is assessed three times per unit.

The sequence of instruction for the first chapter in Westward Expansion is laid out below.

Lesson Plan:
Westward Expansion
Sacagawea (Chapter 1)
Video Lesson: Sacagawea
Literature Comprehension Lesson Focus | Related Ideas
Phonics Lesson: making Words or Word Study: Change the Word
Close Reading Lesson Graph | Population
Independent Reading/Shared Reading Lesson Graphic Novels
Phonics Lesson: making Words or Word Study: Word Builder
Videos
Readtopia videos play a crucial part in learning. They form a window into the content that is crucial to support students as they learn to read. These videos are designed to build background knowledge, establish vocabulary, and build visual mental models of the materials covered in subsequent lessons and in the reading. All this, and they're engaging!
Levelled Text Graphic Novels 
Graphic novels use age-respectful images to reinforce text. The book covers are all the same, but inside, the text is carefully leveled! Here's the first page in the graphic novel Sacagawea at six levels:
Informational Text
Students experience 10 different text types including:


Compare and Contrast
Bibliography
Map
Chart/Graph
Directions
Timeline
Article with a Sidebar
Two Text Types (with same subject)
Claim/Evidence
Fantastic Facts
All of the text types are covered in each Thematic Unit. Below is an example of the Timeline text type at four levels for the Westward Expansion Thematic Unit. Comprehension tasks (on the back activities) are included at each level.
Level 1 Timeline
Level 1 Comprehension Activity
Level 2 Timeline
Level 2 Comprehension Activity  
Level 4 Timeline
Level 4 Comprehension Activity 
Phonics/ Sight Words/ Vocabulary 
Phonics / Sight Words / Word Study lessons cover both vocabulary in the thematic unit and high frequency word sets for general word identification.

Book-specific phonics lessons (15 lessons per thematic unit) are divided into 5-types: Change the Word, Word Builder, Slice and Dice, Word + Word, Word in a Word.

Sight words for each chapter include AAC Core Vocabulary Words.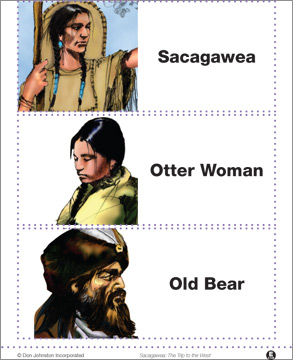 Assessment
Student response to instruction is assessed several times during each Thematic Unit. Data is easily collected and compared across units.

Cloze Maze assessment examples
Westward Expansion
 Level 1 
Level 2
Level 3
Thematic Units 
With your Readtopia subscription, you get access to ALL current titles as well as all future releases. Each thematic unit contains 6-12 weeks worth of content.

Current Thematic Units (first release):
Westward Expansion | Sacagawea
Geology / Dinosaurs | Journey to the Center of the Earth
WWII | The Story of Anne Frank
Oceanography | 20,000 Leagues Under the Sea
Ancient Civilization / Maya/ The Planets | The Secrets of Old Mexico
Upcoming Thematic Units (second release summer 2017):


Ancient Egypt / Cleopatra
Scientific Method / Glaciers / Frankenstein
Shakespearean times / Romeo & Juliet
Weather and Stars / The Adventures of Huckleberry Finn
English History and Exploration / The Prince and the Pauper
Marine Science and Navigation / Mutiny on the Bounty
Future planned thematic units: Native Americans, Civil Rights, Slavery and Equality, Underground Railroad, American Revolution, Jane Goodall
Authenticity 
Line drawings can be appropriate for young elementary students, but in middle and high schools, these materials look "babyish." Engagement plummets.

Readtopia materials are full of real photos and age-respectful illustrations—giving students an authentic understanding!
Samples
Bridges accepts institutional P.O's (purchase orders).
Call us for a quote or just fax or email a P.O. on your letter head.
How secure is my online order?
Any information submitted through the web store is safe and secure. Bridges uses state-of-the-art security encryption methods to ensure the highest standards of security for its online customers.
What payment methods are accepted?
We accept Visa and MasterCard for online orders.
What if I do not have a credit card?
If you do not have a credit card, please call us at 1-800-353-1107 (8:30am - 4:30pm EST) to discuss alternative payment methods.
How do I know if you have received my order?
When your order has been completed, you will receive a confirmation e-mail that will be sent to the e-mail address that you entered in the "Registration" page before checkout.
Shipping 
PLEASE NOTE that the COVID-19 crisis is impacting delivery times. Couriers are experiencing reduced capacity due to new hygiene procedures, increased volumes and/or emergency conditions. Your patience and understanding is greatly appreciated.
Is your school or office limited as to when it can receive goods? When you place your order, in the comments area, please let us know if you cannot receive your order during regular business hours to avoid additional shipping charges. We will make every attempt to accommodate you, but we cannot guarantee that this will be possible.
What shipping options are available?
Most of our items are shipped by Canpar, which takes 3-5 business days to reach the customer. Where service is not available, or due to the special requirements of the product, we will also use UPS, Puralator or Canada Post. Please allow 10-15 days for order processing.
Ordering multiple, heavy-weighted items? 
If our store can't calculate your shipping costs during checkout, your order may fall outside weight, size, or destination restrictions, for online ordering.
Sorry about that. 
Just contact us by email or phone and we'll figure out another way to get your order to you. 
How much does shipping cost?
Shipping is calculated individually depending on the weight and size of the item. This will be calculated automatically upon checkout and will be included in the total price when you go to the checkout.
How long does it take for me to receive my order?
Order processing time depends on availability of the product from the manufacturer, but typically products are shipped within 10-15 business days after the order is placed. See shipping options for the number of days it will take to reach you after it leaves our warehouse.
Do you ship internationally?
No, we currently sell our products and services only in Canada.
How can I track my order?
When the order is shipped out, you will receive an e-mail with a tracking number. If you do not receive this e-mail, please call 1-800-353-1107 (8:30am - 4:30pm EST) to receive your tracking number.
Returns
Do you offer a money back guarantee?
We offer a 21-day money-back guarantee unless otherwise noted. Products must be returned in a resalable condition as determined by Bridges. Returns are subject to a 20 percent restocking fee after 21-days. Many of our manufacturers offer additional limited warranties of longer durations on their products. Returns will no longer be accepted after a period of 90 days. Please call us at 1-800-353-1107 (8:30am - 4:30pm EST) or send an e-mail to info@bridges-canada.com for more information about manufacturer's warranties or returning your product.
Please note, customers cannot return software for a refund.  However, we do offer a store credit for the full amount if returned within 21 days. After 21 days a restocking fee may apply.
How do I return a product?
To return a product you need to get a Return Authorization (R.A.) number from us. Please call us at 1-800-353-1107 (8:30am - 4:30pm EST), e-mail us at info@bridges-canada.com or fax us at 905-542-7242 to get an R.A. number and further instructions. Please note, Bridges will not accept returns without an R.A. number. The customer is responsible for shipping costs of returned products.