{"id":5956402499,"title":"Co:Writer Universal Annual Subscriptions","handle":"cowriter","description":"\u003cp\u003eCo:Writer Universal uses grammar- and vocabulary-smart word prediction to help students better express their ideas in writing across devices. And now built-in speech recognition adds an entirely new way of getting ideas out!\u003c\/p\u003e\n\u003cp\u003eOnly Co:Writer Universal gives students access to the most powerful word prediction on their favorite devices (Chromebooks, iPads, and Mac\/Windows desktops), over 4 million topic dictionaries, built-in speech recognition in Google Chrome, and incredible privacy-safe data collection.\u003c\/p\u003e\n\u003cp\u003e\u003cspan\u003eWant to test out Co:Writer Universal before you decide to buy? \u003c\/span\u003e\u003c\/p\u003e\n\u003ch3 style=\"text-align: center;\"\u003e\u003cstrong\u003e\u003ca href=\"https:\/\/learningtools.donjohnston.com\/product\/cowriter\/request-1\/\" target=\"_blank\" title=\"Free trial of Co:Writer Universal\" rel=\"noopener noreferrer\"\u003eSign up for a free trial\u003c\/a\u003e\u003c\/strong\u003e\u003c\/h3\u003e\n\u003cp\u003e \u003c\/p\u003e\n\u003cp\u003eNote on subscription options available:\u003c\/p\u003e\n\u003cp\u003e\u003cstrong\u003e22P40WSEAT3Y\u003c\/strong\u003e - price is the total for the 3 year access to Co:Writer Universal for a single user.\u003c\/p\u003e\n\u003cp\u003e\u003cstrong\u003e22P40WSEAT1Y_20TO99\u003c\/strong\u003e - price is on a per seat per year basis; please make sure you order a minimum quantity of 5 to qualify for this price\u003c\/p\u003e\n\u003cp\u003e\u003cstrong\u003e22P40WSEAT1Y_100PLUS\u003c\/strong\u003e - \u003cspan\u003eprice \u003c\/span\u003e\u003cspan\u003eis \u003c\/span\u003e\u003cspan\u003eon a per seat per year basis; please make sure you order a minimum quantity of 100 \u003c\/span\u003e\u003c\/p\u003e\n\u003cp\u003e \u003c\/p\u003e\n\u003cp\u003e\u003cstrong\u003eLooking to purchase a district or site license? \u003ca href=\"mailto:info@bridges-canada.com\" target=\"_blank\" title=\"Contact Bridges to purchase district or site licenses \" rel=\"noopener noreferrer\"\u003eContact Bridges\u003c\/a\u003e for bigger discounts and a detailed proposal.\u003c\/strong\u003e\u003c\/p\u003e\n\u003cp\u003e \u003c\/p\u003e\n\u003cp\u003e\u003cstrong\u003eThe Tools: \u003c\/strong\u003e\u003c\/p\u003e\n\u003cdiv\u003e\n\u003cul\u003e\n\u003cli\u003e\n\u003cstrong\u003eWord Prediction:\u003c\/strong\u003e Be a fearless writer with grammar-smart, inventive spelling aware word prediction.\u003c\/li\u003e\n\u003cli\u003e\u003cstrong\u003eFlexible Spelling: \u003c\/strong\u003e\u003c\/li\u003e\n\u003cul\u003e\n\u003cli\u003eBefore: The blk jargon flu over the bra lfnt.\u003c\/li\u003e\n\u003cli\u003eAfter: The black dragon flew over the gray elephant.\u003c\/li\u003e\n\u003c\/ul\u003e\n\u003cli\u003e\n\u003cstrong\u003eSpeech-to-Text: \u003c\/strong\u003eDon't want to type? Speak it and we'll write it.\u003c\/li\u003e\n\u003cli\u003e\n\u003cstrong\u003eTopic Dictionaries:\u003c\/strong\u003e Need particular vocabulary? We have over 5 million topic dictionaries.\u003c\/li\u003e\n\u003cli\u003e\n\u003cstrong\u003eMomentary Dictionaries:\u003c\/strong\u003e Reading and writing? Momentary dictionaries automatically pull in the vocabulary from what you're reading so you can write.\u003c\/li\u003e\n\u003cli\u003e\n\u003cstrong\u003eText-to-Speech:\u003c\/strong\u003e Auditory feedback while you write and revise.\u003c\/li\u003e\n\u003c\/ul\u003e\n\u003cp\u003e\u003cstrong\u003e\u003cspan style=\"line-height: 21px;\"\u003eAdditional Features: \u003c\/span\u003e\u003c\/strong\u003e\u003c\/p\u003e\n\u003cul\u003e\n\u003cli\u003e\n\u003cstrong style=\"line-height: 1.5;\"\u003eAnywhere, anytime access:\u003c\/strong\u003e\u003cspan style=\"line-height: 1.5;\"\u003e It doesn't matter if a student is working in a library, at home, at a friend's place, or the classroom. Whether on an iPad, laptop, Chromebook or virtually any tool that can run a Google Chrome browser, Co:Writer is there. Not just for a BYOD (Bring Your Own Device) environment, the flexibility of Co:Writer Universal removes usage barriers.\u003c\/span\u003e\n\u003c\/li\u003e\n\u003cli\u003e\n\u003cstrong style=\"line-height: 1.5;\"\u003eShared Settings:\u003c\/strong\u003e\u003cspan style=\"line-height: 1.5;\"\u003e Students' personal Co:Writer Universal settings follow them through the cloud on any platform they choose.\u003c\/span\u003e\n\u003c\/li\u003e\n\u003cli\u003e\n\u003cstrong style=\"line-height: 1.5;\"\u003eWriting Integration:\u003c\/strong\u003e\u003cspan style=\"line-height: 1.5;\"\u003e Students can write in Co:Writer's built-in word processor for iPad or Chrome, and their writing is now shared through the cloud!\u003c\/span\u003e\n\u003c\/li\u003e\n\u003cli\u003e\n\u003cstrong\u003eSpeech Recognition:\u003c\/strong\u003e The Chrome extension now has integrated speech recognition (speech to text). \u003c\/li\u003e\n\u003cli\u003e\n\u003cstrong style=\"line-height: 1.5;\"\u003eUniversal Licensing:\u003c\/strong\u003e\u003cspan style=\"line-height: 1.5;\"\u003e new subscription pricing means universal access for everyone in your education environment -- students, teachers, consultants -- on any platform they need.\u003c\/span\u003e\n\u003c\/li\u003e\n\u003cli\u003e\n\u003cstrong\u003eReporting:\u003c\/strong\u003e Detailed reporting and qualitative usage statistics will be available across all platforms.\u003c\/li\u003e\n\u003c\/ul\u003e\n\u003cp style=\"text-align: center;\"\u003e\u003ciframe src=\"https:\/\/player.vimeo.com\/video\/104430354\" webkitallowfullscreen=\"\" mozallowfullscreen=\"\" allowfullscreen=\"\" frameborder=\"0\" height=\"281\" width=\"500\"\u003e\u003c\/iframe\u003e\u003c\/p\u003e\n\u003cp style=\"text-align: center;\"\u003e\u003ca href=\"https:\/\/vimeo.com\/104430354\"\u003eCo:Writer Universal | Quick Demo\u003c\/a\u003e from \u003ca href=\"https:\/\/vimeo.com\/donjohnstoninc\"\u003eDonJohnstonInc\u003c\/a\u003e on \u003ca href=\"https:\/\/vimeo.com\"\u003eVimeo\u003c\/a\u003e.\u003c\/p\u003e\n\u003cp style=\"text-align: left;\"\u003e \u003c\/p\u003e\n\u003ch5 style=\"text-align: left;\"\u003eIntegration Across Google, iPad, and Desktop \u003c\/h5\u003e\n\u003cp\u003e\u003cstrong\u003eWriting Integration Across Devices \u003c\/strong\u003e\u003c\/p\u003e\n\u003cp style=\"text-align: left;\"\u003eIn the past, transferring files between school, home, and across computers was challenging at best, and sometimes impossible. Co:Writer Universal eliminates this obstacle entirely. Students simply write in Co:Writer's built-in word processor for iPad or Chrome, and the writing is shared through the cloud!\u003c\/p\u003e\n\u003cp style=\"text-align: left;\"\u003e \u003c\/p\u003e\n\u003cp style=\"text-align: center;\"\u003e\u003cimg src=\"https:\/\/cdn.shopify.com\/s\/files\/1\/1192\/0390\/files\/CoWriter-ipad-chromebook-desktop-device-sandwich_grande.png?16459746538944482439\" alt=\"Co:Writer works on iPads, Desktop, and Mackbooks \"\u003e\u003c\/p\u003e\n\u003cp style=\"text-align: center;\"\u003e \u003c\/p\u003e\n\u003cp style=\"text-align: left;\"\u003e\u003cstrong\u003eSettings Integration Across Devices\u003c\/strong\u003e\u003c\/p\u003e\n\u003cp style=\"text-align: left;\"\u003eSet background and text preferences and create a Topic Dictionary in any platform and they automatically sync in any other platform or device. \u003c\/p\u003e\n\u003cp style=\"text-align: left;\"\u003e \u003c\/p\u003e\n\u003ch5 style=\"text-align: left;\"\u003eCo:Writer for iPad\u003c\/h5\u003e\n\u003cp style=\"text-align: left;\"\u003eIn less than a year, Co:Writer for iOS has made the list of top 100 most popular education apps. Co:Writer for iOS includes many of the key supports you rely on to help your most struggling writers, such as FlexSpell™ and Topic Dictionaries, which carry over when using Co:Writer on other devices. And now writings are saved to the cloud so they are accessible across iPads, desktop, and Chromebooks.\u003c\/p\u003e\n\u003cp style=\"text-align: left;\"\u003e \u003c\/p\u003e\n\u003cp style=\"text-align: center;\"\u003e\u003cimg alt=\"Co:Writer Universal iPad App\" src=\"\/\/cdn.shopify.com\/s\/files\/1\/1192\/0390\/files\/CoWriterUniversal_iPad_mona_lisa_large.png?10570147754181498446\" style=\"float: none;\"\u003e\u003c\/p\u003e\n\u003cp style=\"text-align: left;\"\u003e\u003cstrong\u003eKeyboard for iPad\u003c\/strong\u003e\u003c\/p\u003e\n\u003cp\u003eCo:Writer Universal includes a keyboard for your iPads (iTouch and iPhones too)! Use it anywhere you write like email, websites, and Google Drive. It works just like Apple's stock keyboard, but the prediction is much better and it supports Topic Dictionaries and data collection. The data fully integrates with Educator Dashboard.\u003c\/p\u003e\n\u003cp style=\"text-align: center;\"\u003e\u003cimg alt=\"iPad Americas Cup\" src=\"http:\/\/donjohnston.com\/wp-content\/uploads\/2013\/08\/iPad_Americas_cup-300x225.png\" style=\"float: none;\"\u003e\u003c\/p\u003e\n\u003cp\u003eSee it for yourself in this quick, 2-minute video. \u003c\/p\u003e\n\u003cp style=\"text-align: center;\"\u003e\u003ciframe src=\"https:\/\/player.vimeo.com\/video\/150922158\" webkitallowfullscreen=\"\" mozallowfullscreen=\"\" allowfullscreen=\"\" frameborder=\"0\" height=\"281\" width=\"500\"\u003e\u003c\/iframe\u003e\u003c\/p\u003e\n\u003cp style=\"text-align: center;\"\u003e\u003ca href=\"https:\/\/vimeo.com\/150922158\"\u003eCoWriter Universal Keyboard for iPad\u003c\/a\u003e from \u003ca href=\"https:\/\/vimeo.com\/donjohnstoninc\"\u003eDonJohnstonInc\u003c\/a\u003e on \u003ca href=\"https:\/\/vimeo.com\"\u003eVimeo\u003c\/a\u003e.\u003c\/p\u003e\n\u003cp\u003e \u003c\/p\u003e\n\u003cp style=\"text-align: left;\"\u003e\u003cstrong\u003eWord Prediction Settings for iPad\u003c\/strong\u003e\u003c\/p\u003e\n\u003cp style=\"text-align: left;\"\u003eCustomize Co:Writer to meet your specific needs. Change the look and feel, speech settings, and voices. Your updated settings will automatically sync across platforms through the cloud.\u003c\/p\u003e\n\u003cp style=\"text-align: center;\"\u003e \u003c\/p\u003e\n\u003ch5 style=\"text-align: left;\"\u003eCo:Writer for Chrome \u003c\/h5\u003e\n\u003cp\u003eCo:Writer Universal Extension for Chrome integrates with the Chrome browser for word prediction and speech recognition just about anywhere students write online, including Google Drive, blogs, social networks and email. Co:Writer instantly scrapes email contents and webpages for unique vocabulary that can be automatically included into Co:Writer's Topic Dictionaries.\u003c\/p\u003e\n\u003cp\u003e \u003c\/p\u003e\n\u003cp style=\"text-align: center;\"\u003e\u003cimg alt=\"Co:Writer in Chrome \" src=\"\/\/cdn.shopify.com\/s\/files\/1\/1192\/0390\/files\/CoWriterUniversal_Chrome_Extension_Website_grande.png?18145109035209980436\" style=\"float: none;\"\u003e\u003c\/p\u003e\n\u003cp style=\"text-align: center;\"\u003e \u003c\/p\u003e\n\u003cp\u003e\u003cstrong\u003eWord Prediction in Chrome\u003c\/strong\u003e\u003c\/p\u003e\n\u003cp\u003eCo:Writer Universal seamlessly integrates through the Chrome browser on Mac, Windows, and Chromebooks. Both an app and extension are available for nearly any writing task and include Co:Writer's unmatchable Flexspell™ technology and grammar-based recognition.\u003c\/p\u003e\n\u003cp\u003e \u003c\/p\u003e\n\u003cp style=\"text-align: left;\"\u003e\u003cstrong\u003eWord Prediction Settings for Chrome\u003c\/strong\u003e\u003c\/p\u003e\n\u003cp\u003eSettings allow you to customize Co:Writer to meet your specific needs. Change the look and feel, number of guesses, speech settings, and voices. Any changes to your settings will automatically sync across platforms through the cloud.\u003c\/p\u003e\n\u003cp\u003e \u003c\/p\u003e\n\u003cp style=\"text-align: center;\"\u003e\u003cimg src=\"\/\/cdn.shopify.com\/s\/files\/1\/1192\/0390\/files\/CoWriterUniversal_Chrome-Word-Prediction-Settings_grande.png?6269446945062467870\" alt=\"word prediction settings CoWriter Universal\"\u003e\u003c\/p\u003e\n\u003cp\u003e \u003c\/p\u003e\n\u003cp style=\"text-align: left;\"\u003e\u003cstrong\u003eExporting in Chrome\u003c\/strong\u003e\u003c\/p\u003e\n\u003cp\u003eTake your writings and share them to Google Drive, Dropbox, Facebook, or copy and paste them in other applications and word processors. You can even print them out to hand in the traditional way.\u003c\/p\u003e\n\u003cp\u003e \u003c\/p\u003e\n\u003cp style=\"text-align: center;\"\u003e\u003cimg src=\"\/\/cdn.shopify.com\/s\/files\/1\/1192\/0390\/files\/CoWriterUniversal_Chrome-Export_grande.png?4432652243275290664\" alt=\"Co:Writer Universal exporting in Chrome \"\u003e\u003c\/p\u003e\n\u003cp style=\"text-align: left;\"\u003e\u003cstrong\u003eCo:Writer Extension for Chrome\u003c\/strong\u003e\u003c\/p\u003e\n\u003cp\u003eGet Co:Writer support on just about any website. Whether updating your blog, writing an email, or writing a report in Google Drive, you'll have access to Co:Writer's grammar-smart word prediction and topic dictionaries.\u003c\/p\u003e\n\u003cp\u003e \u003c\/p\u003e\n\u003ch5\u003eCo:Writer for Desktop \u003c\/h5\u003e\n\u003cp\u003eIf students can write just 30% of what they want to say, Co:Writer will do the rest. As students write, Co:Writer \"predicts" what they're trying to say and offers word suggestions in real time. Even the most egregious spelling and grammar mistakes aren't a problem for Co:Writer's proprietary FlexSpell™ technology. Co:Writer goes further, bringing in topic-specific vocabulary instantly when writing in the content areas. You have to try it with a student to believe the impact it has!\u003c\/p\u003e\n\u003cp style=\"text-align: center;\"\u003e\u003cimg alt=\"Co:Writer Universal has flexible spelling that recognizes misspelled words \" src=\"\/\/cdn.shopify.com\/s\/files\/1\/1192\/0390\/files\/Flexable_spelling_grande.JPG?17143069904294991867\" style=\"float: none;\"\u003e\u003c\/p\u003e\n\u003cp style=\"text-align: center;\"\u003e \u003c\/p\u003e\n\u003cp\u003eRead \"Word Prediction—What's Good Enough?" \u003ca href=\"http:\/\/donjohnston.com\/word-prediction-whats-good-enough\/#.VA8ROcJdXbM\" title=\"Article: \u0026quot;Word Prediction - What's Good Enough?\u0026quot;\"\u003ehttp:\/\/donjohnston.com\/word-prediction-whats-good-enough\/#.VA8ROcJdXbM\u003c\/a\u003e to learn the difference between Co:Writer and other word prediction programs.\u003c\/p\u003e\n\u003cp\u003e \u003c\/p\u003e\n\u003cp style=\"text-align: center;\"\u003e\u003cimg alt=\"Co:Writer for desktop \" src=\"\/\/cdn.shopify.com\/s\/files\/1\/1192\/0390\/files\/CoWriterUniversal_Desktop-CoWriter-Universal_medium.png?15665373765337601422\" style=\"float: none;\"\u003e\u003c\/p\u003e\n\u003cp style=\"text-align: center;\"\u003e \u003c\/p\u003e\n\u003cp style=\"text-align: left;\"\u003e\u003cstrong\u003eSettings for Desktop \u003c\/strong\u003e\u003c\/p\u003e\n\u003cp\u003eCo:Writer offers extensive options for most accessibility needs for display, prediction, and speech.\u003c\/p\u003e\n\u003cp style=\"text-align: center;\"\u003e\u003cimg src=\"\/\/cdn.shopify.com\/s\/files\/1\/1192\/0390\/files\/Options_1_grande.JPG?11573495893989684421\" alt=\"Co:Writer Universal options \"\u003e \u003c\/p\u003e\n\u003cp style=\"text-align: center;\"\u003e\u003cimg src=\"\/\/cdn.shopify.com\/s\/files\/1\/1192\/0390\/files\/Options_2_v2_grande.jpg?11573495893989684421\" alt=\"Co:Writer Universal offers extensive options to customize to your needs\"\u003e\u003c\/p\u003e\n\u003ch5 style=\"text-align: left;\"\u003eSpeech Recognition \u003c\/h5\u003e\n\u003cp style=\"text-align: left;\"\u003eNeed to speak it? No problem. Just click on the microphone choice -- you speak, Co:writer writes it. Great for starting an idea or narrowing a choice you don't see. Seamlessly use speech supports when you need it, but be able to go to typing and selecting when that works better.\u003c\/p\u003e\n\u003cp style=\"text-align: left;\"\u003eSee Co:Writer's built-in speech recognition for yourself in this 2-min demo.\u003c\/p\u003e\n\u003cp style=\"text-align: center;\"\u003e\u003ciframe src=\"https:\/\/player.vimeo.com\/video\/141600251\" webkitallowfullscreen=\"\" mozallowfullscreen=\"\" allowfullscreen=\"\" frameborder=\"0\" height=\"281\" width=\"500\"\u003e\u003c\/iframe\u003e\u003c\/p\u003e\n\u003cp style=\"text-align: center;\"\u003e\u003ca href=\"https:\/\/vimeo.com\/141600251\"\u003eUsing Speech Recognition in Co:Writer Universal\u003c\/a\u003e from \u003ca href=\"https:\/\/vimeo.com\/donjohnstoninc\"\u003eDonJohnstonInc\u003c\/a\u003e on \u003ca href=\"https:\/\/vimeo.com\"\u003eVimeo\u003c\/a\u003e.\u003c\/p\u003e\n\u003cp\u003e \u003c\/p\u003e\n\u003ch5 style=\"text-align: left;\"\u003eTopic Dictionaries \u003c\/h5\u003e\n\u003cp\u003ePredict in the topic you're writing about to improve accuracy and build specialized vocabulary. Over 4 million topic dictionaries are at your fingertips covering all curriculum subjects. Just type the first few letters of the topic name and choose the topic. The topic-specific words are automatically added to Co:Writer predictions.\u003c\/p\u003e\n\u003cp\u003eMomentary Topic Dictionaries automatically scrape email contents and webpages for unique vocabulary and bring them into Co:Writer's dictionaries. So if you're replying to an email, you may be surprised to see the sender's name and words from their email automatically appear in your guesses!\u003c\/p\u003e\n\u003cp\u003e \u003c\/p\u003e\n\u003cp style=\"text-align: center;\"\u003e\u003cimg src=\"\/\/cdn.shopify.com\/s\/files\/1\/1192\/0390\/files\/Topic_Dictionaries_1_grande.JPG?4399297766409862940\" alt=\"Co:Writer Universal topic dictionaries \"\u003e\u003c\/p\u003e\n\u003cp style=\"text-align: center;\"\u003e\u003cimg src=\"\/\/cdn.shopify.com\/s\/files\/1\/1192\/0390\/files\/Topic_dictionaries_2_v2_grande.jpg?4399297766409862940\" alt=\"Co:Writer Universal topic dictionaries \"\u003e\u003c\/p\u003e\n\u003cp style=\"text-align: center;\"\u003e\u003cimg src=\"\/\/cdn.shopify.com\/s\/files\/1\/1192\/0390\/files\/Topic_Dictionaries_3_v2_grande.jpg?4399297766409862940\" alt=\"Co:Writer Universal Topic Dictionaries \"\u003e\u003c\/p\u003e\n\u003ch5 style=\"text-align: left;\"\u003eReading Out Loud\u003c\/h5\u003e\n\u003cp\u003eCo:Writer Universal adds speech capabilities to your device. Simply select a passage of text and right click. Co:Writer can speak the text aloud. It can also add words in the selection to your personal word dictionary or create a new Topic Dictionary from the passage.\u003c\/p\u003e\n\u003cp style=\"text-align: center;\"\u003e \u003c\/p\u003e\n\u003ch5 style=\"text-align: left;\"\u003eWord Bank \u003c\/h5\u003e\n\u003cp\u003eThe word bank helps break writer's block. It automatically presents a list of topic-specific words whenever a Topic Dictionary is selected, and is available in both list and word cloud view.\u003c\/p\u003e\n\u003cp style=\"text-align: center;\"\u003e  \u003c\/p\u003e\n\u003ch5 style=\"text-align: left;\"\u003eData Collection \u003c\/h5\u003e\n\u003cp\u003eIt's hard to make good decisions without good data. Fortunately, Co:Writer Universal gives you access to the kind of data you need to make great decisions. It shows you how much students are writing with Co:Writer as well as their vocabulary acquisition and usage. This data gives you a level of fidelity of implementation that you've never had before!\u003c\/p\u003e\n\u003cp\u003e \u003c\/p\u003e\n\u003cp style=\"text-align: center;\"\u003e\u003cimg src=\"\/\/cdn.shopify.com\/s\/files\/1\/1192\/0390\/files\/Educator-Dashboard-Group-Data_grande.jpg?14617037217602775839\" alt=\"Co:Writer Universal shows group and individual usage data\"\u003e\u003c\/p\u003e\n\u003cp style=\"text-align: center;\"\u003e \u003c\/p\u003e\n\u003cp style=\"text-align: left;\"\u003eSee Co:Writer Data in this 3-minute video. \u003c\/p\u003e\n\u003cp style=\"text-align: center;\"\u003e\u003ciframe src=\"https:\/\/player.vimeo.com\/video\/122431599\" webkitallowfullscreen=\"\" mozallowfullscreen=\"\" allowfullscreen=\"\" frameborder=\"0\" height=\"281\" width=\"500\"\u003e\u003c\/iframe\u003e\u003c\/p\u003e\n\u003cp style=\"text-align: center;\"\u003e\u003ca href=\"https:\/\/vimeo.com\/122431599\"\u003eCo:Writer Universal | Understanding the Data\u003c\/a\u003e from \u003ca href=\"https:\/\/vimeo.com\/donjohnstoninc\"\u003eDonJohnstonInc\u003c\/a\u003e on \u003ca href=\"https:\/\/vimeo.com\"\u003eVimeo\u003c\/a\u003e.\u003c\/p\u003e\n\u003cp\u003e \u003c\/p\u003e\n\u003cp style=\"text-align: left;\"\u003e\u003cstrong\u003eProductivity Data\u003c\/strong\u003e\u003c\/p\u003e\n\u003cp style=\"text-align: left;\"\u003eHow much are your AT tools being used? You'll know exactly how much students are writing with Co:Writer, down to the word and hour!\u003c\/p\u003e\n\u003cp style=\"text-align: left;\"\u003e \u003c\/p\u003e\n\u003cp style=\"text-align: center;\"\u003e\u003cimg src=\"\/\/cdn.shopify.com\/s\/files\/1\/1192\/0390\/files\/Jorge-usage-data_grande.jpg?7186580434808380748\" alt=\"Co:Writer Universal usage data shows words written and hours used\"\u003e\u003c\/p\u003e\n\u003cp style=\"text-align: center;\"\u003e \u003c\/p\u003e\n\u003ch5 style=\"text-align: left;\"\u003eSupport and Specifications \u003c\/h5\u003e\n\u003cp\u003eInstall Guides: \u003c\/p\u003e\n\u003cul\u003e\n\u003cli\u003e\u003cspan style=\"color: #0000ff;\"\u003e\u003ca href=\"http:\/\/donjohnston.com\/wp-content\/downloads\/support\/installing_cowriter_universal_app_ios.pdf\" title=\"Installing Co:Writer Universal App for Apple iO\" style=\"color: #0000ff;\" target=\"_blank\" rel=\"noopener noreferrer\"\u003e\u003cspan style=\"line-height: 1.4;\"\u003eApp for iOS\u003c\/span\u003e\u003c\/a\u003e\u003c\/span\u003e\u003c\/li\u003e\n\u003cli\u003e\u003cspan style=\"color: #0000ff;\"\u003e\u003ca href=\"http:\/\/donjohnston.com\/wp-content\/downloads\/support\/cowriter_universal_install_chrome_app_extension.pdf\" title=\"Installing Co:Writer Universal App for Chrome\" style=\"color: #0000ff;\" target=\"_blank\" rel=\"noopener noreferrer\"\u003e\u003cspan style=\"line-height: 1.4;\"\u003eApp and Extension for Chrome\u003c\/span\u003e\u003c\/a\u003e\u003c\/span\u003e\u003c\/li\u003e\n\u003cli\u003e\u003cspan style=\"color: #0000ff;\"\u003e\u003ca href=\"http:\/\/donjohnston.com\/wp-content\/downloads\/support\/cowriter_universal_install_desktop_win_mac.pdf\" title=\"Installing Co:Writer Universal Desktop for Windows\" style=\"color: #0000ff;\" target=\"_blank\" rel=\"noopener noreferrer\"\u003e\u003cspan style=\"line-height: 1.4;\"\u003eDesktop for PC and Mac\u003c\/span\u003e\u003c\/a\u003e\u003c\/span\u003e\u003c\/li\u003e\n\u003c\/ul\u003e\n\u003cp\u003e\u003cspan style=\"line-height: 1.4;\"\u003ePlatform Comparison Chart: \u003ca href=\"http:\/\/donjohnston.com\/wp-content\/downloads\/using\/cowriter_universal_platform_comparison_chart.pdf\" title=\"Co:Writer Universal Platform Comparison\" target=\"_blank\" rel=\"noopener noreferrer\"\u003eThis guide\u003c\/a\u003e explains how Co:Writer Universal integrates between platforms (PDF)\u003c\/span\u003e\u003c\/p\u003e\n\u003cp\u003eUnderstanding the Educator Dashboard:\u003c\/p\u003e\n\u003cul\u003e\n\u003cli\u003e\n\u003cspan style=\"line-height: 1.4;\"\u003eTypes of users: \u003c\/span\u003e\u003cspan style=\"line-height: 1.4;\"\u003e\u003c\/span\u003e\u003ca href=\"http:\/\/donjohnston.com\/wp-content\/downloads\/support\/educator_dashboard_types_of_users.pdf\" title=\"Manage Educators What and Why\" style=\"line-height: 1.4;\" target=\"_blank\" rel=\"noopener noreferrer\"\u003eThis guide\u003c\/a\u003e\u003cspan style=\"line-height: 1.4;\"\u003e provides descriptions of the user levels within Educator Dashboard\u003c\/span\u003e\n\u003c\/li\u003e\n\u003c\/ul\u003e\n\u003cp\u003e\u003cspan style=\"line-height: 1.4;\"\u003eGetting Started with Educator Dashboard: \u003c\/span\u003e\u003c\/p\u003e\n\u003cul\u003e\n\u003cli\u003e\n\u003ca href=\"http:\/\/donjohnston.com\/wp-content\/downloads\/support\/educator_dashboard_getting_started_administrator.pdf\" title=\"Getting Started as an Administrator\"\u003eA\u003c\/a\u003e\u003ca href=\"http:\/\/donjohnston.com\/wp-content\/downloads\/support\/educator_dashboard_getting_started_administrator.pdf\" title=\"Getting Started as an Administrator\"\u003es an Administrator\u003c\/a\u003e\n\u003c\/li\u003e\n\u003cli\u003e\u003ca href=\"http:\/\/donjohnston.com\/wp-content\/downloads\/support\/educator_dashboard_getting_started_analyst.pdf\" title=\"Getting Started as an Analyst\" target=\"_blank\" rel=\"noopener noreferrer\"\u003eAs an Analyst\u003c\/a\u003e\u003c\/li\u003e\n\u003cli\u003e\u003ca href=\"http:\/\/donjohnston.com\/wp-content\/downloads\/support\/educator_dashboard_getting_started_educator.pdf\" title=\"Getting Started as an Educator\" target=\"_blank\" rel=\"noopener noreferrer\"\u003eAs an Educator\u003c\/a\u003e\u003c\/li\u003e\n\u003c\/ul\u003e\n\u003cp\u003e \u003c\/p\u003e\n\u003ch5\u003eMonthly Subscriptions\u003c\/h5\u003e\n\u003cp\u003eFor monthly subscription options starting at 4.99 USD available on Don Johnston's page. Follow the link \u003ca href=\"https:\/\/learningtools.donjohnston.com\/product\/cowriter\/\" target=\"_blank\" title=\"Co Writer monthly subscription option available here at Don Johnston's official Co Writer page\" rel=\"noopener noreferrer\"\u003ehere\u003c\/a\u003e.\u003c\/p\u003e\n\u003cp\u003e\u003cem\u003e\u003cstrong\u003e*Note: if your school has restrictions on out-of-country purchases, or other considerations, please \u003ca href=\"mailto:info@bridges-canada.com\" target=\"_blank\" title=\"Contact Bridges if your school has any restrictions on out-of-country purchases \" rel=\"noopener noreferrer\"\u003econtact Bridges\u003c\/a\u003e\u003cspan\u003e \u003c\/span\u003eto facilitate your subscription purchase. \u003c\/strong\u003e\u003c\/em\u003e\u003c\/p\u003e\n\u003c\/div\u003e","published_at":"2016-06-23T14:36:00-04:00","created_at":"2016-04-01T21:07:05-04:00","vendor":"Don Johnston Incorporated","type":"Software","tags":["Compatibility_Chromebook","Compatibility_iOS (iPads\/iPhones)","Compatibility_Mac OS","Compatibility_Windows PC","High Incidence","Learning Area_Literacy","Learning Area_Post-Secondary","Learning Area_Reading","Learning Area_Writing","Type_Exclusives","Type_Software","Type_Subscription"],"price":6800,"price_min":6800,"price_max":25200,"available":true,"price_varies":true,"compare_at_price":null,"compare_at_price_min":0,"compare_at_price_max":0,"compare_at_price_varies":false,"variants":[{"id":21553072210002,"title":"1 seat for a 3 year subscription","option1":"1 seat for a 3 year subscription","option2":null,"option3":null,"sku":"22P40WSEAT3Y","requires_shipping":false,"taxable":true,"featured_image":null,"available":true,"name":"Co:Writer Universal Annual Subscriptions - 1 seat for a 3 year subscription","public_title":"1 seat for a 3 year subscription","options":["1 seat for a 3 year subscription"],"price":25200,"weight":0,"compare_at_price":null,"inventory_quantity":-1,"inventory_management":"shopify","inventory_policy":"continue","barcode":"","requires_selling_plan":false,"selling_plan_allocations":[]},{"id":18232066371,"title":"5 - 99 seats @ $84 per seat","option1":"5 - 99 seats @ $84 per seat","option2":null,"option3":null,"sku":"22P40WSEAT1Y_20TO99","requires_shipping":false,"taxable":true,"featured_image":null,"available":true,"name":"Co:Writer Universal Annual Subscriptions - 5 - 99 seats @ $84 per seat","public_title":"5 - 99 seats @ $84 per seat","options":["5 - 99 seats @ $84 per seat"],"price":8400,"weight":0,"compare_at_price":null,"inventory_quantity":-3,"inventory_management":"shopify","inventory_policy":"continue","barcode":"","requires_selling_plan":false,"selling_plan_allocations":[]},{"id":22531011971,"title":"100+ @ $68 per seat","option1":"100+ @ $68 per seat","option2":null,"option3":null,"sku":"22P40WSEAT1Y_100PLUS","requires_shipping":false,"taxable":true,"featured_image":null,"available":true,"name":"Co:Writer Universal Annual Subscriptions - 100+ @ $68 per seat","public_title":"100+ @ $68 per seat","options":["100+ @ $68 per seat"],"price":6800,"weight":0,"compare_at_price":null,"inventory_quantity":0,"inventory_management":"shopify","inventory_policy":"continue","barcode":null,"requires_selling_plan":false,"selling_plan_allocations":[]}],"images":["\/\/cdn.shopify.com\/s\/files\/1\/1192\/0390\/products\/cowriter-universal-annual-subscriptions-software-don-johnston-incorporated-assistive-technology-401723.jpeg?v=1571439653","\/\/cdn.shopify.com\/s\/files\/1\/1192\/0390\/products\/cowriter-universal-annual-subscriptions-software-don-johnston-incorporated-assistive-technology-233413.jpg?v=1571439653","\/\/cdn.shopify.com\/s\/files\/1\/1192\/0390\/products\/cowriter-universal-annual-subscriptions-software-don-johnston-incorporated-assistive-technology-104458.JPG?v=1571439653","\/\/cdn.shopify.com\/s\/files\/1\/1192\/0390\/products\/cowriter-universal-annual-subscriptions-software-don-johnston-incorporated-assistive-technology-362731.JPG?v=1571439653","\/\/cdn.shopify.com\/s\/files\/1\/1192\/0390\/products\/cowriter-universal-annual-subscriptions-software-don-johnston-incorporated-assistive-technology-205343.JPG?v=1571439653","\/\/cdn.shopify.com\/s\/files\/1\/1192\/0390\/products\/cowriter-universal-annual-subscriptions-software-don-johnston-incorporated-assistive-technology-938660.JPG?v=1571439653","\/\/cdn.shopify.com\/s\/files\/1\/1192\/0390\/products\/cowriter-universal-annual-subscriptions-software-don-johnston-incorporated-assistive-technology-247701.JPG?v=1571439653","\/\/cdn.shopify.com\/s\/files\/1\/1192\/0390\/products\/cowriter-universal-annual-subscriptions-software-don-johnston-incorporated-assistive-technology-665470.JPG?v=1571439653"],"featured_image":"\/\/cdn.shopify.com\/s\/files\/1\/1192\/0390\/products\/cowriter-universal-annual-subscriptions-software-don-johnston-incorporated-assistive-technology-401723.jpeg?v=1571439653","options":["Number of Seats"],"media":[{"alt":"Co:Writer Universal Annual Subscriptions - Bridges Canada","id":53451456594,"position":1,"preview_image":{"aspect_ratio":1.488,"height":328,"width":488,"src":"https:\/\/cdn.shopify.com\/s\/files\/1\/1192\/0390\/products\/cowriter-universal-annual-subscriptions-software-don-johnston-incorporated-assistive-technology-401723.jpeg?v=1571439653"},"aspect_ratio":1.488,"height":328,"media_type":"image","src":"https:\/\/cdn.shopify.com\/s\/files\/1\/1192\/0390\/products\/cowriter-universal-annual-subscriptions-software-don-johnston-incorporated-assistive-technology-401723.jpeg?v=1571439653","width":488},{"alt":"Co:Writer Universal Annual Subscriptions - Bridges Canada","id":53451489362,"position":2,"preview_image":{"aspect_ratio":2.939,"height":147,"width":432,"src":"https:\/\/cdn.shopify.com\/s\/files\/1\/1192\/0390\/products\/cowriter-universal-annual-subscriptions-software-don-johnston-incorporated-assistive-technology-233413.jpg?v=1571439653"},"aspect_ratio":2.939,"height":147,"media_type":"image","src":"https:\/\/cdn.shopify.com\/s\/files\/1\/1192\/0390\/products\/cowriter-universal-annual-subscriptions-software-don-johnston-incorporated-assistive-technology-233413.jpg?v=1571439653","width":432},{"alt":"Co:Writer Universal Annual Subscriptions - Bridges Canada","id":53451522130,"position":3,"preview_image":{"aspect_ratio":0.991,"height":555,"width":550,"src":"https:\/\/cdn.shopify.com\/s\/files\/1\/1192\/0390\/products\/cowriter-universal-annual-subscriptions-software-don-johnston-incorporated-assistive-technology-104458.JPG?v=1571439653"},"aspect_ratio":0.991,"height":555,"media_type":"image","src":"https:\/\/cdn.shopify.com\/s\/files\/1\/1192\/0390\/products\/cowriter-universal-annual-subscriptions-software-don-johnston-incorporated-assistive-technology-104458.JPG?v=1571439653","width":550},{"alt":"Co:Writer Universal Annual Subscriptions - Bridges Canada","id":53451554898,"position":4,"preview_image":{"aspect_ratio":1.002,"height":538,"width":539,"src":"https:\/\/cdn.shopify.com\/s\/files\/1\/1192\/0390\/products\/cowriter-universal-annual-subscriptions-software-don-johnston-incorporated-assistive-technology-362731.JPG?v=1571439653"},"aspect_ratio":1.002,"height":538,"media_type":"image","src":"https:\/\/cdn.shopify.com\/s\/files\/1\/1192\/0390\/products\/cowriter-universal-annual-subscriptions-software-don-johnston-incorporated-assistive-technology-362731.JPG?v=1571439653","width":539},{"alt":"Co:Writer Universal Annual Subscriptions - Bridges Canada","id":53451587666,"position":5,"preview_image":{"aspect_ratio":1.014,"height":556,"width":564,"src":"https:\/\/cdn.shopify.com\/s\/files\/1\/1192\/0390\/products\/cowriter-universal-annual-subscriptions-software-don-johnston-incorporated-assistive-technology-205343.JPG?v=1571439653"},"aspect_ratio":1.014,"height":556,"media_type":"image","src":"https:\/\/cdn.shopify.com\/s\/files\/1\/1192\/0390\/products\/cowriter-universal-annual-subscriptions-software-don-johnston-incorporated-assistive-technology-205343.JPG?v=1571439653","width":564},{"alt":"Co:Writer Universal Annual Subscriptions - Bridges Canada","id":53451620434,"position":6,"preview_image":{"aspect_ratio":0.998,"height":548,"width":547,"src":"https:\/\/cdn.shopify.com\/s\/files\/1\/1192\/0390\/products\/cowriter-universal-annual-subscriptions-software-don-johnston-incorporated-assistive-technology-938660.JPG?v=1571439653"},"aspect_ratio":0.998,"height":548,"media_type":"image","src":"https:\/\/cdn.shopify.com\/s\/files\/1\/1192\/0390\/products\/cowriter-universal-annual-subscriptions-software-don-johnston-incorporated-assistive-technology-938660.JPG?v=1571439653","width":547},{"alt":"Co:Writer Universal Annual Subscriptions - Bridges Canada","id":53451653202,"position":7,"preview_image":{"aspect_ratio":0.964,"height":560,"width":540,"src":"https:\/\/cdn.shopify.com\/s\/files\/1\/1192\/0390\/products\/cowriter-universal-annual-subscriptions-software-don-johnston-incorporated-assistive-technology-247701.JPG?v=1571439653"},"aspect_ratio":0.964,"height":560,"media_type":"image","src":"https:\/\/cdn.shopify.com\/s\/files\/1\/1192\/0390\/products\/cowriter-universal-annual-subscriptions-software-don-johnston-incorporated-assistive-technology-247701.JPG?v=1571439653","width":540},{"alt":"Co:Writer Universal Annual Subscriptions - Bridges Canada","id":53451685970,"position":8,"preview_image":{"aspect_ratio":1.004,"height":555,"width":557,"src":"https:\/\/cdn.shopify.com\/s\/files\/1\/1192\/0390\/products\/cowriter-universal-annual-subscriptions-software-don-johnston-incorporated-assistive-technology-665470.JPG?v=1571439653"},"aspect_ratio":1.004,"height":555,"media_type":"image","src":"https:\/\/cdn.shopify.com\/s\/files\/1\/1192\/0390\/products\/cowriter-universal-annual-subscriptions-software-don-johnston-incorporated-assistive-technology-665470.JPG?v=1571439653","width":557}],"requires_selling_plan":false,"selling_plan_groups":[],"content":"\u003cp\u003eCo:Writer Universal uses grammar- and vocabulary-smart word prediction to help students better express their ideas in writing across devices. And now built-in speech recognition adds an entirely new way of getting ideas out!\u003c\/p\u003e\n\u003cp\u003eOnly Co:Writer Universal gives students access to the most powerful word prediction on their favorite devices (Chromebooks, iPads, and Mac\/Windows desktops), over 4 million topic dictionaries, built-in speech recognition in Google Chrome, and incredible privacy-safe data collection.\u003c\/p\u003e\n\u003cp\u003e\u003cspan\u003eWant to test out Co:Writer Universal before you decide to buy? \u003c\/span\u003e\u003c\/p\u003e\n\u003ch3 style=\"text-align: center;\"\u003e\u003cstrong\u003e\u003ca href=\"https:\/\/learningtools.donjohnston.com\/product\/cowriter\/request-1\/\" target=\"_blank\" title=\"Free trial of Co:Writer Universal\" rel=\"noopener noreferrer\"\u003eSign up for a free trial\u003c\/a\u003e\u003c\/strong\u003e\u003c\/h3\u003e\n\u003cp\u003e \u003c\/p\u003e\n\u003cp\u003eNote on subscription options available:\u003c\/p\u003e\n\u003cp\u003e\u003cstrong\u003e22P40WSEAT3Y\u003c\/strong\u003e - price is the total for the 3 year access to Co:Writer Universal for a single user.\u003c\/p\u003e\n\u003cp\u003e\u003cstrong\u003e22P40WSEAT1Y_20TO99\u003c\/strong\u003e - price is on a per seat per year basis; please make sure you order a minimum quantity of 5 to qualify for this price\u003c\/p\u003e\n\u003cp\u003e\u003cstrong\u003e22P40WSEAT1Y_100PLUS\u003c\/strong\u003e - \u003cspan\u003eprice \u003c\/span\u003e\u003cspan\u003eis \u003c\/span\u003e\u003cspan\u003eon a per seat per year basis; please make sure you order a minimum quantity of 100 \u003c\/span\u003e\u003c\/p\u003e\n\u003cp\u003e \u003c\/p\u003e\n\u003cp\u003e\u003cstrong\u003eLooking to purchase a district or site license? \u003ca href=\"mailto:info@bridges-canada.com\" target=\"_blank\" title=\"Contact Bridges to purchase district or site licenses \" rel=\"noopener noreferrer\"\u003eContact Bridges\u003c\/a\u003e for bigger discounts and a detailed proposal.\u003c\/strong\u003e\u003c\/p\u003e\n\u003cp\u003e \u003c\/p\u003e\n\u003cp\u003e\u003cstrong\u003eThe Tools: \u003c\/strong\u003e\u003c\/p\u003e\n\u003cdiv\u003e\n\u003cul\u003e\n\u003cli\u003e\n\u003cstrong\u003eWord Prediction:\u003c\/strong\u003e Be a fearless writer with grammar-smart, inventive spelling aware word prediction.\u003c\/li\u003e\n\u003cli\u003e\u003cstrong\u003eFlexible Spelling: \u003c\/strong\u003e\u003c\/li\u003e\n\u003cul\u003e\n\u003cli\u003eBefore: The blk jargon flu over the bra lfnt.\u003c\/li\u003e\n\u003cli\u003eAfter: The black dragon flew over the gray elephant.\u003c\/li\u003e\n\u003c\/ul\u003e\n\u003cli\u003e\n\u003cstrong\u003eSpeech-to-Text: \u003c\/strong\u003eDon't want to type? Speak it and we'll write it.\u003c\/li\u003e\n\u003cli\u003e\n\u003cstrong\u003eTopic Dictionaries:\u003c\/strong\u003e Need particular vocabulary? We have over 5 million topic dictionaries.\u003c\/li\u003e\n\u003cli\u003e\n\u003cstrong\u003eMomentary Dictionaries:\u003c\/strong\u003e Reading and writing? Momentary dictionaries automatically pull in the vocabulary from what you're reading so you can write.\u003c\/li\u003e\n\u003cli\u003e\n\u003cstrong\u003eText-to-Speech:\u003c\/strong\u003e Auditory feedback while you write and revise.\u003c\/li\u003e\n\u003c\/ul\u003e\n\u003cp\u003e\u003cstrong\u003e\u003cspan style=\"line-height: 21px;\"\u003eAdditional Features: \u003c\/span\u003e\u003c\/strong\u003e\u003c\/p\u003e\n\u003cul\u003e\n\u003cli\u003e\n\u003cstrong style=\"line-height: 1.5;\"\u003eAnywhere, anytime access:\u003c\/strong\u003e\u003cspan style=\"line-height: 1.5;\"\u003e It doesn't matter if a student is working in a library, at home, at a friend's place, or the classroom. Whether on an iPad, laptop, Chromebook or virtually any tool that can run a Google Chrome browser, Co:Writer is there. Not just for a BYOD (Bring Your Own Device) environment, the flexibility of Co:Writer Universal removes usage barriers.\u003c\/span\u003e\n\u003c\/li\u003e\n\u003cli\u003e\n\u003cstrong style=\"line-height: 1.5;\"\u003eShared Settings:\u003c\/strong\u003e\u003cspan style=\"line-height: 1.5;\"\u003e Students' personal Co:Writer Universal settings follow them through the cloud on any platform they choose.\u003c\/span\u003e\n\u003c\/li\u003e\n\u003cli\u003e\n\u003cstrong style=\"line-height: 1.5;\"\u003eWriting Integration:\u003c\/strong\u003e\u003cspan style=\"line-height: 1.5;\"\u003e Students can write in Co:Writer's built-in word processor for iPad or Chrome, and their writing is now shared through the cloud!\u003c\/span\u003e\n\u003c\/li\u003e\n\u003cli\u003e\n\u003cstrong\u003eSpeech Recognition:\u003c\/strong\u003e The Chrome extension now has integrated speech recognition (speech to text). \u003c\/li\u003e\n\u003cli\u003e\n\u003cstrong style=\"line-height: 1.5;\"\u003eUniversal Licensing:\u003c\/strong\u003e\u003cspan style=\"line-height: 1.5;\"\u003e new subscription pricing means universal access for everyone in your education environment -- students, teachers, consultants -- on any platform they need.\u003c\/span\u003e\n\u003c\/li\u003e\n\u003cli\u003e\n\u003cstrong\u003eReporting:\u003c\/strong\u003e Detailed reporting and qualitative usage statistics will be available across all platforms.\u003c\/li\u003e\n\u003c\/ul\u003e\n\u003cp style=\"text-align: center;\"\u003e\u003ciframe src=\"https:\/\/player.vimeo.com\/video\/104430354\" webkitallowfullscreen=\"\" mozallowfullscreen=\"\" allowfullscreen=\"\" frameborder=\"0\" height=\"281\" width=\"500\"\u003e\u003c\/iframe\u003e\u003c\/p\u003e\n\u003cp style=\"text-align: center;\"\u003e\u003ca href=\"https:\/\/vimeo.com\/104430354\"\u003eCo:Writer Universal | Quick Demo\u003c\/a\u003e from \u003ca href=\"https:\/\/vimeo.com\/donjohnstoninc\"\u003eDonJohnstonInc\u003c\/a\u003e on \u003ca href=\"https:\/\/vimeo.com\"\u003eVimeo\u003c\/a\u003e.\u003c\/p\u003e\n\u003cp style=\"text-align: left;\"\u003e \u003c\/p\u003e\n\u003ch5 style=\"text-align: left;\"\u003eIntegration Across Google, iPad, and Desktop \u003c\/h5\u003e\n\u003cp\u003e\u003cstrong\u003eWriting Integration Across Devices \u003c\/strong\u003e\u003c\/p\u003e\n\u003cp style=\"text-align: left;\"\u003eIn the past, transferring files between school, home, and across computers was challenging at best, and sometimes impossible. Co:Writer Universal eliminates this obstacle entirely. Students simply write in Co:Writer's built-in word processor for iPad or Chrome, and the writing is shared through the cloud!\u003c\/p\u003e\n\u003cp style=\"text-align: left;\"\u003e \u003c\/p\u003e\n\u003cp style=\"text-align: center;\"\u003e\u003cimg src=\"https:\/\/cdn.shopify.com\/s\/files\/1\/1192\/0390\/files\/CoWriter-ipad-chromebook-desktop-device-sandwich_grande.png?16459746538944482439\" alt=\"Co:Writer works on iPads, Desktop, and Mackbooks \"\u003e\u003c\/p\u003e\n\u003cp style=\"text-align: center;\"\u003e \u003c\/p\u003e\n\u003cp style=\"text-align: left;\"\u003e\u003cstrong\u003eSettings Integration Across Devices\u003c\/strong\u003e\u003c\/p\u003e\n\u003cp style=\"text-align: left;\"\u003eSet background and text preferences and create a Topic Dictionary in any platform and they automatically sync in any other platform or device. \u003c\/p\u003e\n\u003cp style=\"text-align: left;\"\u003e \u003c\/p\u003e\n\u003ch5 style=\"text-align: left;\"\u003eCo:Writer for iPad\u003c\/h5\u003e\n\u003cp style=\"text-align: left;\"\u003eIn less than a year, Co:Writer for iOS has made the list of top 100 most popular education apps. Co:Writer for iOS includes many of the key supports you rely on to help your most struggling writers, such as FlexSpell™ and Topic Dictionaries, which carry over when using Co:Writer on other devices. And now writings are saved to the cloud so they are accessible across iPads, desktop, and Chromebooks.\u003c\/p\u003e\n\u003cp style=\"text-align: left;\"\u003e \u003c\/p\u003e\n\u003cp style=\"text-align: center;\"\u003e\u003cimg alt=\"Co:Writer Universal iPad App\" src=\"\/\/cdn.shopify.com\/s\/files\/1\/1192\/0390\/files\/CoWriterUniversal_iPad_mona_lisa_large.png?10570147754181498446\" style=\"float: none;\"\u003e\u003c\/p\u003e\n\u003cp style=\"text-align: left;\"\u003e\u003cstrong\u003eKeyboard for iPad\u003c\/strong\u003e\u003c\/p\u003e\n\u003cp\u003eCo:Writer Universal includes a keyboard for your iPads (iTouch and iPhones too)! Use it anywhere you write like email, websites, and Google Drive. It works just like Apple's stock keyboard, but the prediction is much better and it supports Topic Dictionaries and data collection. The data fully integrates with Educator Dashboard.\u003c\/p\u003e\n\u003cp style=\"text-align: center;\"\u003e\u003cimg alt=\"iPad Americas Cup\" src=\"http:\/\/donjohnston.com\/wp-content\/uploads\/2013\/08\/iPad_Americas_cup-300x225.png\" style=\"float: none;\"\u003e\u003c\/p\u003e\n\u003cp\u003eSee it for yourself in this quick, 2-minute video. \u003c\/p\u003e\n\u003cp style=\"text-align: center;\"\u003e\u003ciframe src=\"https:\/\/player.vimeo.com\/video\/150922158\" webkitallowfullscreen=\"\" mozallowfullscreen=\"\" allowfullscreen=\"\" frameborder=\"0\" height=\"281\" width=\"500\"\u003e\u003c\/iframe\u003e\u003c\/p\u003e\n\u003cp style=\"text-align: center;\"\u003e\u003ca href=\"https:\/\/vimeo.com\/150922158\"\u003eCoWriter Universal Keyboard for iPad\u003c\/a\u003e from \u003ca href=\"https:\/\/vimeo.com\/donjohnstoninc\"\u003eDonJohnstonInc\u003c\/a\u003e on \u003ca href=\"https:\/\/vimeo.com\"\u003eVimeo\u003c\/a\u003e.\u003c\/p\u003e\n\u003cp\u003e \u003c\/p\u003e\n\u003cp style=\"text-align: left;\"\u003e\u003cstrong\u003eWord Prediction Settings for iPad\u003c\/strong\u003e\u003c\/p\u003e\n\u003cp style=\"text-align: left;\"\u003eCustomize Co:Writer to meet your specific needs. Change the look and feel, speech settings, and voices. Your updated settings will automatically sync across platforms through the cloud.\u003c\/p\u003e\n\u003cp style=\"text-align: center;\"\u003e \u003c\/p\u003e\n\u003ch5 style=\"text-align: left;\"\u003eCo:Writer for Chrome \u003c\/h5\u003e\n\u003cp\u003eCo:Writer Universal Extension for Chrome integrates with the Chrome browser for word prediction and speech recognition just about anywhere students write online, including Google Drive, blogs, social networks and email. Co:Writer instantly scrapes email contents and webpages for unique vocabulary that can be automatically included into Co:Writer's Topic Dictionaries.\u003c\/p\u003e\n\u003cp\u003e \u003c\/p\u003e\n\u003cp style=\"text-align: center;\"\u003e\u003cimg alt=\"Co:Writer in Chrome \" src=\"\/\/cdn.shopify.com\/s\/files\/1\/1192\/0390\/files\/CoWriterUniversal_Chrome_Extension_Website_grande.png?18145109035209980436\" style=\"float: none;\"\u003e\u003c\/p\u003e\n\u003cp style=\"text-align: center;\"\u003e \u003c\/p\u003e\n\u003cp\u003e\u003cstrong\u003eWord Prediction in Chrome\u003c\/strong\u003e\u003c\/p\u003e\n\u003cp\u003eCo:Writer Universal seamlessly integrates through the Chrome browser on Mac, Windows, and Chromebooks. Both an app and extension are available for nearly any writing task and include Co:Writer's unmatchable Flexspell™ technology and grammar-based recognition.\u003c\/p\u003e\n\u003cp\u003e \u003c\/p\u003e\n\u003cp style=\"text-align: left;\"\u003e\u003cstrong\u003eWord Prediction Settings for Chrome\u003c\/strong\u003e\u003c\/p\u003e\n\u003cp\u003eSettings allow you to customize Co:Writer to meet your specific needs. Change the look and feel, number of guesses, speech settings, and voices. Any changes to your settings will automatically sync across platforms through the cloud.\u003c\/p\u003e\n\u003cp\u003e \u003c\/p\u003e\n\u003cp style=\"text-align: center;\"\u003e\u003cimg src=\"\/\/cdn.shopify.com\/s\/files\/1\/1192\/0390\/files\/CoWriterUniversal_Chrome-Word-Prediction-Settings_grande.png?6269446945062467870\" alt=\"word prediction settings CoWriter Universal\"\u003e\u003c\/p\u003e\n\u003cp\u003e \u003c\/p\u003e\n\u003cp style=\"text-align: left;\"\u003e\u003cstrong\u003eExporting in Chrome\u003c\/strong\u003e\u003c\/p\u003e\n\u003cp\u003eTake your writings and share them to Google Drive, Dropbox, Facebook, or copy and paste them in other applications and word processors. You can even print them out to hand in the traditional way.\u003c\/p\u003e\n\u003cp\u003e \u003c\/p\u003e\n\u003cp style=\"text-align: center;\"\u003e\u003cimg src=\"\/\/cdn.shopify.com\/s\/files\/1\/1192\/0390\/files\/CoWriterUniversal_Chrome-Export_grande.png?4432652243275290664\" alt=\"Co:Writer Universal exporting in Chrome \"\u003e\u003c\/p\u003e\n\u003cp style=\"text-align: left;\"\u003e\u003cstrong\u003eCo:Writer Extension for Chrome\u003c\/strong\u003e\u003c\/p\u003e\n\u003cp\u003eGet Co:Writer support on just about any website. Whether updating your blog, writing an email, or writing a report in Google Drive, you'll have access to Co:Writer's grammar-smart word prediction and topic dictionaries.\u003c\/p\u003e\n\u003cp\u003e \u003c\/p\u003e\n\u003ch5\u003eCo:Writer for Desktop \u003c\/h5\u003e\n\u003cp\u003eIf students can write just 30% of what they want to say, Co:Writer will do the rest. As students write, Co:Writer \"predicts" what they're trying to say and offers word suggestions in real time. Even the most egregious spelling and grammar mistakes aren't a problem for Co:Writer's proprietary FlexSpell™ technology. Co:Writer goes further, bringing in topic-specific vocabulary instantly when writing in the content areas. You have to try it with a student to believe the impact it has!\u003c\/p\u003e\n\u003cp style=\"text-align: center;\"\u003e\u003cimg alt=\"Co:Writer Universal has flexible spelling that recognizes misspelled words \" src=\"\/\/cdn.shopify.com\/s\/files\/1\/1192\/0390\/files\/Flexable_spelling_grande.JPG?17143069904294991867\" style=\"float: none;\"\u003e\u003c\/p\u003e\n\u003cp style=\"text-align: center;\"\u003e \u003c\/p\u003e\n\u003cp\u003eRead \"Word Prediction—What's Good Enough?" \u003ca href=\"http:\/\/donjohnston.com\/word-prediction-whats-good-enough\/#.VA8ROcJdXbM\" title=\"Article: \u0026quot;Word Prediction - What's Good Enough?\u0026quot;\"\u003ehttp:\/\/donjohnston.com\/word-prediction-whats-good-enough\/#.VA8ROcJdXbM\u003c\/a\u003e to learn the difference between Co:Writer and other word prediction programs.\u003c\/p\u003e\n\u003cp\u003e \u003c\/p\u003e\n\u003cp style=\"text-align: center;\"\u003e\u003cimg alt=\"Co:Writer for desktop \" src=\"\/\/cdn.shopify.com\/s\/files\/1\/1192\/0390\/files\/CoWriterUniversal_Desktop-CoWriter-Universal_medium.png?15665373765337601422\" style=\"float: none;\"\u003e\u003c\/p\u003e\n\u003cp style=\"text-align: center;\"\u003e \u003c\/p\u003e\n\u003cp style=\"text-align: left;\"\u003e\u003cstrong\u003eSettings for Desktop \u003c\/strong\u003e\u003c\/p\u003e\n\u003cp\u003eCo:Writer offers extensive options for most accessibility needs for display, prediction, and speech.\u003c\/p\u003e\n\u003cp style=\"text-align: center;\"\u003e\u003cimg src=\"\/\/cdn.shopify.com\/s\/files\/1\/1192\/0390\/files\/Options_1_grande.JPG?11573495893989684421\" alt=\"Co:Writer Universal options \"\u003e \u003c\/p\u003e\n\u003cp style=\"text-align: center;\"\u003e\u003cimg src=\"\/\/cdn.shopify.com\/s\/files\/1\/1192\/0390\/files\/Options_2_v2_grande.jpg?11573495893989684421\" alt=\"Co:Writer Universal offers extensive options to customize to your needs\"\u003e\u003c\/p\u003e\n\u003ch5 style=\"text-align: left;\"\u003eSpeech Recognition \u003c\/h5\u003e\n\u003cp style=\"text-align: left;\"\u003eNeed to speak it? No problem. Just click on the microphone choice -- you speak, Co:writer writes it. Great for starting an idea or narrowing a choice you don't see. Seamlessly use speech supports when you need it, but be able to go to typing and selecting when that works better.\u003c\/p\u003e\n\u003cp style=\"text-align: left;\"\u003eSee Co:Writer's built-in speech recognition for yourself in this 2-min demo.\u003c\/p\u003e\n\u003cp style=\"text-align: center;\"\u003e\u003ciframe src=\"https:\/\/player.vimeo.com\/video\/141600251\" webkitallowfullscreen=\"\" mozallowfullscreen=\"\" allowfullscreen=\"\" frameborder=\"0\" height=\"281\" width=\"500\"\u003e\u003c\/iframe\u003e\u003c\/p\u003e\n\u003cp style=\"text-align: center;\"\u003e\u003ca href=\"https:\/\/vimeo.com\/141600251\"\u003eUsing Speech Recognition in Co:Writer Universal\u003c\/a\u003e from \u003ca href=\"https:\/\/vimeo.com\/donjohnstoninc\"\u003eDonJohnstonInc\u003c\/a\u003e on \u003ca href=\"https:\/\/vimeo.com\"\u003eVimeo\u003c\/a\u003e.\u003c\/p\u003e\n\u003cp\u003e \u003c\/p\u003e\n\u003ch5 style=\"text-align: left;\"\u003eTopic Dictionaries \u003c\/h5\u003e\n\u003cp\u003ePredict in the topic you're writing about to improve accuracy and build specialized vocabulary. Over 4 million topic dictionaries are at your fingertips covering all curriculum subjects. Just type the first few letters of the topic name and choose the topic. The topic-specific words are automatically added to Co:Writer predictions.\u003c\/p\u003e\n\u003cp\u003eMomentary Topic Dictionaries automatically scrape email contents and webpages for unique vocabulary and bring them into Co:Writer's dictionaries. So if you're replying to an email, you may be surprised to see the sender's name and words from their email automatically appear in your guesses!\u003c\/p\u003e\n\u003cp\u003e \u003c\/p\u003e\n\u003cp style=\"text-align: center;\"\u003e\u003cimg src=\"\/\/cdn.shopify.com\/s\/files\/1\/1192\/0390\/files\/Topic_Dictionaries_1_grande.JPG?4399297766409862940\" alt=\"Co:Writer Universal topic dictionaries \"\u003e\u003c\/p\u003e\n\u003cp style=\"text-align: center;\"\u003e\u003cimg src=\"\/\/cdn.shopify.com\/s\/files\/1\/1192\/0390\/files\/Topic_dictionaries_2_v2_grande.jpg?4399297766409862940\" alt=\"Co:Writer Universal topic dictionaries \"\u003e\u003c\/p\u003e\n\u003cp style=\"text-align: center;\"\u003e\u003cimg src=\"\/\/cdn.shopify.com\/s\/files\/1\/1192\/0390\/files\/Topic_Dictionaries_3_v2_grande.jpg?4399297766409862940\" alt=\"Co:Writer Universal Topic Dictionaries \"\u003e\u003c\/p\u003e\n\u003ch5 style=\"text-align: left;\"\u003eReading Out Loud\u003c\/h5\u003e\n\u003cp\u003eCo:Writer Universal adds speech capabilities to your device. Simply select a passage of text and right click. Co:Writer can speak the text aloud. It can also add words in the selection to your personal word dictionary or create a new Topic Dictionary from the passage.\u003c\/p\u003e\n\u003cp style=\"text-align: center;\"\u003e \u003c\/p\u003e\n\u003ch5 style=\"text-align: left;\"\u003eWord Bank \u003c\/h5\u003e\n\u003cp\u003eThe word bank helps break writer's block. It automatically presents a list of topic-specific words whenever a Topic Dictionary is selected, and is available in both list and word cloud view.\u003c\/p\u003e\n\u003cp style=\"text-align: center;\"\u003e  \u003c\/p\u003e\n\u003ch5 style=\"text-align: left;\"\u003eData Collection \u003c\/h5\u003e\n\u003cp\u003eIt's hard to make good decisions without good data. Fortunately, Co:Writer Universal gives you access to the kind of data you need to make great decisions. It shows you how much students are writing with Co:Writer as well as their vocabulary acquisition and usage. This data gives you a level of fidelity of implementation that you've never had before!\u003c\/p\u003e\n\u003cp\u003e \u003c\/p\u003e\n\u003cp style=\"text-align: center;\"\u003e\u003cimg src=\"\/\/cdn.shopify.com\/s\/files\/1\/1192\/0390\/files\/Educator-Dashboard-Group-Data_grande.jpg?14617037217602775839\" alt=\"Co:Writer Universal shows group and individual usage data\"\u003e\u003c\/p\u003e\n\u003cp style=\"text-align: center;\"\u003e \u003c\/p\u003e\n\u003cp style=\"text-align: left;\"\u003eSee Co:Writer Data in this 3-minute video. \u003c\/p\u003e\n\u003cp style=\"text-align: center;\"\u003e\u003ciframe src=\"https:\/\/player.vimeo.com\/video\/122431599\" webkitallowfullscreen=\"\" mozallowfullscreen=\"\" allowfullscreen=\"\" frameborder=\"0\" height=\"281\" width=\"500\"\u003e\u003c\/iframe\u003e\u003c\/p\u003e\n\u003cp style=\"text-align: center;\"\u003e\u003ca href=\"https:\/\/vimeo.com\/122431599\"\u003eCo:Writer Universal | Understanding the Data\u003c\/a\u003e from \u003ca href=\"https:\/\/vimeo.com\/donjohnstoninc\"\u003eDonJohnstonInc\u003c\/a\u003e on \u003ca href=\"https:\/\/vimeo.com\"\u003eVimeo\u003c\/a\u003e.\u003c\/p\u003e\n\u003cp\u003e \u003c\/p\u003e\n\u003cp style=\"text-align: left;\"\u003e\u003cstrong\u003eProductivity Data\u003c\/strong\u003e\u003c\/p\u003e\n\u003cp style=\"text-align: left;\"\u003eHow much are your AT tools being used? You'll know exactly how much students are writing with Co:Writer, down to the word and hour!\u003c\/p\u003e\n\u003cp style=\"text-align: left;\"\u003e \u003c\/p\u003e\n\u003cp style=\"text-align: center;\"\u003e\u003cimg src=\"\/\/cdn.shopify.com\/s\/files\/1\/1192\/0390\/files\/Jorge-usage-data_grande.jpg?7186580434808380748\" alt=\"Co:Writer Universal usage data shows words written and hours used\"\u003e\u003c\/p\u003e\n\u003cp style=\"text-align: center;\"\u003e \u003c\/p\u003e\n\u003ch5 style=\"text-align: left;\"\u003eSupport and Specifications \u003c\/h5\u003e\n\u003cp\u003eInstall Guides: \u003c\/p\u003e\n\u003cul\u003e\n\u003cli\u003e\u003cspan style=\"color: #0000ff;\"\u003e\u003ca href=\"http:\/\/donjohnston.com\/wp-content\/downloads\/support\/installing_cowriter_universal_app_ios.pdf\" title=\"Installing Co:Writer Universal App for Apple iO\" style=\"color: #0000ff;\" target=\"_blank\" rel=\"noopener noreferrer\"\u003e\u003cspan style=\"line-height: 1.4;\"\u003eApp for iOS\u003c\/span\u003e\u003c\/a\u003e\u003c\/span\u003e\u003c\/li\u003e\n\u003cli\u003e\u003cspan style=\"color: #0000ff;\"\u003e\u003ca href=\"http:\/\/donjohnston.com\/wp-content\/downloads\/support\/cowriter_universal_install_chrome_app_extension.pdf\" title=\"Installing Co:Writer Universal App for Chrome\" style=\"color: #0000ff;\" target=\"_blank\" rel=\"noopener noreferrer\"\u003e\u003cspan style=\"line-height: 1.4;\"\u003eApp and Extension for Chrome\u003c\/span\u003e\u003c\/a\u003e\u003c\/span\u003e\u003c\/li\u003e\n\u003cli\u003e\u003cspan style=\"color: #0000ff;\"\u003e\u003ca href=\"http:\/\/donjohnston.com\/wp-content\/downloads\/support\/cowriter_universal_install_desktop_win_mac.pdf\" title=\"Installing Co:Writer Universal Desktop for Windows\" style=\"color: #0000ff;\" target=\"_blank\" rel=\"noopener noreferrer\"\u003e\u003cspan style=\"line-height: 1.4;\"\u003eDesktop for PC and Mac\u003c\/span\u003e\u003c\/a\u003e\u003c\/span\u003e\u003c\/li\u003e\n\u003c\/ul\u003e\n\u003cp\u003e\u003cspan style=\"line-height: 1.4;\"\u003ePlatform Comparison Chart: \u003ca href=\"http:\/\/donjohnston.com\/wp-content\/downloads\/using\/cowriter_universal_platform_comparison_chart.pdf\" title=\"Co:Writer Universal Platform Comparison\" target=\"_blank\" rel=\"noopener noreferrer\"\u003eThis guide\u003c\/a\u003e explains how Co:Writer Universal integrates between platforms (PDF)\u003c\/span\u003e\u003c\/p\u003e\n\u003cp\u003eUnderstanding the Educator Dashboard:\u003c\/p\u003e\n\u003cul\u003e\n\u003cli\u003e\n\u003cspan style=\"line-height: 1.4;\"\u003eTypes of users: \u003c\/span\u003e\u003cspan style=\"line-height: 1.4;\"\u003e\u003c\/span\u003e\u003ca href=\"http:\/\/donjohnston.com\/wp-content\/downloads\/support\/educator_dashboard_types_of_users.pdf\" title=\"Manage Educators What and Why\" style=\"line-height: 1.4;\" target=\"_blank\" rel=\"noopener noreferrer\"\u003eThis guide\u003c\/a\u003e\u003cspan style=\"line-height: 1.4;\"\u003e provides descriptions of the user levels within Educator Dashboard\u003c\/span\u003e\n\u003c\/li\u003e\n\u003c\/ul\u003e\n\u003cp\u003e\u003cspan style=\"line-height: 1.4;\"\u003eGetting Started with Educator Dashboard: \u003c\/span\u003e\u003c\/p\u003e\n\u003cul\u003e\n\u003cli\u003e\n\u003ca href=\"http:\/\/donjohnston.com\/wp-content\/downloads\/support\/educator_dashboard_getting_started_administrator.pdf\" title=\"Getting Started as an Administrator\"\u003eA\u003c\/a\u003e\u003ca href=\"http:\/\/donjohnston.com\/wp-content\/downloads\/support\/educator_dashboard_getting_started_administrator.pdf\" title=\"Getting Started as an Administrator\"\u003es an Administrator\u003c\/a\u003e\n\u003c\/li\u003e\n\u003cli\u003e\u003ca href=\"http:\/\/donjohnston.com\/wp-content\/downloads\/support\/educator_dashboard_getting_started_analyst.pdf\" title=\"Getting Started as an Analyst\" target=\"_blank\" rel=\"noopener noreferrer\"\u003eAs an Analyst\u003c\/a\u003e\u003c\/li\u003e\n\u003cli\u003e\u003ca href=\"http:\/\/donjohnston.com\/wp-content\/downloads\/support\/educator_dashboard_getting_started_educator.pdf\" title=\"Getting Started as an Educator\" target=\"_blank\" rel=\"noopener noreferrer\"\u003eAs an Educator\u003c\/a\u003e\u003c\/li\u003e\n\u003c\/ul\u003e\n\u003cp\u003e \u003c\/p\u003e\n\u003ch5\u003eMonthly Subscriptions\u003c\/h5\u003e\n\u003cp\u003eFor monthly subscription options starting at 4.99 USD available on Don Johnston's page. Follow the link \u003ca href=\"https:\/\/learningtools.donjohnston.com\/product\/cowriter\/\" target=\"_blank\" title=\"Co Writer monthly subscription option available here at Don Johnston's official Co Writer page\" rel=\"noopener noreferrer\"\u003ehere\u003c\/a\u003e.\u003c\/p\u003e\n\u003cp\u003e\u003cem\u003e\u003cstrong\u003e*Note: if your school has restrictions on out-of-country purchases, or other considerations, please \u003ca href=\"mailto:info@bridges-canada.com\" target=\"_blank\" title=\"Contact Bridges if your school has any restrictions on out-of-country purchases \" rel=\"noopener noreferrer\"\u003econtact Bridges\u003c\/a\u003e\u003cspan\u003e \u003c\/span\u003eto facilitate your subscription purchase. \u003c\/strong\u003e\u003c\/em\u003e\u003c\/p\u003e\n\u003c\/div\u003e"}
Co:Writer Universal Annual Subscriptions
Co:Writer Universal Annual Subscriptions
Co:Writer Universal uses grammar- and vocabulary-smart word prediction to help students better express their ideas in writing across devices. And now built-in speech recognition adds an entirely new way of getting ideas out!
Only Co:Writer Universal gives students access to the most powerful word prediction on their favorite devices (Chromebooks, iPads, and Mac/Windows desktops), over 4 million topic dictionaries, built-in speech recognition in Google Chrome, and incredible privacy-safe data collection.
Want to test out Co:Writer Universal before you decide to buy? 
Note on subscription options available:
22P40WSEAT3Y - price is the total for the 3 year access to Co:Writer Universal for a single user.
22P40WSEAT1Y_20TO99 - price is on a per seat per year basis; please make sure you order a minimum quantity of 5 to qualify for this price
22P40WSEAT1Y_100PLUS - price is on a per seat per year basis; please make sure you order a minimum quantity of 100 
Looking to purchase a district or site license? Contact Bridges for bigger discounts and a detailed proposal.
The Tools: 
Word Prediction: Be a fearless writer with grammar-smart, inventive spelling aware word prediction.
Flexible Spelling: 

Before: The blk jargon flu over the bra lfnt.
After: The black dragon flew over the gray elephant.

Speech-to-Text: Don't want to type? Speak it and we'll write it.
Topic Dictionaries: Need particular vocabulary? We have over 5 million topic dictionaries.
Momentary Dictionaries: Reading and writing? Momentary dictionaries automatically pull in the vocabulary from what you're reading so you can write.
Text-to-Speech: Auditory feedback while you write and revise.
Additional Features: 
Anywhere, anytime access:

It doesn't matter if a student is working in a library, at home, at a friend's place, or the classroom. Whether on an iPad, laptop, Chromebook or virtually any tool that can run a Google Chrome browser, Co:Writer is there. Not just for a BYOD (Bring Your Own Device) environment, the flexibility of Co:Writer Universal removes usage barriers.

Shared Settings:

Students' personal Co:Writer Universal settings follow them through the cloud on any platform they choose.

Writing Integration:

Students can write in Co:Writer's built-in word processor for iPad or Chrome, and their writing is now shared through the cloud!

Speech Recognition: The Chrome extension now has integrated speech recognition (speech to text). 
Universal Licensing:

new subscription pricing means universal access for everyone in your education environment -- students, teachers, consultants -- on any platform they need.

Reporting: Detailed reporting and qualitative usage statistics will be available across all platforms.
Co:Writer Universal | Quick Demo from DonJohnstonInc on Vimeo.
Integration Across Google, iPad, and Desktop 
Writing Integration Across Devices 
In the past, transferring files between school, home, and across computers was challenging at best, and sometimes impossible. Co:Writer Universal eliminates this obstacle entirely. Students simply write in Co:Writer's built-in word processor for iPad or Chrome, and the writing is shared through the cloud!
Settings Integration Across Devices
Set background and text preferences and create a Topic Dictionary in any platform and they automatically sync in any other platform or device. 
Co:Writer for iPad
In less than a year, Co:Writer for iOS has made the list of top 100 most popular education apps. Co:Writer for iOS includes many of the key supports you rely on to help your most struggling writers, such as FlexSpell™ and Topic Dictionaries, which carry over when using Co:Writer on other devices. And now writings are saved to the cloud so they are accessible across iPads, desktop, and Chromebooks.
Keyboard for iPad
Co:Writer Universal includes a keyboard for your iPads (iTouch and iPhones too)! Use it anywhere you write like email, websites, and Google Drive. It works just like Apple's stock keyboard, but the prediction is much better and it supports Topic Dictionaries and data collection. The data fully integrates with Educator Dashboard.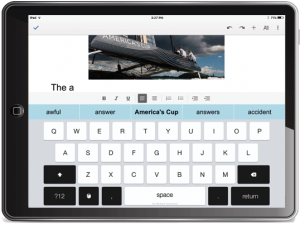 See it for yourself in this quick, 2-minute video. 
CoWriter Universal Keyboard for iPad from DonJohnstonInc on Vimeo.
Word Prediction Settings for iPad
Customize Co:Writer to meet your specific needs. Change the look and feel, speech settings, and voices. Your updated settings will automatically sync across platforms through the cloud.
Co:Writer for Chrome 
Co:Writer Universal Extension for Chrome integrates with the Chrome browser for word prediction and speech recognition just about anywhere students write online, including Google Drive, blogs, social networks and email. Co:Writer instantly scrapes email contents and webpages for unique vocabulary that can be automatically included into Co:Writer's Topic Dictionaries.
Word Prediction in Chrome
Co:Writer Universal seamlessly integrates through the Chrome browser on Mac, Windows, and Chromebooks. Both an app and extension are available for nearly any writing task and include Co:Writer's unmatchable Flexspell™ technology and grammar-based recognition.
Word Prediction Settings for Chrome
Settings allow you to customize Co:Writer to meet your specific needs. Change the look and feel, number of guesses, speech settings, and voices. Any changes to your settings will automatically sync across platforms through the cloud.
Exporting in Chrome
Take your writings and share them to Google Drive, Dropbox, Facebook, or copy and paste them in other applications and word processors. You can even print them out to hand in the traditional way.
Co:Writer Extension for Chrome
Get Co:Writer support on just about any website. Whether updating your blog, writing an email, or writing a report in Google Drive, you'll have access to Co:Writer's grammar-smart word prediction and topic dictionaries.
Co:Writer for Desktop 
If students can write just 30% of what they want to say, Co:Writer will do the rest. As students write, Co:Writer "predicts" what they're trying to say and offers word suggestions in real time. Even the most egregious spelling and grammar mistakes aren't a problem for Co:Writer's proprietary FlexSpell™ technology. Co:Writer goes further, bringing in topic-specific vocabulary instantly when writing in the content areas. You have to try it with a student to believe the impact it has!
Read "Word Prediction—What's Good Enough?" http://donjohnston.com/word-prediction-whats-good-enough/#.VA8ROcJdXbM to learn the difference between Co:Writer and other word prediction programs.
Settings for Desktop 
Co:Writer offers extensive options for most accessibility needs for display, prediction, and speech.
Speech Recognition 
Need to speak it? No problem. Just click on the microphone choice -- you speak, Co:writer writes it. Great for starting an idea or narrowing a choice you don't see. Seamlessly use speech supports when you need it, but be able to go to typing and selecting when that works better.
See Co:Writer's built-in speech recognition for yourself in this 2-min demo.
Using Speech Recognition in Co:Writer Universal from DonJohnstonInc on Vimeo.
Topic Dictionaries 
Predict in the topic you're writing about to improve accuracy and build specialized vocabulary. Over 4 million topic dictionaries are at your fingertips covering all curriculum subjects. Just type the first few letters of the topic name and choose the topic. The topic-specific words are automatically added to Co:Writer predictions.
Momentary Topic Dictionaries automatically scrape email contents and webpages for unique vocabulary and bring them into Co:Writer's dictionaries. So if you're replying to an email, you may be surprised to see the sender's name and words from their email automatically appear in your guesses!
Reading Out Loud
Co:Writer Universal adds speech capabilities to your device. Simply select a passage of text and right click. Co:Writer can speak the text aloud. It can also add words in the selection to your personal word dictionary or create a new Topic Dictionary from the passage.
Word Bank 
The word bank helps break writer's block. It automatically presents a list of topic-specific words whenever a Topic Dictionary is selected, and is available in both list and word cloud view.
Data Collection 
It's hard to make good decisions without good data. Fortunately, Co:Writer Universal gives you access to the kind of data you need to make great decisions. It shows you how much students are writing with Co:Writer as well as their vocabulary acquisition and usage. This data gives you a level of fidelity of implementation that you've never had before!
See Co:Writer Data in this 3-minute video. 
Co:Writer Universal | Understanding the Data from DonJohnstonInc on Vimeo.
Productivity Data
How much are your AT tools being used? You'll know exactly how much students are writing with Co:Writer, down to the word and hour!
Support and Specifications 
Install Guides: 
Platform Comparison Chart: This guide explains how Co:Writer Universal integrates between platforms (PDF)
Understanding the Educator Dashboard:
Types of users: 

This guide

provides descriptions of the user levels within Educator Dashboard
Getting Started with Educator Dashboard: 
Monthly Subscriptions
For monthly subscription options starting at 4.99 USD available on Don Johnston's page. Follow the link here.
*Note: if your school has restrictions on out-of-country purchases, or other considerations, please contact Bridges to facilitate your subscription purchase. 
Bridges accepts institutional P.O's (purchase orders).
Call us for a quote or just fax or email a P.O. on your letter head.
How secure is my online order?
Any information submitted through the web store is safe and secure. Bridges uses state-of-the-art security encryption methods to ensure the highest standards of security for its online customers.
What payment methods are accepted?
We accept Visa and MasterCard for online orders.
What if I do not have a credit card?
If you do not have a credit card, please call us at 1-800-353-1107 (8:30am - 4:30pm EST) to discuss alternative payment methods.
How do I know if you have received my order?
When your order has been completed, you will receive a confirmation e-mail that will be sent to the e-mail address that you entered in the "Registration" page before checkout.
Shipping 
PLEASE NOTE that the COVID-19 crisis is impacting delivery times. Couriers are experiencing reduced capacity due to new hygiene procedures, increased volumes and/or emergency conditions. Your patience and understanding is greatly appreciated.
Is your school or office limited as to when it can receive goods? When you place your order, in the comments area, please let us know if you cannot receive your order during regular business hours to avoid additional shipping charges. We will make every attempt to accommodate you, but we cannot guarantee that this will be possible.
What shipping options are available?
Most of our items are shipped by Canpar, which takes 3-5 business days to reach the customer. Where service is not available, or due to the special requirements of the product, we will also use UPS, Puralator or Canada Post. Please allow 10-15 days for order processing.
Ordering multiple, heavy-weighted items? 
If our store can't calculate your shipping costs during checkout, your order may fall outside weight, size, or destination restrictions, for online ordering.
Sorry about that. 
Just contact us by email or phone and we'll figure out another way to get your order to you. 
How much does shipping cost?
Shipping is calculated individually depending on the weight and size of the item. This will be calculated automatically upon checkout and will be included in the total price when you go to the checkout.
How long does it take for me to receive my order?
Order processing time depends on availability of the product from the manufacturer, but typically products are shipped within 10-15 business days after the order is placed. See shipping options for the number of days it will take to reach you after it leaves our warehouse.
Do you ship internationally?
No, we currently sell our products and services only in Canada.
How can I track my order?
When the order is shipped out, you will receive an e-mail with a tracking number. If you do not receive this e-mail, please call 1-800-353-1107 (8:30am - 4:30pm EST) to receive your tracking number.
Returns
Do you offer a money back guarantee?
We offer a 21-day money-back guarantee unless otherwise noted. Products must be returned in a resalable condition as determined by Bridges. Returns are subject to a 20 percent restocking fee after 21-days. Many of our manufacturers offer additional limited warranties of longer durations on their products. Returns will no longer be accepted after a period of 90 days. Please call us at 1-800-353-1107 (8:30am - 4:30pm EST) or send an e-mail to info@bridges-canada.com for more information about manufacturer's warranties or returning your product.
Please note, customers cannot return software for a refund.  However, we do offer a store credit for the full amount if returned within 21 days. After 21 days a restocking fee may apply.
How do I return a product?
To return a product you need to get a Return Authorization (R.A.) number from us. Please call us at 1-800-353-1107 (8:30am - 4:30pm EST), e-mail us at info@bridges-canada.com or fax us at 905-542-7242 to get an R.A. number and further instructions. Please note, Bridges will not accept returns without an R.A. number. The customer is responsible for shipping costs of returned products.