{"id":9678009091,"title":"Snap\u0026Read Universal Annual Subscriptions","handle":"snap-and-read","description":"Each student learn a bit differently. Their reading needs are as unique to them as their fingerprints. Enter Snap\u0026amp;Read, the Next-Generation reading tool for Google Chrome, iPad and more, that can cover the most diverse reading needs.\u003cbr\u003eWhether it's translation, read-aloud accessible and inaccessible test, or dynamic leveling of words to match the current understanding of the reader, Snap\u0026amp;Read presents information the way people most want to take it in - the way they learn best.  \n\u003cp\u003e \u003c\/p\u003e\n\u003cp\u003e\u003cspan\u003eWant to test out Snap\u0026amp;Read Universal before you decide to buy? \u003c\/span\u003e\u003c\/p\u003e\n\u003ch3 style=\"text-align: center;\"\u003e\u003cstrong\u003e\u003ca href=\"https:\/\/learningtools.donjohnston.com\/product\/snap-read\/request-1\/\" target=\"_blank\" title=\"Sign up for a free trial of Snap\u0026amp;Read Universal\" rel=\"noopener noreferrer\"\u003eSign up for a free trial\u003c\/a\u003e\u003c\/strong\u003e\u003c\/h3\u003e\n\u003cp\u003e \u003c\/p\u003e\n\u003cp\u003eNote on subscription options available:\u003c\/p\u003e\n\u003cp\u003e\u003cstrong\u003e22P75SEAT3Y \u003c\/strong\u003e- price is the total for a 3 year access to Snap\u0026amp;Read Universal for a single user.\u003c\/p\u003e\n\u003cp\u003e\u003cstrong\u003e22P75SEAT1Y_20TO99 \u003c\/strong\u003e- price is on a per seat per year basis; please make sure you order a minimum quantity of 5 to qualify for this price\u003c\/p\u003e\n\u003cp\u003e\u003cstrong\u003e22P75SEAT1Y_100PLUS \u003c\/strong\u003e- \u003cspan\u003eprice \u003c\/span\u003e\u003cspan\u003eis \u003c\/span\u003e\u003cspan\u003eon a per seat per year basis; please make sure you order a minimum quantity of 100 \u003c\/span\u003e\u003c\/p\u003e\n\u003cp\u003e\u003cstrong\u003eLooking to purchase a district or site license? \u003ca href=\"mailto:info@bridges-canada.com\" target=\"_blank\" title=\"Contact Bridges to purchase district or site licenses \" rel=\"noopener noreferrer\"\u003eContact Bridges\u003c\/a\u003e for bigger discounts and a detailed proposal. \u003c\/strong\u003e\u003c\/p\u003e\n\u003cp\u003e \u003c\/p\u003e\n\u003ch3 style=\"text-align: center;\"\u003e\n\u003cstrong\u003eSnap\u0026amp;Read\u003c\/strong\u003e\u003cspan\u003e is your Next-Generation reading tool for Google Chrome, covering the most diverse reading needs!\u003c\/span\u003e\n\u003c\/h3\u003e\n\u003cp\u003e \u003c\/p\u003e\n\u003cp\u003e\u003cstrong\u003eThe Tools: \u003c\/strong\u003e\u003c\/p\u003e\n\u003cul\u003e\n\u003cli\u003e\n\u003cstrong\u003e\u003cspan style=\"line-height: 1.4;\"\u003e\u003cem\u003eNEW!\u003c\/em\u003e iPad App: \u003c\/span\u003e\u003c\/strong\u003e\u003cspan style=\"line-height: 1.4;\"\u003eRead text aloud, dynamically level it, OCR it, highlight it, outline it, and cite it - all from your iPad! \u003c\/span\u003e\n\u003c\/li\u003e\n\u003cli\u003e\n\u003cstrong\u003e\u003cspan style=\"line-height: 1.4;\"\u003eText-to-Speech: \u003c\/span\u003e\u003c\/strong\u003e\u003cspan style=\"line-height: 1.4;\"\u003eHave your text read aloud for better comprehension.\u003c\/span\u003e\n\u003c\/li\u003e\n\u003cli\u003e\u003cspan style=\"line-height: 1.4;\"\u003e\u003cstrong\u003eScreenshot Reader:\u003c\/strong\u003e Come across text that is inaccessible? No worries, Snap\u0026amp;Read Universal will take care of it. \u003c\/span\u003e\u003c\/li\u003e\n\u003cli\u003e\u003cspan style=\"line-height: 1.4;\"\u003e\u003cstrong\u003eSimplify:\u003c\/strong\u003e Difficult words getting in your way? A click and Snap\u0026amp;Read Universal will simplify them.\u003c\/span\u003e\u003c\/li\u003e\n\u003cli\u003e\u003cspan style=\"line-height: 1.4;\"\u003e\u003cstrong\u003eTranslate:\u003c\/strong\u003e English not your primary language? Have it translated when you need it.\u003c\/span\u003e\u003c\/li\u003e\n\u003cli\u003e\u003cspan style=\"line-height: 1.4;\"\u003e\u003cstrong\u003eCapture in an Outline:\u003c\/strong\u003e Capture what you read to use later. Sort it in an outline so it makes sense. Sources are automatically cited when added to the outline. \u003c\/span\u003e\u003c\/li\u003e\n\u003cli\u003e\u003cspan style=\"line-height: 1.4;\"\u003e\u003cstrong\u003e\u003cem\u003eNEW!\u003c\/em\u003e Outline Templates:\u003c\/strong\u003e Guide reading by adding a template to your outline. Over 60 templates are included\u003c\/span\u003e\u003c\/li\u003e\n\u003cli\u003e\u003cspan style=\"line-height: 1.4;\"\u003e\u003cstrong\u003ePDF \u0026amp; Inaccessible Text Support:\u003c\/strong\u003e Read the web and use all these tools in PDFs too. Even read text in images with Snap\u0026amp;Read's OCR tool. \u003c\/span\u003e\u003c\/li\u003e\n\u003cli\u003e\n\u003cstrong\u003eBibliographer:\u003c\/strong\u003e Highlight to extract text from websites to an outline, and the source is automatically cited. For other citations, Snap\u0026amp;Read provides a template that students use to document their sources. The bibliography is built as the student collects their information\u003c\/li\u003e\n\u003c\/ul\u003e\n\u003cp\u003e\u003cstrong\u003eOnly Snap\u0026amp;Read:\u003c\/strong\u003e\u003c\/p\u003e\n\u003cul\u003e\n\u003cli\u003e\u003cspan style=\"line-height: 1.4;\"\u003eReads PDF and Bookshare books in the Chrome browser\u003c\/span\u003e\u003c\/li\u003e\n\u003cli\u003e\u003cspan style=\"line-height: 1.4;\"\u003eReads inaccessible text (Flash, images, and PDFs) on Google Chrome without a complex conversion process\u003c\/span\u003e\u003c\/li\u003e\n\u003cli\u003e\u003cspan style=\"line-height: 1.4;\"\u003eDynamically Levels complex passages by adjusting needlessly difficult vocabulary (without changing the meaning\/rigor)\u003c\/span\u003e\u003c\/li\u003e\n\u003cli\u003e\u003cspan style=\"line-height: 1.4;\"\u003eTranslates text into over 100 languages - specific levelled vocabulary or entire passages\u003c\/span\u003e\u003c\/li\u003e\n\u003cli\u003e\u003cspan style=\"line-height: 1.4;\"\u003eEmbeds supports right in the original text - context and curricular vocabulary are preserved. So complex academic vocabulary can be learned.\u003c\/span\u003e\u003c\/li\u003e\n\u003cli\u003e\u003cspan style=\"line-height: 1.4;\"\u003eBuilds study skills by structuring information in a flexible outline.\u003c\/span\u003e\u003c\/li\u003e\n\u003cli\u003e\u003cspan style=\"line-height: 1.4;\"\u003eCites resources to help students track sources and build bibliographies \u003c\/span\u003e\u003c\/li\u003e\n\u003cli\u003e\u003cspan style=\"line-height: 1.4;\"\u003eWorks offline - if your school is like most and has internet outages or speed issues, you need this!\u003c\/span\u003e\u003c\/li\u003e\n\u003cli\u003e\u003cspan style=\"line-height: 1.4;\"\u003eGives Smart Data - See how much your students are reading and the level of text they're reading.\u003c\/span\u003e\u003c\/li\u003e\n\u003c\/ul\u003e\n\u003cp style=\"text-align: center;\"\u003e\u003cspan style=\"line-height: 1.4;\"\u003e\u003ciframe src=\"https:\/\/player.vimeo.com\/video\/140218204\" webkitallowfullscreen=\"\" mozallowfullscreen=\"\" allowfullscreen=\"\" frameborder=\"0\" height=\"281\" width=\"500\"\u003e\u003c\/iframe\u003e\u003c\/span\u003e\u003c\/p\u003e\n\u003cp style=\"text-align: center;\"\u003e \u003c\/p\u003e\n\u003cp style=\"text-align: center;\"\u003e \u003c\/p\u003e\n\u003ch5\u003e\u003cspan style=\"line-height: 1.4;\"\u003eiPad App \u003c\/span\u003e\u003c\/h5\u003e\n\u003cp\u003e\u003cspan style=\"line-height: 1.4;\"\u003eIn addition to Snap\u0026amp;Read Universal for Google Chrome, an app is now available for iPad!\u003cbr\u003e\u003cbr\u003eRead text aloud, dynamically level it, OCR it, highlight it, outline it, and cite it!\u003cbr\u003e\u003cbr\u003eAlso, students can take a picture of a worksheet and Snap\u0026amp;Read will make the text accessible through built-in OCR. \u003c\/span\u003e\u003c\/p\u003e\n\u003cp\u003e \u003c\/p\u003e\n\u003cp style=\"text-align: center;\"\u003e\u003cspan style=\"line-height: 1.4;\"\u003e\u003ciframe src=\"https:\/\/player.vimeo.com\/video\/206645531\" width=\"640\" height=\"360\" frameborder=\"0\" webkitallowfullscreen=\"\" mozallowfullscreen=\"\" allowfullscreen=\"\"\u003e\u003c\/iframe\u003e\u003c\/span\u003e\u003c\/p\u003e\n\u003ch5\u003e\u003cspan style=\"line-height: 1.4;\"\u003eReading Text Aloud\u003c\/span\u003e\u003c\/h5\u003e\n\u003cp\u003eTo read text aloud, just click the speaker button and then click on the area where you want to start reading. Snap\u0026amp;Read will read the text aloud with high quality voices until you click again to stop the speech.\u003c\/p\u003e\n\u003cp style=\"text-align: center;\"\u003e\u003cimg alt=\"Read text out loud with Snap\u0026amp;Read Universal \" src=\"\/\/cdn.shopify.com\/s\/files\/1\/1192\/0390\/files\/Speak_out_loud_large.JPG?2172893401346988324\" style=\"float: none;\"\u003e\u003c\/p\u003e\n\u003cp style=\"text-align: center;\"\u003e \u003c\/p\u003e\n\u003ch5\u003eLeveling Text Complexity \u003c\/h5\u003e\n\u003cp\u003eAdjusting text works the same way, just click on the text adjusting button and then click on the area where you want the text to be simplified, and Snap\u0026amp;Read will simplify from that area on. Or, you can select the passage you need simplified and then click the text simplifier button and only the selected text will be simplified.\u003cbr\u003e\u003cbr\u003eThe simplified vocabulary will show in italics. Hover the mouse over the simplified text to see the original text.Toggle between the simplified text and the original with a click.\u003c\/p\u003e\n\u003cp style=\"text-align: center;\"\u003e\u003cimg alt=\"Simplify complex text with Snap\u0026amp;Read's unique levelling tool\" src=\"\/\/cdn.shopify.com\/s\/files\/1\/1192\/0390\/files\/Simplify_1_grande.JPG?539578057384831557\" style=\"float: none;\"\u003e\u003c\/p\u003e\n\u003cp style=\"text-align: center;\"\u003e\u003cimg src=\"\/\/cdn.shopify.com\/s\/files\/1\/1192\/0390\/files\/Simplify_2_v2_large.jpg?539578057384831557\" alt=\"Simplify complex text by levelling right in the body with Snap\u0026amp;Read Universal\"\u003e\u003c\/p\u003e\n\u003cp\u003e \u003c\/p\u003e\n\u003ch5\u003eReading Inaccessible Text\u003c\/h5\u003e\n\u003cp\u003eWhen you come across inaccessible text that cannot be selected, click on the target tool and make a box around the text to be read. Snap\u0026amp;Read will automatically convert the text on the fly and read it aloud.\u003c\/p\u003e\n\u003cp style=\"text-align: center;\"\u003e\u003cimg alt=\"Read inaccessible text like PDFs and images with Snap\u0026amp;Read Universal\" src=\"\/\/cdn.shopify.com\/s\/files\/1\/1192\/0390\/files\/screenshot_reader_grande.JPG?1308942374076554138\" style=\"float: none;\"\u003e\u003c\/p\u003e\n\u003cp style=\"text-align: center;\"\u003e \u003c\/p\u003e\n\u003ch5\u003eTranslate Text \u003c\/h5\u003e\n\u003cp\u003eSnap\u0026amp;Read Universal's new Translation function supports over 100 languages, translating text directly in the body of the copy for additional vocabulary support, whether in \u003cspan\u003eemail, websites, Google Drive, online books, PDFs\u003c\/span\u003e. Just click the Snap\u0026amp;Read translate button, and Snap\u0026amp;Read will embed the accurate translation, while maintaining the context of the reading. See the video below for a 3-minute demo showcasing these unique translation supports:\u003c\/p\u003e\n\u003cp style=\"text-align: center;\"\u003e\u003ciframe src=\"https:\/\/player.vimeo.com\/video\/129693114\" webkitallowfullscreen=\"\" mozallowfullscreen=\"\" allowfullscreen=\"\" frameborder=\"0\" height=\"281\" width=\"500\"\u003e\u003c\/iframe\u003e\u003c\/p\u003e\n\u003cp style=\"text-align: left;\"\u003eChoose and setup a language for the Translation tool in the Snap\u0026amp;Read Settings menu.\u003cbr\u003e\u003cbr\u003e\u003cem\u003e*Tip: To get word-by-word highlighting while reading, select system voices or download new ones in the languages you need. When reading text, Google Voices aren't compatible with word-by-word highlighting.\u003c\/em\u003e\u003c\/p\u003e\n\u003ch5 style=\"text-align: left;\"\u003eWhy Levelling? \u003c\/h5\u003e\n\u003cp\u003eSnap\u0026amp;Read Universal's text levelling feature is really a revolutionary support for readers and has far reaching implications.\u003c\/p\u003e\n\u003cp\u003eSimply reading text aloud is often enough to help students comprehend. Other times, the text can be filled with complex and utterly unfamiliar curricular vocabulary that is even above a student's listening comprehension level.\u003cbr\u003e\u003cbr\u003eYet, the student has to acquire this vocabulary to succeed.\u003cbr\u003e\u003cbr\u003eSnap\u0026amp;Read text adjusting features simplifies complex words to a level that allows students to read passages fluently. The difficulty level is selectable so students can adjust the vocabulary complexity of their reading passages to a level they can feel comfortable with.\u003c\/p\u003e\n\u003ch3\u003e\n\u003cstrong\u003eFor Students Learning New Vocabulary\u003c\/strong\u003e \u003c\/h3\u003e\n\u003cp\u003eLearning and acquiring academic and curricular vocabulary is an on-going challenge for all students, even those reading at grade level. Snap\u0026amp;Read thoughtful text leveling:\u003c\/p\u003e\n\u003cul\u003e\n\u003cli\u003e\u003cspan style=\"line-height: 1.4;\"\u003ePreserves context. This is so important for learning, not just meaning, but appropriate use of new vocabulary\u003c\/span\u003e\u003c\/li\u003e\n\u003cli\u003e\u003cspan style=\"line-height: 1.4;\"\u003eUses multiple words for supporting meaning, demonstrating the functions of synonyms and the effectiveness of the specific terminology\u003c\/span\u003e\u003c\/li\u003e\n\u003cli\u003e\u003cspan style=\"line-height: 1.4;\"\u003eDoesn't lose new vocabulary: just hover your mouse or click and you'll see the original word\u003c\/span\u003e\u003c\/li\u003e\n\u003cli\u003e\u003cspan style=\"line-height: 1.4;\"\u003eAdjust leveling: Making adjustments to fit specific students' needs, is easy and intuitive.\u003c\/span\u003e\u003c\/li\u003e\n\u003c\/ul\u003e\n\u003ch3\u003e\u003cstrong\u003e\u003cspan style=\"line-height: 1.4;\"\u003eFor Students Who Need Modified Materials\u003c\/span\u003e\u003c\/strong\u003e\u003c\/h3\u003e\n\u003cp\u003e\u003cspan style=\"line-height: 1.4;\"\u003eStudents in a congregated classroom setting or with alternative curriculum who have literacy skills, find it a great challenge to find curricular materials they can read. Snap and Read's leveling and straightforward, focused interface, makes it easy for students with cognitive challenges to read text.\u003cbr\u003e\u003cbr\u003eIt's a great alternative to teachers using modified materials. Students access the grade-level content from the original source material, but can adjust complexity to a level that works for them.\u003c\/span\u003e\u003c\/p\u003e\n\u003ch3\u003e\u003cstrong\u003e\u003cspan style=\"line-height: 1.4;\"\u003eFor Classroom Teachers\u003c\/span\u003e\u003c\/strong\u003e\u003c\/h3\u003e\n\u003cp\u003e\u003cspan style=\"line-height: 1.4;\"\u003eClassroom teachers love the simplicity, accessibility and teaching power of Snap\u0026amp;Read.\u003c\/span\u003e\u003c\/p\u003e\n\u003cul\u003e\n\u003cli\u003e\u003cspan style=\"line-height: 1.4;\"\u003eA great way for teachers to introduce new vocabulary or challenging texts with a projector or interactive whiteboard.\u003c\/span\u003e\u003c\/li\u003e\n\u003cli\u003e\u003cspan style=\"line-height: 1.4;\"\u003eSimple to use, with just 4 buttons, requires no training\u003c\/span\u003e\u003c\/li\u003e\n\u003cli\u003e\u003cspan style=\"line-height: 1.4;\"\u003eSaves time: On demand levelling, means less time expended on modifying materials for student use.\u003c\/span\u003e\u003c\/li\u003e\n\u003c\/ul\u003e\n\u003ch5\u003e\u003cspan style=\"line-height: 1.4;\"\u003eNew Reading to Learn Tools\u003c\/span\u003e\u003c\/h5\u003e\n\u003cp\u003e\u003cspan style=\"line-height: 1.4;\"\u003eThe Snap \u0026amp; Read extension introduces new tools so that students can immediately transform text into information, reading into learning:\u003c\/span\u003e\u003c\/p\u003e\n\u003cul\u003e\n\u003cli\u003e\u003cspan style=\"line-height: 1.4;\"\u003eExtract key text \u003c\/span\u003e\u003c\/li\u003e\n\u003cli\u003e\u003cspan style=\"line-height: 1.4;\"\u003eIntegrate it into outlines - right in the browser\u003c\/span\u003e\u003c\/li\u003e\n\u003cli\u003e\u003cspan style=\"line-height: 1.4;\"\u003eCite for future source checking\u003c\/span\u003e\u003c\/li\u003e\n\u003cli\u003e\n\u003cspan style=\"line-height: 1.4;\"\u003ePrep for including into their own work - study notes, \u003c\/span\u003e\u003cspan style=\"line-height: 21px;\"\u003eassignment\u003c\/span\u003e\u003cspan style=\"line-height: 1.4;\"\u003e building, writing research\u003c\/span\u003e\n\u003c\/li\u003e\n\u003c\/ul\u003e\n\u003cp\u003e\u003cspan style=\"line-height: 1.4;\"\u003eSnap\u0026amp;Read works practically anywhere your Chrome browser can take you -- including Google Docs, websites, PDFs, as well as Kindle and Bookshare books.\u003cbr\u003e\u003c\/span\u003e\u003c\/p\u003e\n\u003cp style=\"text-align: center;\"\u003e\u003cspan style=\"line-height: 1.4;\"\u003e\u003ciframe src=\"https:\/\/player.vimeo.com\/video\/140215208\" webkitallowfullscreen=\"\" mozallowfullscreen=\"\" allowfullscreen=\"\" frameborder=\"0\" height=\"281\" width=\"500\"\u003e\u003c\/iframe\u003e\u003c\/span\u003e\u003c\/p\u003e\n\u003cp style=\"text-align: center;\"\u003e \u003c\/p\u003e\n\u003ch5 style=\"text-align: left;\"\u003eHighlight and Extract To an Outline in One Step\u003c\/h5\u003e\n\u003cp\u003eThe outline can be organized and added to, right beside the source content, so students don't lose context or focus.\u003cbr\u003e\u003cbr\u003eThe outline structures the kind of transition from reading to writing, essential to post-secondary success. Students can build outlines like Compare and Contrast, Description, and Explanation, then pull content into their structured outlines by gathering source content. Or structure after researching.\u003c\/p\u003e\n\u003cp\u003e \u003c\/p\u003e\n\u003cp style=\"text-align: center;\"\u003e\u003cimg alt=\"Create an outline by highlighting important texts. Works right in the same tab! \" src=\"\/\/cdn.shopify.com\/s\/files\/1\/1192\/0390\/files\/Capture_2_grande.JPG?10688670219508594608\" style=\"float: none;\"\u003e\u003c\/p\u003e\n\u003cp style=\"text-align: center;\"\u003e\u003cimg src=\"\/\/cdn.shopify.com\/s\/files\/1\/1192\/0390\/files\/Bibliographer-553x340_grande.png?7800822388363867673\" alt=\"Snap\u0026amp;Read Universal creates bibliographies for the info captured in your outline\"\u003e\u003c\/p\u003e\n\u003cp style=\"text-align: center;\"\u003e \u003c\/p\u003e\n\u003cp style=\"text-align: left;\"\u003e\u003cstrong\u003eNEW! Outline Templates \u003c\/strong\u003e\u003c\/p\u003e\n\u003cp style=\"text-align: left;\"\u003eGuide reading by adding a template to your outline. Over 60 templates are included from KWL and story map, to compare and contrast.\u003c\/p\u003e\n\u003cp style=\"text-align: left;\"\u003e \u003c\/p\u003e\n\u003cp style=\"text-align: center;\"\u003e\u003cimg alt=\"Over 60+ Outline Templates available in Snapr\u0026amp;Read Universal\" src=\"\/\/cdn.shopify.com\/s\/files\/1\/1192\/0390\/files\/S-R-Outline-Templates680w-1-448x340_large.jpg?v=1489601440\" style=\"float: none;\"\u003e\u003c\/p\u003e\n\u003cp style=\"text-align: left;\"\u003e \u003c\/p\u003e\n\u003cp style=\"text-align: left;\"\u003e\u003cstrong\u003eOutline and Organize\u003c\/strong\u003e\u003c\/p\u003e\n\u003cp\u003eYou can promote and demote your points, move them around and remove them completely, just by clicking on the bullet or using your keyboard. The outline also works as an easy bookmark system. Want to keep reading or double check some information? Just click on the saved link.\u003c\/p\u003e\n\u003cp\u003e \u003c\/p\u003e\n\u003cp style=\"text-align: center;\"\u003e\u003cimg alt=\"Snap\u0026amp;Read outline screenshot\" src=\"\/\/cdn.shopify.com\/s\/files\/1\/1192\/0390\/files\/Highlight_tool_screen-553x340_grande.png?8081514136612797266\" style=\"float: none;\"\u003e\u003c\/p\u003e\n\u003cp\u003e \u003c\/p\u003e\n\u003cp style=\"text-align: left;\"\u003e\u003cstrong\u003eOutline to Writing\u003c\/strong\u003e\u003c\/p\u003e\n\u003cp style=\"text-align: left;\"\u003eAt any time, you can start pulling information from your outline to your written document.\u003c\/p\u003e\n\u003cp style=\"text-align: left;\"\u003eDrag and drop into a web-based tool like Google Doc (pictured below), or Google Slides, or a desktop writing tool like Word or Power Point.\u003c\/p\u003e\n\u003cp style=\"text-align: left;\"\u003e \u003c\/p\u003e\n\u003cp style=\"text-align: left;\"\u003e\u003cstrong\u003eNEW! Download and Print Outlines \u003c\/strong\u003e\u003c\/p\u003e\n\u003cp style=\"text-align: left;\"\u003eDownload and Print Outlines and sources.\u003c\/p\u003e\n\u003cp style=\"text-align: center;\"\u003e\u003cbr\u003e\u003cimg alt=\"Download your outline from Snap\u0026amp;Read\" src=\"\/\/cdn.shopify.com\/s\/files\/1\/1192\/0390\/files\/Download-outline-300x284_large.jpg?v=1489601587\" style=\"float: none;\"\u003e\u003cimg alt=\"Print your outline from Snap\u0026amp;Read\" src=\"\/\/cdn.shopify.com\/s\/files\/1\/1192\/0390\/files\/Print-outline-300x284_large.jpg?v=1489601601\" style=\"float: none;\"\u003e\u003c\/p\u003e\n\u003cp style=\"text-align: center;\"\u003e \u003c\/p\u003e\n\u003ch5\u003eCiting and Bibliography Building\u003c\/h5\u003e\n\u003cp\u003eIn the world of electronic text, it is easy for students to forget citations and lose track of sources. Not to mention confuse their own ideas with research. Often, the night before the assignment is due, they are drowning in a quagmire of books, notes and web links, trying to figure out what came from where and how to properly reference it all in a bibliography.\u003cbr\u003e\u003cbr\u003eSnap\u0026amp;Read has a little magic that helps students build the bibliography as they collect their information.\u003cbr\u003eAny time Snap\u0026amp;Read highlights, an entry is automatically created in the bibliography. And with a click you can switch between APA, MLA, and Chicago formats.\u003cbr\u003e\u003cbr\u003eCiting from a printed book or journal that you aren't reading on your computer? Snap \u0026amp; Read guides you through manually citing each source whether journal, website, book, video or anything else, in the three major formats.\u003c\/p\u003e\n\u003cp style=\"text-align: center;\"\u003e\u003cimg alt=\"Snap\u0026amp;Read bibliography \" src=\"\/\/cdn.shopify.com\/s\/files\/1\/1192\/0390\/files\/Bibliographer-crop_300w_grande.png?10501616782296840673\" style=\"float: none;\"\u003e\u003c\/p\u003e\n\u003ch5\u003eDistrict Wide Implementation -- Easy and Smart\u003c\/h5\u003e\n\u003cp\u003e \u003c\/p\u003e\n\u003ch1\u003eSettings\u003c\/h1\u003e\n\u003cp\u003eSnap\u0026amp;Read keeps its options simple to minimize training. Change color preferences, speech rate and pitch, as well as how much complex text is simplified. Languages for translation are also selected in the Settings menu.\u003cbr\u003e\u003cbr\u003e\u003c\/p\u003e\n\u003ch1 style=\"text-align: left;\"\u003eImplementation and Pricing \u003c\/h1\u003e\n\u003cp style=\"text-align: left;\"\u003eSnap\u0026amp;Read Universal is purchased as an annual subscription. Snap\u0026amp;Read is a Universal Extension for Chrome. Browse to the web or use Chrome to open pdf's or other files via Google drive, or from the desktop for full functionality. Ideal for Chromebooks but works on a Chrome browser in Windows and Mac too.\u003c\/p\u003e\n\u003cp style=\"text-align: left;\"\u003eYou can also download a PC version for Windows or Mac. Both read accessible or inaccessible text but do not include Dynamic Text Levelling. Dynamic Text Levelling function is only available in the Google Chrome extension.\u003c\/p\u003e\n\u003cp style=\"text-align: left;\"\u003eOne login delivers access to all platforms: Google Chrome, PC or Mac.\u003c\/p\u003e\n\u003cp style=\"text-align: left;\"\u003eLicenses available for individual students, cumulative tiered users pricing, and unlimited school or district deployment.\u003c\/p\u003e\n\u003cp style=\"text-align: left;\"\u003e\u003ca href=\"mailto:%20info@bridges-canada.com\" target=\"_blank\" title=\"Contact Bridges for a demonstration, trial and full quote \" rel=\"noopener noreferrer\"\u003eContact Bridges\u003c\/a\u003e for a demonstration, trial and full quote.\u003c\/p\u003e\n\u003ch1\u003eSecure Student Privacy\u003c\/h1\u003e\n\u003cp\u003eYou would be surprised if you found out what data can be collected by your Google Chrome extensions - potentially everything a student writes and reads. It can be stored anywhere in the world, where data protection laws are different. By law, any parent can request all of the data held on their child from every technology vendor you use. Can you face your parents and confidently tell them the data that is being collected, how it is collected, and where it is stored?\u003cbr\u003e\u003cbr\u003eWith Snap\u0026amp;Read data, there is no potential for sensitive data to be stored on our servers. We don't collect search terms, websites visited, passwords, or the specific text read or written. They never even reach our servers. We want to make sure that you get powerful data that won't jeopardize and put you at risk of violating student privacy.\u003cbr\u003e\u003cbr\u003eRead more about \u003ca href=\"http:\/\/donjohnston.com\/leaderlink-student-data-and-privacy\/#.VXG2JGf-u70\" title=\"Read more about student-safe data here\" target=\"_blank\" rel=\"noopener noreferrer\"\u003estudent-safe data\u003c\/a\u003e and how Snap\u0026amp;Read protects privacy.\u003c\/p\u003e\n\u003cp\u003e \u003c\/p\u003e\n\u003ch5 style=\"text-align: left;\"\u003eCollect Data that Matters \u003c\/h5\u003e\n\u003cp style=\"text-align: left;\"\u003eThere are a lot of good reasons for smart data. Smart data isn't like the once a year assessment that gives you results in July. Smart data gives constant feedback so you can make ongoing adjustments.\u003c\/p\u003e\n\u003cp style=\"text-align: left;\"\u003eWith smart data, you can make better decisions—in real time. Snap\u0026amp;Read gives you this kind of smart data. See the video below for a 3 minute demo of Snap\u0026amp;Read data collection:\u003c\/p\u003e\n\u003cp style=\"text-align: center;\"\u003e\u003ciframe src=\"https:\/\/player.vimeo.com\/video\/128529882\" webkitallowfullscreen=\"\" mozallowfullscreen=\"\" allowfullscreen=\"\" frameborder=\"0\" height=\"281\" width=\"500\"\u003e\u003c\/iframe\u003e\u003c\/p\u003e\n\u003cp style=\"text-align: left;\"\u003eSimply log into the \u003ca href=\"https:\/\/login.donjohnston.net\/login?t=1433514317656\u0026amp;client_id=educator-dashboard-a77ec891d9428e732720e7fbf7154d0e\u0026amp;redirect_uri=https%3A%2F%2Feducatordashboard.com%2Fauth%2Fcallback%3Fredirect_uri%3D%252F\" target=\"_blank\" title=\"log in to the Educator Dashboard website from any device and get data on your students \" rel=\"noopener noreferrer\"\u003eEducator Dashboard™ website\u003c\/a\u003e from any device and get data on your students. Here's what you'll see…\u003c\/p\u003e\n\u003cp style=\"text-align: center;\"\u003e\u003cimg alt=\"Snap\u0026amp;Read-group-data-screenshot\" src=\"http:\/\/donjohnston.com\/wp-content\/uploads\/2014\/08\/SnapRead-group-data-screenshot.png\" style=\"float: none;\"\u003e\u003c\/p\u003e\n\u003cp style=\"text-align: left;\"\u003e\u003cspan class=\"point_sym_span point_sym_hover_span_hl\"\u003eThis\u003c\/span\u003e\u003cspan\u003e \u003c\/span\u003e\u003cspan class=\"point_sym_span point_sym_hover_span\"\u003eis\u003c\/span\u003e\u003cspan\u003e \u003c\/span\u003e\u003cspan class=\"point_sym_span point_sym_hover_span\"\u003egroup\u003c\/span\u003e\u003cspan\u003e \u003c\/span\u003e\u003cspan class=\"point_sym_span point_sym_hover_span\"\u003edata\u003c\/span\u003e\u003cspan\u003e \u003c\/span\u003e\u003cspan class=\"point_sym_span point_sym_hover_span\"\u003ewhere\u003c\/span\u003e\u003cspan\u003e \u003c\/span\u003e\u003cspan class=\"point_sym_span point_sym_hover_span\"\u003eyou\u003c\/span\u003e\u003cspan\u003e \u003c\/span\u003e\u003cspan class=\"point_sym_span point_sym_hover_span\"\u003ecan\u003c\/span\u003e\u003cspan\u003e \u003c\/span\u003e\u003cspan class=\"point_sym_span point_sym_hover_span\"\u003esee\u003c\/span\u003e\u003cspan\u003e \u003c\/span\u003e\u003cspan class=\"point_sym_span point_sym_hover_span\"\u003ehow\u003c\/span\u003e\u003cspan\u003e \u003c\/span\u003e\u003cspan class=\"point_sym_span point_sym_hover_span\"\u003emuch\u003c\/span\u003e\u003cspan\u003e \u003c\/span\u003e\u003cspan class=\"point_sym_span point_sym_hover_span\"\u003eyour\u003c\/span\u003e\u003cspan\u003e \u003c\/span\u003e\u003cspan class=\"point_sym_span point_sym_hover_span\"\u003estudents\u003c\/span\u003e\u003cspan\u003e \u003c\/span\u003e\u003cspan class=\"point_sym_span point_sym_hover_span\"\u003eread\u003c\/span\u003e\u003cspan\u003e \u003c\/span\u003e\u003cspan class=\"point_sym_span point_sym_hover_span\"\u003ecollectively.\u003c\/span\u003e\u003c\/p\u003e\n\u003ch2 style=\"text-align: left;\"\u003e\u003cspan class=\"point_sym_span point_sym_hover_span\"\u003eUsage Data\u003c\/span\u003e\u003c\/h2\u003e\n\u003cp\u003e\u003cspan class=\"point_sym_span point_sym_hover_span\"\u003eClick on a student's name to see individual data.\u003c\/span\u003e\u003c\/p\u003e\n\u003cp\u003e\u003cspan class=\"point_sym_span point_sym_hover_span\"\u003eFirst, you see the date that the student was set up - a nice way to show he had access well ahead of the assessment. Next, you can see how much the student read. Reading data is collected anytime the Snap\u0026amp;Read toolbar is active, even if a student only uses the accommodation for difficult passages. Snap\u0026amp;Read will collect reading data using a set of algorithms. In this case, the student read 71,442 words since January 27, 2015 and spent over 145 hours reading. Over the school year, you'll see these numbers continue to grow. You'll know exactly how much students are reading!\u003c\/span\u003e\u003c\/p\u003e\n\u003cp style=\"text-align: center;\"\u003e\u003cimg alt=\"Snap\u0026amp;Read-individual-data-screenshot\" src=\"http:\/\/donjohnston.com\/wp-content\/uploads\/2014\/08\/SnapRead-individual-data-screenshot.png\" style=\"float: none;\"\u003e\u003c\/p\u003e\n\u003cp\u003e \u003c\/p\u003e\n\u003ch2\u003eQualitative Data\u003c\/h2\u003e\n\u003cp\u003eSnap\u0026amp;Read analyses the text students read through an average of five readability scales, giving you a really good idea of the levels of content each student is reading.\u003c\/p\u003e\n\u003cp\u003eThe darker the colour, the more the student read content at that level. You can see here that most of the content that this student reads is clustered around the 5th grade level. You can also see that the student has read content as high as 11th grade and as low as 1st grade. This data helps educators guide students to content at appropriate reading levels and then monitor results.\u003c\/p\u003e\n\u003cp style=\"text-align: center;\"\u003e\u003cimg alt=\"Snap\u0026amp;Read-data-readability\" src=\"http:\/\/donjohnston.com\/wp-content\/uploads\/2014\/08\/SnapRead-data-readability.png\" style=\"float: none;\"\u003e\u003c\/p\u003e\n\u003ch5\u003eMonthly subscriptions\u003c\/h5\u003e\n\u003cp\u003eFor monthly subscription options starting at 4.99 USD available on the official Snap\u0026amp;Read page. Follow the link \u003ca href=\"https:\/\/snapandread.com\/\" target=\"_blank\" title=\"Link to sign up for Snap\u0026amp;Read monthly subscriptions\" rel=\"noopener noreferrer\"\u003ehere\u003c\/a\u003e.\u003c\/p\u003e\n\u003cp\u003e\u003cem\u003e\u003cstrong\u003e*Note: if your organization has restrictions on out-of-country purchases, or other considerations, please\u003cspan\u003e \u003c\/span\u003e\u003ca href=\"mailto:info@bridges-canada.com\" target=\"_blank\" title=\"Contact Bridges if your school has any restrictions on out-of-country purchases \" rel=\"noopener noreferrer\"\u003econtact Bridges\u003c\/a\u003e\u003cspan\u003e \u003c\/span\u003eto facilitate your purchase. \u003c\/strong\u003e\u003c\/em\u003e\u003c\/p\u003e","published_at":"2016-06-23T11:54:00-04:00","created_at":"2017-03-15T14:43:32-04:00","vendor":"Don Johnston Incorporated","type":"Subscription","tags":["Compatibility_Chromebook","Compatibility_iOS (iPads\/iPhones)","Compatibility_Mac OS","Compatibility_Other Tablets","Compatibility_Windows PC","delete19","High Incidence","Learning Area_ESL\/ELL","Learning Area_Literacy","Learning Area_Post-Secondary","Type_Exclusives","Type_Software","Type_Subscription"],"price":6800,"price_min":6800,"price_max":25200,"available":true,"price_varies":true,"compare_at_price":null,"compare_at_price_min":0,"compare_at_price_max":0,"compare_at_price_varies":false,"variants":[{"id":21559937925202,"title":"1 seat for a 3 year subscription","option1":"1 seat for a 3 year subscription","option2":null,"option3":null,"sku":"22P75SEAT3Y","requires_shipping":false,"taxable":true,"featured_image":null,"available":true,"name":"Snap\u0026Read Universal Annual Subscriptions - 1 seat for a 3 year subscription","public_title":"1 seat for a 3 year subscription","options":["1 seat for a 3 year subscription"],"price":25200,"weight":0,"compare_at_price":null,"inventory_quantity":-2,"inventory_management":"shopify","inventory_policy":"continue","barcode":"","requires_selling_plan":false,"selling_plan_allocations":[]},{"id":35322194115,"title":"5-99 @ $84 per seat","option1":"5-99 @ $84 per seat","option2":null,"option3":null,"sku":"22P75SEAT1Y_20TO99","requires_shipping":false,"taxable":true,"featured_image":null,"available":true,"name":"Snap\u0026Read Universal Annual Subscriptions - 5-99 @ $84 per seat","public_title":"5-99 @ $84 per seat","options":["5-99 @ $84 per seat"],"price":8400,"weight":0,"compare_at_price":null,"inventory_quantity":-12,"inventory_management":"shopify","inventory_policy":"continue","barcode":"","requires_selling_plan":false,"selling_plan_allocations":[]},{"id":35322275395,"title":"100+ @ $68 per seat","option1":"100+ @ $68 per seat","option2":null,"option3":null,"sku":"22P75SEAT1Y_100PLUS","requires_shipping":false,"taxable":true,"featured_image":null,"available":true,"name":"Snap\u0026Read Universal Annual Subscriptions - 100+ @ $68 per seat","public_title":"100+ @ $68 per seat","options":["100+ @ $68 per seat"],"price":6800,"weight":0,"compare_at_price":null,"inventory_quantity":1,"inventory_management":null,"inventory_policy":"deny","barcode":"","requires_selling_plan":false,"selling_plan_allocations":[]}],"images":["\/\/cdn.shopify.com\/s\/files\/1\/1192\/0390\/products\/snapread-universal-annual-subscriptions-subscription-don-johnston-incorporated-assistive-technology-949348.jpg?v=1571439656","\/\/cdn.shopify.com\/s\/files\/1\/1192\/0390\/products\/snapread-universal-annual-subscriptions-subscription-don-johnston-incorporated-assistive-technology-730126.jpg?v=1571439656","\/\/cdn.shopify.com\/s\/files\/1\/1192\/0390\/products\/snapread-universal-annual-subscriptions-subscription-don-johnston-incorporated-assistive-technology-165593.JPG?v=1571439656","\/\/cdn.shopify.com\/s\/files\/1\/1192\/0390\/products\/Snap_Read_image_6_d2b54f03-84c2-4b7b-b7b7-1e6866a1f996.png?v=1571439656","\/\/cdn.shopify.com\/s\/files\/1\/1192\/0390\/products\/Time-traveler-dynamic-text-leveling_42758bca-8420-4ede-84af-82398ce1a489.png?v=1571439656","\/\/cdn.shopify.com\/s\/files\/1\/1192\/0390\/products\/desconocido_c73604c1-b5c0-4e53-8cba-648c4f143114.png?v=1571439656","\/\/cdn.shopify.com\/s\/files\/1\/1192\/0390\/products\/snapread-universal-annual-subscriptions-subscription-don-johnston-incorporated-assistive-technology-699703.jpg?v=1571439656","\/\/cdn.shopify.com\/s\/files\/1\/1192\/0390\/products\/snapread-universal-annual-subscriptions-subscription-don-johnston-incorporated-assistive-technology-777057.jpg?v=1571439656","\/\/cdn.shopify.com\/s\/files\/1\/1192\/0390\/products\/snapread-universal-annual-subscriptions-subscription-don-johnston-incorporated-assistive-technology-698975.jpg?v=1571439656","\/\/cdn.shopify.com\/s\/files\/1\/1192\/0390\/products\/snapread-universal-annual-subscriptions-subscription-don-johnston-incorporated-assistive-technology-512710.jpg?v=1571439656","\/\/cdn.shopify.com\/s\/files\/1\/1192\/0390\/products\/snapread-universal-annual-subscriptions-subscription-don-johnston-incorporated-assistive-technology-542361.jpg?v=1571439656","\/\/cdn.shopify.com\/s\/files\/1\/1192\/0390\/products\/snapread-universal-annual-subscriptions-subscription-don-johnston-incorporated-assistive-technology-837333.jpg?v=1571439656","\/\/cdn.shopify.com\/s\/files\/1\/1192\/0390\/products\/snapread-universal-annual-subscriptions-subscription-don-johnston-incorporated-assistive-technology-224607.jpg?v=1571439656"],"featured_image":"\/\/cdn.shopify.com\/s\/files\/1\/1192\/0390\/products\/snapread-universal-annual-subscriptions-subscription-don-johnston-incorporated-assistive-technology-949348.jpg?v=1571439656","options":["Number of Seats"],"media":[{"alt":"Snap\u0026Read Universal Annual Subscriptions - Bridges Canada","id":179522207826,"position":1,"preview_image":{"aspect_ratio":1.445,"height":299,"width":432,"src":"https:\/\/cdn.shopify.com\/s\/files\/1\/1192\/0390\/products\/snapread-universal-annual-subscriptions-subscription-don-johnston-incorporated-assistive-technology-949348.jpg?v=1571439656"},"aspect_ratio":1.445,"height":299,"media_type":"image","src":"https:\/\/cdn.shopify.com\/s\/files\/1\/1192\/0390\/products\/snapread-universal-annual-subscriptions-subscription-don-johnston-incorporated-assistive-technology-949348.jpg?v=1571439656","width":432},{"alt":"Snap\u0026Read Universal Annual Subscriptions - Bridges Canada","id":179522240594,"position":2,"preview_image":{"aspect_ratio":1.232,"height":487,"width":600,"src":"https:\/\/cdn.shopify.com\/s\/files\/1\/1192\/0390\/products\/snapread-universal-annual-subscriptions-subscription-don-johnston-incorporated-assistive-technology-730126.jpg?v=1571439656"},"aspect_ratio":1.232,"height":487,"media_type":"image","src":"https:\/\/cdn.shopify.com\/s\/files\/1\/1192\/0390\/products\/snapread-universal-annual-subscriptions-subscription-don-johnston-incorporated-assistive-technology-730126.jpg?v=1571439656","width":600},{"alt":"Snap\u0026Read Universal Annual Subscriptions - Bridges Canada","id":179522273362,"position":3,"preview_image":{"aspect_ratio":1.313,"height":512,"width":672,"src":"https:\/\/cdn.shopify.com\/s\/files\/1\/1192\/0390\/products\/snapread-universal-annual-subscriptions-subscription-don-johnston-incorporated-assistive-technology-165593.JPG?v=1571439656"},"aspect_ratio":1.313,"height":512,"media_type":"image","src":"https:\/\/cdn.shopify.com\/s\/files\/1\/1192\/0390\/products\/snapread-universal-annual-subscriptions-subscription-don-johnston-incorporated-assistive-technology-165593.JPG?v=1571439656","width":672},{"alt":"Snap\u0026Read Universal Annual Subscriptions - Bridges Canada","id":179522306130,"position":4,"preview_image":{"aspect_ratio":1.342,"height":322,"width":432,"src":"https:\/\/cdn.shopify.com\/s\/files\/1\/1192\/0390\/products\/Snap_Read_image_6_d2b54f03-84c2-4b7b-b7b7-1e6866a1f996.png?v=1571439656"},"aspect_ratio":1.342,"height":322,"media_type":"image","src":"https:\/\/cdn.shopify.com\/s\/files\/1\/1192\/0390\/products\/Snap_Read_image_6_d2b54f03-84c2-4b7b-b7b7-1e6866a1f996.png?v=1571439656","width":432},{"alt":"Snap\u0026Read Universal Annual Subscriptions - Bridges Canada","id":179522338898,"position":5,"preview_image":{"aspect_ratio":2.014,"height":286,"width":576,"src":"https:\/\/cdn.shopify.com\/s\/files\/1\/1192\/0390\/products\/Time-traveler-dynamic-text-leveling_42758bca-8420-4ede-84af-82398ce1a489.png?v=1571439656"},"aspect_ratio":2.014,"height":286,"media_type":"image","src":"https:\/\/cdn.shopify.com\/s\/files\/1\/1192\/0390\/products\/Time-traveler-dynamic-text-leveling_42758bca-8420-4ede-84af-82398ce1a489.png?v=1571439656","width":576},{"alt":"Snap\u0026Read Universal Annual Subscriptions - Bridges Canada","id":179522371666,"position":6,"preview_image":{"aspect_ratio":2.014,"height":286,"width":576,"src":"https:\/\/cdn.shopify.com\/s\/files\/1\/1192\/0390\/products\/desconocido_c73604c1-b5c0-4e53-8cba-648c4f143114.png?v=1571439656"},"aspect_ratio":2.014,"height":286,"media_type":"image","src":"https:\/\/cdn.shopify.com\/s\/files\/1\/1192\/0390\/products\/desconocido_c73604c1-b5c0-4e53-8cba-648c4f143114.png?v=1571439656","width":576},{"alt":"Snap\u0026Read Universal Annual Subscriptions - Bridges Canada","id":179522404434,"position":7,"preview_image":{"aspect_ratio":1.318,"height":340,"width":448,"src":"https:\/\/cdn.shopify.com\/s\/files\/1\/1192\/0390\/products\/snapread-universal-annual-subscriptions-subscription-don-johnston-incorporated-assistive-technology-699703.jpg?v=1571439656"},"aspect_ratio":1.318,"height":340,"media_type":"image","src":"https:\/\/cdn.shopify.com\/s\/files\/1\/1192\/0390\/products\/snapread-universal-annual-subscriptions-subscription-don-johnston-incorporated-assistive-technology-699703.jpg?v=1571439656","width":448},{"alt":"Snap\u0026Read Universal Annual Subscriptions - Bridges Canada","id":179522437202,"position":8,"preview_image":{"aspect_ratio":0.904,"height":332,"width":300,"src":"https:\/\/cdn.shopify.com\/s\/files\/1\/1192\/0390\/products\/snapread-universal-annual-subscriptions-subscription-don-johnston-incorporated-assistive-technology-777057.jpg?v=1571439656"},"aspect_ratio":0.904,"height":332,"media_type":"image","src":"https:\/\/cdn.shopify.com\/s\/files\/1\/1192\/0390\/products\/snapread-universal-annual-subscriptions-subscription-don-johnston-incorporated-assistive-technology-777057.jpg?v=1571439656","width":300},{"alt":"Snap\u0026Read Universal Annual Subscriptions - Bridges Canada","id":179522469970,"position":9,"preview_image":{"aspect_ratio":1.47,"height":415,"width":610,"src":"https:\/\/cdn.shopify.com\/s\/files\/1\/1192\/0390\/products\/snapread-universal-annual-subscriptions-subscription-don-johnston-incorporated-assistive-technology-698975.jpg?v=1571439656"},"aspect_ratio":1.47,"height":415,"media_type":"image","src":"https:\/\/cdn.shopify.com\/s\/files\/1\/1192\/0390\/products\/snapread-universal-annual-subscriptions-subscription-don-johnston-incorporated-assistive-technology-698975.jpg?v=1571439656","width":610},{"alt":"Snap\u0026Read Universal Annual Subscriptions - Bridges Canada","id":179522502738,"position":10,"preview_image":{"aspect_ratio":1.0,"height":850,"width":850,"src":"https:\/\/cdn.shopify.com\/s\/files\/1\/1192\/0390\/products\/snapread-universal-annual-subscriptions-subscription-don-johnston-incorporated-assistive-technology-512710.jpg?v=1571439656"},"aspect_ratio":1.0,"height":850,"media_type":"image","src":"https:\/\/cdn.shopify.com\/s\/files\/1\/1192\/0390\/products\/snapread-universal-annual-subscriptions-subscription-don-johnston-incorporated-assistive-technology-512710.jpg?v=1571439656","width":850},{"alt":"Snap\u0026Read Universal Annual Subscriptions - Bridges Canada","id":179522535506,"position":11,"preview_image":{"aspect_ratio":1.0,"height":850,"width":850,"src":"https:\/\/cdn.shopify.com\/s\/files\/1\/1192\/0390\/products\/snapread-universal-annual-subscriptions-subscription-don-johnston-incorporated-assistive-technology-542361.jpg?v=1571439656"},"aspect_ratio":1.0,"height":850,"media_type":"image","src":"https:\/\/cdn.shopify.com\/s\/files\/1\/1192\/0390\/products\/snapread-universal-annual-subscriptions-subscription-don-johnston-incorporated-assistive-technology-542361.jpg?v=1571439656","width":850},{"alt":"Snap\u0026Read Universal Annual Subscriptions - Bridges Canada","id":179522568274,"position":12,"preview_image":{"aspect_ratio":1.0,"height":850,"width":850,"src":"https:\/\/cdn.shopify.com\/s\/files\/1\/1192\/0390\/products\/snapread-universal-annual-subscriptions-subscription-don-johnston-incorporated-assistive-technology-837333.jpg?v=1571439656"},"aspect_ratio":1.0,"height":850,"media_type":"image","src":"https:\/\/cdn.shopify.com\/s\/files\/1\/1192\/0390\/products\/snapread-universal-annual-subscriptions-subscription-don-johnston-incorporated-assistive-technology-837333.jpg?v=1571439656","width":850},{"alt":"Snap\u0026Read Universal Annual Subscriptions - Bridges Canada","id":179522601042,"position":13,"preview_image":{"aspect_ratio":1.0,"height":850,"width":850,"src":"https:\/\/cdn.shopify.com\/s\/files\/1\/1192\/0390\/products\/snapread-universal-annual-subscriptions-subscription-don-johnston-incorporated-assistive-technology-224607.jpg?v=1571439656"},"aspect_ratio":1.0,"height":850,"media_type":"image","src":"https:\/\/cdn.shopify.com\/s\/files\/1\/1192\/0390\/products\/snapread-universal-annual-subscriptions-subscription-don-johnston-incorporated-assistive-technology-224607.jpg?v=1571439656","width":850}],"requires_selling_plan":false,"selling_plan_groups":[],"content":"Each student learn a bit differently. Their reading needs are as unique to them as their fingerprints. Enter Snap\u0026amp;Read, the Next-Generation reading tool for Google Chrome, iPad and more, that can cover the most diverse reading needs.\u003cbr\u003eWhether it's translation, read-aloud accessible and inaccessible test, or dynamic leveling of words to match the current understanding of the reader, Snap\u0026amp;Read presents information the way people most want to take it in - the way they learn best.  \n\u003cp\u003e \u003c\/p\u003e\n\u003cp\u003e\u003cspan\u003eWant to test out Snap\u0026amp;Read Universal before you decide to buy? \u003c\/span\u003e\u003c\/p\u003e\n\u003ch3 style=\"text-align: center;\"\u003e\u003cstrong\u003e\u003ca href=\"https:\/\/learningtools.donjohnston.com\/product\/snap-read\/request-1\/\" target=\"_blank\" title=\"Sign up for a free trial of Snap\u0026amp;Read Universal\" rel=\"noopener noreferrer\"\u003eSign up for a free trial\u003c\/a\u003e\u003c\/strong\u003e\u003c\/h3\u003e\n\u003cp\u003e \u003c\/p\u003e\n\u003cp\u003eNote on subscription options available:\u003c\/p\u003e\n\u003cp\u003e\u003cstrong\u003e22P75SEAT3Y \u003c\/strong\u003e- price is the total for a 3 year access to Snap\u0026amp;Read Universal for a single user.\u003c\/p\u003e\n\u003cp\u003e\u003cstrong\u003e22P75SEAT1Y_20TO99 \u003c\/strong\u003e- price is on a per seat per year basis; please make sure you order a minimum quantity of 5 to qualify for this price\u003c\/p\u003e\n\u003cp\u003e\u003cstrong\u003e22P75SEAT1Y_100PLUS \u003c\/strong\u003e- \u003cspan\u003eprice \u003c\/span\u003e\u003cspan\u003eis \u003c\/span\u003e\u003cspan\u003eon a per seat per year basis; please make sure you order a minimum quantity of 100 \u003c\/span\u003e\u003c\/p\u003e\n\u003cp\u003e\u003cstrong\u003eLooking to purchase a district or site license? \u003ca href=\"mailto:info@bridges-canada.com\" target=\"_blank\" title=\"Contact Bridges to purchase district or site licenses \" rel=\"noopener noreferrer\"\u003eContact Bridges\u003c\/a\u003e for bigger discounts and a detailed proposal. \u003c\/strong\u003e\u003c\/p\u003e\n\u003cp\u003e \u003c\/p\u003e\n\u003ch3 style=\"text-align: center;\"\u003e\n\u003cstrong\u003eSnap\u0026amp;Read\u003c\/strong\u003e\u003cspan\u003e is your Next-Generation reading tool for Google Chrome, covering the most diverse reading needs!\u003c\/span\u003e\n\u003c\/h3\u003e\n\u003cp\u003e \u003c\/p\u003e\n\u003cp\u003e\u003cstrong\u003eThe Tools: \u003c\/strong\u003e\u003c\/p\u003e\n\u003cul\u003e\n\u003cli\u003e\n\u003cstrong\u003e\u003cspan style=\"line-height: 1.4;\"\u003e\u003cem\u003eNEW!\u003c\/em\u003e iPad App: \u003c\/span\u003e\u003c\/strong\u003e\u003cspan style=\"line-height: 1.4;\"\u003eRead text aloud, dynamically level it, OCR it, highlight it, outline it, and cite it - all from your iPad! \u003c\/span\u003e\n\u003c\/li\u003e\n\u003cli\u003e\n\u003cstrong\u003e\u003cspan style=\"line-height: 1.4;\"\u003eText-to-Speech: \u003c\/span\u003e\u003c\/strong\u003e\u003cspan style=\"line-height: 1.4;\"\u003eHave your text read aloud for better comprehension.\u003c\/span\u003e\n\u003c\/li\u003e\n\u003cli\u003e\u003cspan style=\"line-height: 1.4;\"\u003e\u003cstrong\u003eScreenshot Reader:\u003c\/strong\u003e Come across text that is inaccessible? No worries, Snap\u0026amp;Read Universal will take care of it. \u003c\/span\u003e\u003c\/li\u003e\n\u003cli\u003e\u003cspan style=\"line-height: 1.4;\"\u003e\u003cstrong\u003eSimplify:\u003c\/strong\u003e Difficult words getting in your way? A click and Snap\u0026amp;Read Universal will simplify them.\u003c\/span\u003e\u003c\/li\u003e\n\u003cli\u003e\u003cspan style=\"line-height: 1.4;\"\u003e\u003cstrong\u003eTranslate:\u003c\/strong\u003e English not your primary language? Have it translated when you need it.\u003c\/span\u003e\u003c\/li\u003e\n\u003cli\u003e\u003cspan style=\"line-height: 1.4;\"\u003e\u003cstrong\u003eCapture in an Outline:\u003c\/strong\u003e Capture what you read to use later. Sort it in an outline so it makes sense. Sources are automatically cited when added to the outline. \u003c\/span\u003e\u003c\/li\u003e\n\u003cli\u003e\u003cspan style=\"line-height: 1.4;\"\u003e\u003cstrong\u003e\u003cem\u003eNEW!\u003c\/em\u003e Outline Templates:\u003c\/strong\u003e Guide reading by adding a template to your outline. Over 60 templates are included\u003c\/span\u003e\u003c\/li\u003e\n\u003cli\u003e\u003cspan style=\"line-height: 1.4;\"\u003e\u003cstrong\u003ePDF \u0026amp; Inaccessible Text Support:\u003c\/strong\u003e Read the web and use all these tools in PDFs too. Even read text in images with Snap\u0026amp;Read's OCR tool. \u003c\/span\u003e\u003c\/li\u003e\n\u003cli\u003e\n\u003cstrong\u003eBibliographer:\u003c\/strong\u003e Highlight to extract text from websites to an outline, and the source is automatically cited. For other citations, Snap\u0026amp;Read provides a template that students use to document their sources. The bibliography is built as the student collects their information\u003c\/li\u003e\n\u003c\/ul\u003e\n\u003cp\u003e\u003cstrong\u003eOnly Snap\u0026amp;Read:\u003c\/strong\u003e\u003c\/p\u003e\n\u003cul\u003e\n\u003cli\u003e\u003cspan style=\"line-height: 1.4;\"\u003eReads PDF and Bookshare books in the Chrome browser\u003c\/span\u003e\u003c\/li\u003e\n\u003cli\u003e\u003cspan style=\"line-height: 1.4;\"\u003eReads inaccessible text (Flash, images, and PDFs) on Google Chrome without a complex conversion process\u003c\/span\u003e\u003c\/li\u003e\n\u003cli\u003e\u003cspan style=\"line-height: 1.4;\"\u003eDynamically Levels complex passages by adjusting needlessly difficult vocabulary (without changing the meaning\/rigor)\u003c\/span\u003e\u003c\/li\u003e\n\u003cli\u003e\u003cspan style=\"line-height: 1.4;\"\u003eTranslates text into over 100 languages - specific levelled vocabulary or entire passages\u003c\/span\u003e\u003c\/li\u003e\n\u003cli\u003e\u003cspan style=\"line-height: 1.4;\"\u003eEmbeds supports right in the original text - context and curricular vocabulary are preserved. So complex academic vocabulary can be learned.\u003c\/span\u003e\u003c\/li\u003e\n\u003cli\u003e\u003cspan style=\"line-height: 1.4;\"\u003eBuilds study skills by structuring information in a flexible outline.\u003c\/span\u003e\u003c\/li\u003e\n\u003cli\u003e\u003cspan style=\"line-height: 1.4;\"\u003eCites resources to help students track sources and build bibliographies \u003c\/span\u003e\u003c\/li\u003e\n\u003cli\u003e\u003cspan style=\"line-height: 1.4;\"\u003eWorks offline - if your school is like most and has internet outages or speed issues, you need this!\u003c\/span\u003e\u003c\/li\u003e\n\u003cli\u003e\u003cspan style=\"line-height: 1.4;\"\u003eGives Smart Data - See how much your students are reading and the level of text they're reading.\u003c\/span\u003e\u003c\/li\u003e\n\u003c\/ul\u003e\n\u003cp style=\"text-align: center;\"\u003e\u003cspan style=\"line-height: 1.4;\"\u003e\u003ciframe src=\"https:\/\/player.vimeo.com\/video\/140218204\" webkitallowfullscreen=\"\" mozallowfullscreen=\"\" allowfullscreen=\"\" frameborder=\"0\" height=\"281\" width=\"500\"\u003e\u003c\/iframe\u003e\u003c\/span\u003e\u003c\/p\u003e\n\u003cp style=\"text-align: center;\"\u003e \u003c\/p\u003e\n\u003cp style=\"text-align: center;\"\u003e \u003c\/p\u003e\n\u003ch5\u003e\u003cspan style=\"line-height: 1.4;\"\u003eiPad App \u003c\/span\u003e\u003c\/h5\u003e\n\u003cp\u003e\u003cspan style=\"line-height: 1.4;\"\u003eIn addition to Snap\u0026amp;Read Universal for Google Chrome, an app is now available for iPad!\u003cbr\u003e\u003cbr\u003eRead text aloud, dynamically level it, OCR it, highlight it, outline it, and cite it!\u003cbr\u003e\u003cbr\u003eAlso, students can take a picture of a worksheet and Snap\u0026amp;Read will make the text accessible through built-in OCR. \u003c\/span\u003e\u003c\/p\u003e\n\u003cp\u003e \u003c\/p\u003e\n\u003cp style=\"text-align: center;\"\u003e\u003cspan style=\"line-height: 1.4;\"\u003e\u003ciframe src=\"https:\/\/player.vimeo.com\/video\/206645531\" width=\"640\" height=\"360\" frameborder=\"0\" webkitallowfullscreen=\"\" mozallowfullscreen=\"\" allowfullscreen=\"\"\u003e\u003c\/iframe\u003e\u003c\/span\u003e\u003c\/p\u003e\n\u003ch5\u003e\u003cspan style=\"line-height: 1.4;\"\u003eReading Text Aloud\u003c\/span\u003e\u003c\/h5\u003e\n\u003cp\u003eTo read text aloud, just click the speaker button and then click on the area where you want to start reading. Snap\u0026amp;Read will read the text aloud with high quality voices until you click again to stop the speech.\u003c\/p\u003e\n\u003cp style=\"text-align: center;\"\u003e\u003cimg alt=\"Read text out loud with Snap\u0026amp;Read Universal \" src=\"\/\/cdn.shopify.com\/s\/files\/1\/1192\/0390\/files\/Speak_out_loud_large.JPG?2172893401346988324\" style=\"float: none;\"\u003e\u003c\/p\u003e\n\u003cp style=\"text-align: center;\"\u003e \u003c\/p\u003e\n\u003ch5\u003eLeveling Text Complexity \u003c\/h5\u003e\n\u003cp\u003eAdjusting text works the same way, just click on the text adjusting button and then click on the area where you want the text to be simplified, and Snap\u0026amp;Read will simplify from that area on. Or, you can select the passage you need simplified and then click the text simplifier button and only the selected text will be simplified.\u003cbr\u003e\u003cbr\u003eThe simplified vocabulary will show in italics. Hover the mouse over the simplified text to see the original text.Toggle between the simplified text and the original with a click.\u003c\/p\u003e\n\u003cp style=\"text-align: center;\"\u003e\u003cimg alt=\"Simplify complex text with Snap\u0026amp;Read's unique levelling tool\" src=\"\/\/cdn.shopify.com\/s\/files\/1\/1192\/0390\/files\/Simplify_1_grande.JPG?539578057384831557\" style=\"float: none;\"\u003e\u003c\/p\u003e\n\u003cp style=\"text-align: center;\"\u003e\u003cimg src=\"\/\/cdn.shopify.com\/s\/files\/1\/1192\/0390\/files\/Simplify_2_v2_large.jpg?539578057384831557\" alt=\"Simplify complex text by levelling right in the body with Snap\u0026amp;Read Universal\"\u003e\u003c\/p\u003e\n\u003cp\u003e \u003c\/p\u003e\n\u003ch5\u003eReading Inaccessible Text\u003c\/h5\u003e\n\u003cp\u003eWhen you come across inaccessible text that cannot be selected, click on the target tool and make a box around the text to be read. Snap\u0026amp;Read will automatically convert the text on the fly and read it aloud.\u003c\/p\u003e\n\u003cp style=\"text-align: center;\"\u003e\u003cimg alt=\"Read inaccessible text like PDFs and images with Snap\u0026amp;Read Universal\" src=\"\/\/cdn.shopify.com\/s\/files\/1\/1192\/0390\/files\/screenshot_reader_grande.JPG?1308942374076554138\" style=\"float: none;\"\u003e\u003c\/p\u003e\n\u003cp style=\"text-align: center;\"\u003e \u003c\/p\u003e\n\u003ch5\u003eTranslate Text \u003c\/h5\u003e\n\u003cp\u003eSnap\u0026amp;Read Universal's new Translation function supports over 100 languages, translating text directly in the body of the copy for additional vocabulary support, whether in \u003cspan\u003eemail, websites, Google Drive, online books, PDFs\u003c\/span\u003e. Just click the Snap\u0026amp;Read translate button, and Snap\u0026amp;Read will embed the accurate translation, while maintaining the context of the reading. See the video below for a 3-minute demo showcasing these unique translation supports:\u003c\/p\u003e\n\u003cp style=\"text-align: center;\"\u003e\u003ciframe src=\"https:\/\/player.vimeo.com\/video\/129693114\" webkitallowfullscreen=\"\" mozallowfullscreen=\"\" allowfullscreen=\"\" frameborder=\"0\" height=\"281\" width=\"500\"\u003e\u003c\/iframe\u003e\u003c\/p\u003e\n\u003cp style=\"text-align: left;\"\u003eChoose and setup a language for the Translation tool in the Snap\u0026amp;Read Settings menu.\u003cbr\u003e\u003cbr\u003e\u003cem\u003e*Tip: To get word-by-word highlighting while reading, select system voices or download new ones in the languages you need. When reading text, Google Voices aren't compatible with word-by-word highlighting.\u003c\/em\u003e\u003c\/p\u003e\n\u003ch5 style=\"text-align: left;\"\u003eWhy Levelling? \u003c\/h5\u003e\n\u003cp\u003eSnap\u0026amp;Read Universal's text levelling feature is really a revolutionary support for readers and has far reaching implications.\u003c\/p\u003e\n\u003cp\u003eSimply reading text aloud is often enough to help students comprehend. Other times, the text can be filled with complex and utterly unfamiliar curricular vocabulary that is even above a student's listening comprehension level.\u003cbr\u003e\u003cbr\u003eYet, the student has to acquire this vocabulary to succeed.\u003cbr\u003e\u003cbr\u003eSnap\u0026amp;Read text adjusting features simplifies complex words to a level that allows students to read passages fluently. The difficulty level is selectable so students can adjust the vocabulary complexity of their reading passages to a level they can feel comfortable with.\u003c\/p\u003e\n\u003ch3\u003e\n\u003cstrong\u003eFor Students Learning New Vocabulary\u003c\/strong\u003e \u003c\/h3\u003e\n\u003cp\u003eLearning and acquiring academic and curricular vocabulary is an on-going challenge for all students, even those reading at grade level. Snap\u0026amp;Read thoughtful text leveling:\u003c\/p\u003e\n\u003cul\u003e\n\u003cli\u003e\u003cspan style=\"line-height: 1.4;\"\u003ePreserves context. This is so important for learning, not just meaning, but appropriate use of new vocabulary\u003c\/span\u003e\u003c\/li\u003e\n\u003cli\u003e\u003cspan style=\"line-height: 1.4;\"\u003eUses multiple words for supporting meaning, demonstrating the functions of synonyms and the effectiveness of the specific terminology\u003c\/span\u003e\u003c\/li\u003e\n\u003cli\u003e\u003cspan style=\"line-height: 1.4;\"\u003eDoesn't lose new vocabulary: just hover your mouse or click and you'll see the original word\u003c\/span\u003e\u003c\/li\u003e\n\u003cli\u003e\u003cspan style=\"line-height: 1.4;\"\u003eAdjust leveling: Making adjustments to fit specific students' needs, is easy and intuitive.\u003c\/span\u003e\u003c\/li\u003e\n\u003c\/ul\u003e\n\u003ch3\u003e\u003cstrong\u003e\u003cspan style=\"line-height: 1.4;\"\u003eFor Students Who Need Modified Materials\u003c\/span\u003e\u003c\/strong\u003e\u003c\/h3\u003e\n\u003cp\u003e\u003cspan style=\"line-height: 1.4;\"\u003eStudents in a congregated classroom setting or with alternative curriculum who have literacy skills, find it a great challenge to find curricular materials they can read. Snap and Read's leveling and straightforward, focused interface, makes it easy for students with cognitive challenges to read text.\u003cbr\u003e\u003cbr\u003eIt's a great alternative to teachers using modified materials. Students access the grade-level content from the original source material, but can adjust complexity to a level that works for them.\u003c\/span\u003e\u003c\/p\u003e\n\u003ch3\u003e\u003cstrong\u003e\u003cspan style=\"line-height: 1.4;\"\u003eFor Classroom Teachers\u003c\/span\u003e\u003c\/strong\u003e\u003c\/h3\u003e\n\u003cp\u003e\u003cspan style=\"line-height: 1.4;\"\u003eClassroom teachers love the simplicity, accessibility and teaching power of Snap\u0026amp;Read.\u003c\/span\u003e\u003c\/p\u003e\n\u003cul\u003e\n\u003cli\u003e\u003cspan style=\"line-height: 1.4;\"\u003eA great way for teachers to introduce new vocabulary or challenging texts with a projector or interactive whiteboard.\u003c\/span\u003e\u003c\/li\u003e\n\u003cli\u003e\u003cspan style=\"line-height: 1.4;\"\u003eSimple to use, with just 4 buttons, requires no training\u003c\/span\u003e\u003c\/li\u003e\n\u003cli\u003e\u003cspan style=\"line-height: 1.4;\"\u003eSaves time: On demand levelling, means less time expended on modifying materials for student use.\u003c\/span\u003e\u003c\/li\u003e\n\u003c\/ul\u003e\n\u003ch5\u003e\u003cspan style=\"line-height: 1.4;\"\u003eNew Reading to Learn Tools\u003c\/span\u003e\u003c\/h5\u003e\n\u003cp\u003e\u003cspan style=\"line-height: 1.4;\"\u003eThe Snap \u0026amp; Read extension introduces new tools so that students can immediately transform text into information, reading into learning:\u003c\/span\u003e\u003c\/p\u003e\n\u003cul\u003e\n\u003cli\u003e\u003cspan style=\"line-height: 1.4;\"\u003eExtract key text \u003c\/span\u003e\u003c\/li\u003e\n\u003cli\u003e\u003cspan style=\"line-height: 1.4;\"\u003eIntegrate it into outlines - right in the browser\u003c\/span\u003e\u003c\/li\u003e\n\u003cli\u003e\u003cspan style=\"line-height: 1.4;\"\u003eCite for future source checking\u003c\/span\u003e\u003c\/li\u003e\n\u003cli\u003e\n\u003cspan style=\"line-height: 1.4;\"\u003ePrep for including into their own work - study notes, \u003c\/span\u003e\u003cspan style=\"line-height: 21px;\"\u003eassignment\u003c\/span\u003e\u003cspan style=\"line-height: 1.4;\"\u003e building, writing research\u003c\/span\u003e\n\u003c\/li\u003e\n\u003c\/ul\u003e\n\u003cp\u003e\u003cspan style=\"line-height: 1.4;\"\u003eSnap\u0026amp;Read works practically anywhere your Chrome browser can take you -- including Google Docs, websites, PDFs, as well as Kindle and Bookshare books.\u003cbr\u003e\u003c\/span\u003e\u003c\/p\u003e\n\u003cp style=\"text-align: center;\"\u003e\u003cspan style=\"line-height: 1.4;\"\u003e\u003ciframe src=\"https:\/\/player.vimeo.com\/video\/140215208\" webkitallowfullscreen=\"\" mozallowfullscreen=\"\" allowfullscreen=\"\" frameborder=\"0\" height=\"281\" width=\"500\"\u003e\u003c\/iframe\u003e\u003c\/span\u003e\u003c\/p\u003e\n\u003cp style=\"text-align: center;\"\u003e \u003c\/p\u003e\n\u003ch5 style=\"text-align: left;\"\u003eHighlight and Extract To an Outline in One Step\u003c\/h5\u003e\n\u003cp\u003eThe outline can be organized and added to, right beside the source content, so students don't lose context or focus.\u003cbr\u003e\u003cbr\u003eThe outline structures the kind of transition from reading to writing, essential to post-secondary success. Students can build outlines like Compare and Contrast, Description, and Explanation, then pull content into their structured outlines by gathering source content. Or structure after researching.\u003c\/p\u003e\n\u003cp\u003e \u003c\/p\u003e\n\u003cp style=\"text-align: center;\"\u003e\u003cimg alt=\"Create an outline by highlighting important texts. Works right in the same tab! \" src=\"\/\/cdn.shopify.com\/s\/files\/1\/1192\/0390\/files\/Capture_2_grande.JPG?10688670219508594608\" style=\"float: none;\"\u003e\u003c\/p\u003e\n\u003cp style=\"text-align: center;\"\u003e\u003cimg src=\"\/\/cdn.shopify.com\/s\/files\/1\/1192\/0390\/files\/Bibliographer-553x340_grande.png?7800822388363867673\" alt=\"Snap\u0026amp;Read Universal creates bibliographies for the info captured in your outline\"\u003e\u003c\/p\u003e\n\u003cp style=\"text-align: center;\"\u003e \u003c\/p\u003e\n\u003cp style=\"text-align: left;\"\u003e\u003cstrong\u003eNEW! Outline Templates \u003c\/strong\u003e\u003c\/p\u003e\n\u003cp style=\"text-align: left;\"\u003eGuide reading by adding a template to your outline. Over 60 templates are included from KWL and story map, to compare and contrast.\u003c\/p\u003e\n\u003cp style=\"text-align: left;\"\u003e \u003c\/p\u003e\n\u003cp style=\"text-align: center;\"\u003e\u003cimg alt=\"Over 60+ Outline Templates available in Snapr\u0026amp;Read Universal\" src=\"\/\/cdn.shopify.com\/s\/files\/1\/1192\/0390\/files\/S-R-Outline-Templates680w-1-448x340_large.jpg?v=1489601440\" style=\"float: none;\"\u003e\u003c\/p\u003e\n\u003cp style=\"text-align: left;\"\u003e \u003c\/p\u003e\n\u003cp style=\"text-align: left;\"\u003e\u003cstrong\u003eOutline and Organize\u003c\/strong\u003e\u003c\/p\u003e\n\u003cp\u003eYou can promote and demote your points, move them around and remove them completely, just by clicking on the bullet or using your keyboard. The outline also works as an easy bookmark system. Want to keep reading or double check some information? Just click on the saved link.\u003c\/p\u003e\n\u003cp\u003e \u003c\/p\u003e\n\u003cp style=\"text-align: center;\"\u003e\u003cimg alt=\"Snap\u0026amp;Read outline screenshot\" src=\"\/\/cdn.shopify.com\/s\/files\/1\/1192\/0390\/files\/Highlight_tool_screen-553x340_grande.png?8081514136612797266\" style=\"float: none;\"\u003e\u003c\/p\u003e\n\u003cp\u003e \u003c\/p\u003e\n\u003cp style=\"text-align: left;\"\u003e\u003cstrong\u003eOutline to Writing\u003c\/strong\u003e\u003c\/p\u003e\n\u003cp style=\"text-align: left;\"\u003eAt any time, you can start pulling information from your outline to your written document.\u003c\/p\u003e\n\u003cp style=\"text-align: left;\"\u003eDrag and drop into a web-based tool like Google Doc (pictured below), or Google Slides, or a desktop writing tool like Word or Power Point.\u003c\/p\u003e\n\u003cp style=\"text-align: left;\"\u003e \u003c\/p\u003e\n\u003cp style=\"text-align: left;\"\u003e\u003cstrong\u003eNEW! Download and Print Outlines \u003c\/strong\u003e\u003c\/p\u003e\n\u003cp style=\"text-align: left;\"\u003eDownload and Print Outlines and sources.\u003c\/p\u003e\n\u003cp style=\"text-align: center;\"\u003e\u003cbr\u003e\u003cimg alt=\"Download your outline from Snap\u0026amp;Read\" src=\"\/\/cdn.shopify.com\/s\/files\/1\/1192\/0390\/files\/Download-outline-300x284_large.jpg?v=1489601587\" style=\"float: none;\"\u003e\u003cimg alt=\"Print your outline from Snap\u0026amp;Read\" src=\"\/\/cdn.shopify.com\/s\/files\/1\/1192\/0390\/files\/Print-outline-300x284_large.jpg?v=1489601601\" style=\"float: none;\"\u003e\u003c\/p\u003e\n\u003cp style=\"text-align: center;\"\u003e \u003c\/p\u003e\n\u003ch5\u003eCiting and Bibliography Building\u003c\/h5\u003e\n\u003cp\u003eIn the world of electronic text, it is easy for students to forget citations and lose track of sources. Not to mention confuse their own ideas with research. Often, the night before the assignment is due, they are drowning in a quagmire of books, notes and web links, trying to figure out what came from where and how to properly reference it all in a bibliography.\u003cbr\u003e\u003cbr\u003eSnap\u0026amp;Read has a little magic that helps students build the bibliography as they collect their information.\u003cbr\u003eAny time Snap\u0026amp;Read highlights, an entry is automatically created in the bibliography. And with a click you can switch between APA, MLA, and Chicago formats.\u003cbr\u003e\u003cbr\u003eCiting from a printed book or journal that you aren't reading on your computer? Snap \u0026amp; Read guides you through manually citing each source whether journal, website, book, video or anything else, in the three major formats.\u003c\/p\u003e\n\u003cp style=\"text-align: center;\"\u003e\u003cimg alt=\"Snap\u0026amp;Read bibliography \" src=\"\/\/cdn.shopify.com\/s\/files\/1\/1192\/0390\/files\/Bibliographer-crop_300w_grande.png?10501616782296840673\" style=\"float: none;\"\u003e\u003c\/p\u003e\n\u003ch5\u003eDistrict Wide Implementation -- Easy and Smart\u003c\/h5\u003e\n\u003cp\u003e \u003c\/p\u003e\n\u003ch1\u003eSettings\u003c\/h1\u003e\n\u003cp\u003eSnap\u0026amp;Read keeps its options simple to minimize training. Change color preferences, speech rate and pitch, as well as how much complex text is simplified. Languages for translation are also selected in the Settings menu.\u003cbr\u003e\u003cbr\u003e\u003c\/p\u003e\n\u003ch1 style=\"text-align: left;\"\u003eImplementation and Pricing \u003c\/h1\u003e\n\u003cp style=\"text-align: left;\"\u003eSnap\u0026amp;Read Universal is purchased as an annual subscription. Snap\u0026amp;Read is a Universal Extension for Chrome. Browse to the web or use Chrome to open pdf's or other files via Google drive, or from the desktop for full functionality. Ideal for Chromebooks but works on a Chrome browser in Windows and Mac too.\u003c\/p\u003e\n\u003cp style=\"text-align: left;\"\u003eYou can also download a PC version for Windows or Mac. Both read accessible or inaccessible text but do not include Dynamic Text Levelling. Dynamic Text Levelling function is only available in the Google Chrome extension.\u003c\/p\u003e\n\u003cp style=\"text-align: left;\"\u003eOne login delivers access to all platforms: Google Chrome, PC or Mac.\u003c\/p\u003e\n\u003cp style=\"text-align: left;\"\u003eLicenses available for individual students, cumulative tiered users pricing, and unlimited school or district deployment.\u003c\/p\u003e\n\u003cp style=\"text-align: left;\"\u003e\u003ca href=\"mailto:%20info@bridges-canada.com\" target=\"_blank\" title=\"Contact Bridges for a demonstration, trial and full quote \" rel=\"noopener noreferrer\"\u003eContact Bridges\u003c\/a\u003e for a demonstration, trial and full quote.\u003c\/p\u003e\n\u003ch1\u003eSecure Student Privacy\u003c\/h1\u003e\n\u003cp\u003eYou would be surprised if you found out what data can be collected by your Google Chrome extensions - potentially everything a student writes and reads. It can be stored anywhere in the world, where data protection laws are different. By law, any parent can request all of the data held on their child from every technology vendor you use. Can you face your parents and confidently tell them the data that is being collected, how it is collected, and where it is stored?\u003cbr\u003e\u003cbr\u003eWith Snap\u0026amp;Read data, there is no potential for sensitive data to be stored on our servers. We don't collect search terms, websites visited, passwords, or the specific text read or written. They never even reach our servers. We want to make sure that you get powerful data that won't jeopardize and put you at risk of violating student privacy.\u003cbr\u003e\u003cbr\u003eRead more about \u003ca href=\"http:\/\/donjohnston.com\/leaderlink-student-data-and-privacy\/#.VXG2JGf-u70\" title=\"Read more about student-safe data here\" target=\"_blank\" rel=\"noopener noreferrer\"\u003estudent-safe data\u003c\/a\u003e and how Snap\u0026amp;Read protects privacy.\u003c\/p\u003e\n\u003cp\u003e \u003c\/p\u003e\n\u003ch5 style=\"text-align: left;\"\u003eCollect Data that Matters \u003c\/h5\u003e\n\u003cp style=\"text-align: left;\"\u003eThere are a lot of good reasons for smart data. Smart data isn't like the once a year assessment that gives you results in July. Smart data gives constant feedback so you can make ongoing adjustments.\u003c\/p\u003e\n\u003cp style=\"text-align: left;\"\u003eWith smart data, you can make better decisions—in real time. Snap\u0026amp;Read gives you this kind of smart data. See the video below for a 3 minute demo of Snap\u0026amp;Read data collection:\u003c\/p\u003e\n\u003cp style=\"text-align: center;\"\u003e\u003ciframe src=\"https:\/\/player.vimeo.com\/video\/128529882\" webkitallowfullscreen=\"\" mozallowfullscreen=\"\" allowfullscreen=\"\" frameborder=\"0\" height=\"281\" width=\"500\"\u003e\u003c\/iframe\u003e\u003c\/p\u003e\n\u003cp style=\"text-align: left;\"\u003eSimply log into the \u003ca href=\"https:\/\/login.donjohnston.net\/login?t=1433514317656\u0026amp;client_id=educator-dashboard-a77ec891d9428e732720e7fbf7154d0e\u0026amp;redirect_uri=https%3A%2F%2Feducatordashboard.com%2Fauth%2Fcallback%3Fredirect_uri%3D%252F\" target=\"_blank\" title=\"log in to the Educator Dashboard website from any device and get data on your students \" rel=\"noopener noreferrer\"\u003eEducator Dashboard™ website\u003c\/a\u003e from any device and get data on your students. Here's what you'll see…\u003c\/p\u003e\n\u003cp style=\"text-align: center;\"\u003e\u003cimg alt=\"Snap\u0026amp;Read-group-data-screenshot\" src=\"http:\/\/donjohnston.com\/wp-content\/uploads\/2014\/08\/SnapRead-group-data-screenshot.png\" style=\"float: none;\"\u003e\u003c\/p\u003e\n\u003cp style=\"text-align: left;\"\u003e\u003cspan class=\"point_sym_span point_sym_hover_span_hl\"\u003eThis\u003c\/span\u003e\u003cspan\u003e \u003c\/span\u003e\u003cspan class=\"point_sym_span point_sym_hover_span\"\u003eis\u003c\/span\u003e\u003cspan\u003e \u003c\/span\u003e\u003cspan class=\"point_sym_span point_sym_hover_span\"\u003egroup\u003c\/span\u003e\u003cspan\u003e \u003c\/span\u003e\u003cspan class=\"point_sym_span point_sym_hover_span\"\u003edata\u003c\/span\u003e\u003cspan\u003e \u003c\/span\u003e\u003cspan class=\"point_sym_span point_sym_hover_span\"\u003ewhere\u003c\/span\u003e\u003cspan\u003e \u003c\/span\u003e\u003cspan class=\"point_sym_span point_sym_hover_span\"\u003eyou\u003c\/span\u003e\u003cspan\u003e \u003c\/span\u003e\u003cspan class=\"point_sym_span point_sym_hover_span\"\u003ecan\u003c\/span\u003e\u003cspan\u003e \u003c\/span\u003e\u003cspan class=\"point_sym_span point_sym_hover_span\"\u003esee\u003c\/span\u003e\u003cspan\u003e \u003c\/span\u003e\u003cspan class=\"point_sym_span point_sym_hover_span\"\u003ehow\u003c\/span\u003e\u003cspan\u003e \u003c\/span\u003e\u003cspan class=\"point_sym_span point_sym_hover_span\"\u003emuch\u003c\/span\u003e\u003cspan\u003e \u003c\/span\u003e\u003cspan class=\"point_sym_span point_sym_hover_span\"\u003eyour\u003c\/span\u003e\u003cspan\u003e \u003c\/span\u003e\u003cspan class=\"point_sym_span point_sym_hover_span\"\u003estudents\u003c\/span\u003e\u003cspan\u003e \u003c\/span\u003e\u003cspan class=\"point_sym_span point_sym_hover_span\"\u003eread\u003c\/span\u003e\u003cspan\u003e \u003c\/span\u003e\u003cspan class=\"point_sym_span point_sym_hover_span\"\u003ecollectively.\u003c\/span\u003e\u003c\/p\u003e\n\u003ch2 style=\"text-align: left;\"\u003e\u003cspan class=\"point_sym_span point_sym_hover_span\"\u003eUsage Data\u003c\/span\u003e\u003c\/h2\u003e\n\u003cp\u003e\u003cspan class=\"point_sym_span point_sym_hover_span\"\u003eClick on a student's name to see individual data.\u003c\/span\u003e\u003c\/p\u003e\n\u003cp\u003e\u003cspan class=\"point_sym_span point_sym_hover_span\"\u003eFirst, you see the date that the student was set up - a nice way to show he had access well ahead of the assessment. Next, you can see how much the student read. Reading data is collected anytime the Snap\u0026amp;Read toolbar is active, even if a student only uses the accommodation for difficult passages. Snap\u0026amp;Read will collect reading data using a set of algorithms. In this case, the student read 71,442 words since January 27, 2015 and spent over 145 hours reading. Over the school year, you'll see these numbers continue to grow. You'll know exactly how much students are reading!\u003c\/span\u003e\u003c\/p\u003e\n\u003cp style=\"text-align: center;\"\u003e\u003cimg alt=\"Snap\u0026amp;Read-individual-data-screenshot\" src=\"http:\/\/donjohnston.com\/wp-content\/uploads\/2014\/08\/SnapRead-individual-data-screenshot.png\" style=\"float: none;\"\u003e\u003c\/p\u003e\n\u003cp\u003e \u003c\/p\u003e\n\u003ch2\u003eQualitative Data\u003c\/h2\u003e\n\u003cp\u003eSnap\u0026amp;Read analyses the text students read through an average of five readability scales, giving you a really good idea of the levels of content each student is reading.\u003c\/p\u003e\n\u003cp\u003eThe darker the colour, the more the student read content at that level. You can see here that most of the content that this student reads is clustered around the 5th grade level. You can also see that the student has read content as high as 11th grade and as low as 1st grade. This data helps educators guide students to content at appropriate reading levels and then monitor results.\u003c\/p\u003e\n\u003cp style=\"text-align: center;\"\u003e\u003cimg alt=\"Snap\u0026amp;Read-data-readability\" src=\"http:\/\/donjohnston.com\/wp-content\/uploads\/2014\/08\/SnapRead-data-readability.png\" style=\"float: none;\"\u003e\u003c\/p\u003e\n\u003ch5\u003eMonthly subscriptions\u003c\/h5\u003e\n\u003cp\u003eFor monthly subscription options starting at 4.99 USD available on the official Snap\u0026amp;Read page. Follow the link \u003ca href=\"https:\/\/snapandread.com\/\" target=\"_blank\" title=\"Link to sign up for Snap\u0026amp;Read monthly subscriptions\" rel=\"noopener noreferrer\"\u003ehere\u003c\/a\u003e.\u003c\/p\u003e\n\u003cp\u003e\u003cem\u003e\u003cstrong\u003e*Note: if your organization has restrictions on out-of-country purchases, or other considerations, please\u003cspan\u003e \u003c\/span\u003e\u003ca href=\"mailto:info@bridges-canada.com\" target=\"_blank\" title=\"Contact Bridges if your school has any restrictions on out-of-country purchases \" rel=\"noopener noreferrer\"\u003econtact Bridges\u003c\/a\u003e\u003cspan\u003e \u003c\/span\u003eto facilitate your purchase. \u003c\/strong\u003e\u003c\/em\u003e\u003c\/p\u003e"}
Snap&Read Universal Annual Subscriptions
Snap&Read Universal Annual Subscriptions
Each student learn a bit differently. Their reading needs are as unique to them as their fingerprints. Enter Snap&Read, the Next-Generation reading tool for Google Chrome, iPad and more, that can cover the most diverse reading needs.
Whether it's translation, read-aloud accessible and inaccessible test, or dynamic leveling of words to match the current understanding of the reader, Snap&Read presents information the way people most want to take it in - the way they learn best.  
Want to test out Snap&Read Universal before you decide to buy? 
Note on subscription options available:
22P75SEAT3Y - price is the total for a 3 year access to Snap&Read Universal for a single user.
22P75SEAT1Y_20TO99 - price is on a per seat per year basis; please make sure you order a minimum quantity of 5 to qualify for this price
22P75SEAT1Y_100PLUS - price is on a per seat per year basis; please make sure you order a minimum quantity of 100 
Looking to purchase a district or site license? Contact Bridges for bigger discounts and a detailed proposal. 
Snap&Read
is your Next-Generation reading tool for Google Chrome, covering the most diverse reading needs!
The Tools: 
NEW! iPad App: 

Read text aloud, dynamically level it, OCR it, highlight it, outline it, and cite it - all from your iPad! 

Text-to-Speech: 

Have your text read aloud for better comprehension.

Screenshot Reader: Come across text that is inaccessible? No worries, Snap&Read Universal will take care of it. 
Simplify: Difficult words getting in your way? A click and Snap&Read Universal will simplify them.
Translate: English not your primary language? Have it translated when you need it.
Capture in an Outline: Capture what you read to use later. Sort it in an outline so it makes sense. Sources are automatically cited when added to the outline. 
NEW! Outline Templates: Guide reading by adding a template to your outline. Over 60 templates are included
PDF & Inaccessible Text Support: Read the web and use all these tools in PDFs too. Even read text in images with Snap&Read's OCR tool. 
Bibliographer: Highlight to extract text from websites to an outline, and the source is automatically cited. For other citations, Snap&Read provides a template that students use to document their sources. The bibliography is built as the student collects their information
Only Snap&Read:
Reads PDF and Bookshare books in the Chrome browser

Reads inaccessible text (Flash, images, and PDFs) on Google Chrome without a complex conversion process

Dynamically Levels complex passages by adjusting needlessly difficult vocabulary (without changing the meaning/rigor)

Translates text into over 100 languages - specific levelled vocabulary or entire passages

Embeds supports right in the original text - context and curricular vocabulary are preserved. So complex academic vocabulary can be learned.

Builds study skills by structuring information in a flexible outline.

Cites resources to help students track sources and build bibliographies 

Works offline - if your school is like most and has internet outages or speed issues, you need this!

Gives Smart Data - See how much your students are reading and the level of text they're reading.
iPad App 
In addition to Snap&Read Universal for Google Chrome, an app is now available for iPad!

Read text aloud, dynamically level it, OCR it, highlight it, outline it, and cite it!

Also, students can take a picture of a worksheet and Snap&Read will make the text accessible through built-in OCR. 
Reading Text Aloud
To read text aloud, just click the speaker button and then click on the area where you want to start reading. Snap&Read will read the text aloud with high quality voices until you click again to stop the speech.
Leveling Text Complexity 
Adjusting text works the same way, just click on the text adjusting button and then click on the area where you want the text to be simplified, and Snap&Read will simplify from that area on. Or, you can select the passage you need simplified and then click the text simplifier button and only the selected text will be simplified.

The simplified vocabulary will show in italics. Hover the mouse over the simplified text to see the original text.Toggle between the simplified text and the original with a click.
Reading Inaccessible Text
When you come across inaccessible text that cannot be selected, click on the target tool and make a box around the text to be read. Snap&Read will automatically convert the text on the fly and read it aloud.
Translate Text 
Snap&Read Universal's new Translation function supports over 100 languages, translating text directly in the body of the copy for additional vocabulary support, whether in email, websites, Google Drive, online books, PDFs. Just click the Snap&Read translate button, and Snap&Read will embed the accurate translation, while maintaining the context of the reading. See the video below for a 3-minute demo showcasing these unique translation supports:
Choose and setup a language for the Translation tool in the Snap&Read Settings menu.

*Tip: To get word-by-word highlighting while reading, select system voices or download new ones in the languages you need. When reading text, Google Voices aren't compatible with word-by-word highlighting.
Why Levelling? 
Snap&Read Universal's text levelling feature is really a revolutionary support for readers and has far reaching implications.
Simply reading text aloud is often enough to help students comprehend. Other times, the text can be filled with complex and utterly unfamiliar curricular vocabulary that is even above a student's listening comprehension level.

Yet, the student has to acquire this vocabulary to succeed.

Snap&Read text adjusting features simplifies complex words to a level that allows students to read passages fluently. The difficulty level is selectable so students can adjust the vocabulary complexity of their reading passages to a level they can feel comfortable with.
For Students Learning New Vocabulary 
Learning and acquiring academic and curricular vocabulary is an on-going challenge for all students, even those reading at grade level. Snap&Read thoughtful text leveling:
Preserves context. This is so important for learning, not just meaning, but appropriate use of new vocabulary

Uses multiple words for supporting meaning, demonstrating the functions of synonyms and the effectiveness of the specific terminology

Doesn't lose new vocabulary: just hover your mouse or click and you'll see the original word

Adjust leveling: Making adjustments to fit specific students' needs, is easy and intuitive.
For Students Who Need Modified Materials
Students in a congregated classroom setting or with alternative curriculum who have literacy skills, find it a great challenge to find curricular materials they can read. Snap and Read's leveling and straightforward, focused interface, makes it easy for students with cognitive challenges to read text.

It's a great alternative to teachers using modified materials. Students access the grade-level content from the original source material, but can adjust complexity to a level that works for them.
For Classroom Teachers
Classroom teachers love the simplicity, accessibility and teaching power of Snap&Read.
A great way for teachers to introduce new vocabulary or challenging texts with a projector or interactive whiteboard.

Simple to use, with just 4 buttons, requires no training

Saves time: On demand levelling, means less time expended on modifying materials for student use.
New Reading to Learn Tools
The Snap & Read extension introduces new tools so that students can immediately transform text into information, reading into learning:
Extract key text 

Integrate it into outlines - right in the browser

Cite for future source checking

Prep for including into their own work - study notes, 

assignment

 building, writing research
Snap&Read works practically anywhere your Chrome browser can take you -- including Google Docs, websites, PDFs, as well as Kindle and Bookshare books.

Highlight and Extract To an Outline in One Step
The outline can be organized and added to, right beside the source content, so students don't lose context or focus.

The outline structures the kind of transition from reading to writing, essential to post-secondary success. Students can build outlines like Compare and Contrast, Description, and Explanation, then pull content into their structured outlines by gathering source content. Or structure after researching.
NEW! Outline Templates 
Guide reading by adding a template to your outline. Over 60 templates are included from KWL and story map, to compare and contrast.
Outline and Organize
You can promote and demote your points, move them around and remove them completely, just by clicking on the bullet or using your keyboard. The outline also works as an easy bookmark system. Want to keep reading or double check some information? Just click on the saved link.
Outline to Writing
At any time, you can start pulling information from your outline to your written document.
Drag and drop into a web-based tool like Google Doc (pictured below), or Google Slides, or a desktop writing tool like Word or Power Point.
NEW! Download and Print Outlines 
Download and Print Outlines and sources.
Citing and Bibliography Building
In the world of electronic text, it is easy for students to forget citations and lose track of sources. Not to mention confuse their own ideas with research. Often, the night before the assignment is due, they are drowning in a quagmire of books, notes and web links, trying to figure out what came from where and how to properly reference it all in a bibliography.

Snap&Read has a little magic that helps students build the bibliography as they collect their information.
Any time Snap&Read highlights, an entry is automatically created in the bibliography. And with a click you can switch between APA, MLA, and Chicago formats.

Citing from a printed book or journal that you aren't reading on your computer? Snap & Read guides you through manually citing each source whether journal, website, book, video or anything else, in the three major formats.
District Wide Implementation -- Easy and Smart
Settings
Snap&Read keeps its options simple to minimize training. Change color preferences, speech rate and pitch, as well as how much complex text is simplified. Languages for translation are also selected in the Settings menu.


Implementation and Pricing 
Snap&Read Universal is purchased as an annual subscription. Snap&Read is a Universal Extension for Chrome. Browse to the web or use Chrome to open pdf's or other files via Google drive, or from the desktop for full functionality. Ideal for Chromebooks but works on a Chrome browser in Windows and Mac too.
You can also download a PC version for Windows or Mac. Both read accessible or inaccessible text but do not include Dynamic Text Levelling. Dynamic Text Levelling function is only available in the Google Chrome extension.
One login delivers access to all platforms: Google Chrome, PC or Mac.
Licenses available for individual students, cumulative tiered users pricing, and unlimited school or district deployment.
Contact Bridges for a demonstration, trial and full quote.
Secure Student Privacy
You would be surprised if you found out what data can be collected by your Google Chrome extensions - potentially everything a student writes and reads. It can be stored anywhere in the world, where data protection laws are different. By law, any parent can request all of the data held on their child from every technology vendor you use. Can you face your parents and confidently tell them the data that is being collected, how it is collected, and where it is stored?

With Snap&Read data, there is no potential for sensitive data to be stored on our servers. We don't collect search terms, websites visited, passwords, or the specific text read or written. They never even reach our servers. We want to make sure that you get powerful data that won't jeopardize and put you at risk of violating student privacy.

Read more about student-safe data and how Snap&Read protects privacy.
Collect Data that Matters 
There are a lot of good reasons for smart data. Smart data isn't like the once a year assessment that gives you results in July. Smart data gives constant feedback so you can make ongoing adjustments.
With smart data, you can make better decisions—in real time. Snap&Read gives you this kind of smart data. See the video below for a 3 minute demo of Snap&Read data collection:
Simply log into the Educator Dashboard™ website from any device and get data on your students. Here's what you'll see…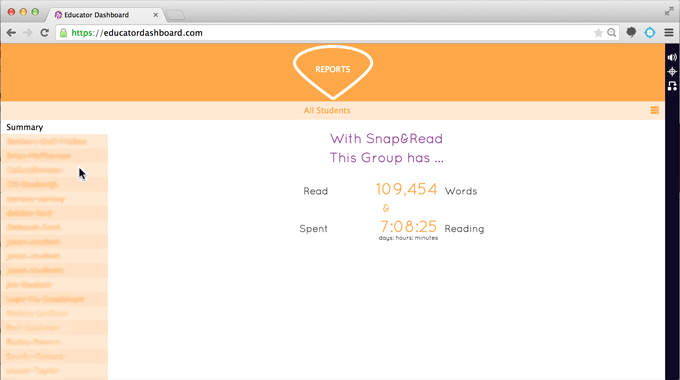 This is group data where you can see how much your students read collectively.
Usage Data
Click on a student's name to see individual data.
First, you see the date that the student was set up - a nice way to show he had access well ahead of the assessment. Next, you can see how much the student read. Reading data is collected anytime the Snap&Read toolbar is active, even if a student only uses the accommodation for difficult passages. Snap&Read will collect reading data using a set of algorithms. In this case, the student read 71,442 words since January 27, 2015 and spent over 145 hours reading. Over the school year, you'll see these numbers continue to grow. You'll know exactly how much students are reading!
Qualitative Data
Snap&Read analyses the text students read through an average of five readability scales, giving you a really good idea of the levels of content each student is reading.
The darker the colour, the more the student read content at that level. You can see here that most of the content that this student reads is clustered around the 5th grade level. You can also see that the student has read content as high as 11th grade and as low as 1st grade. This data helps educators guide students to content at appropriate reading levels and then monitor results.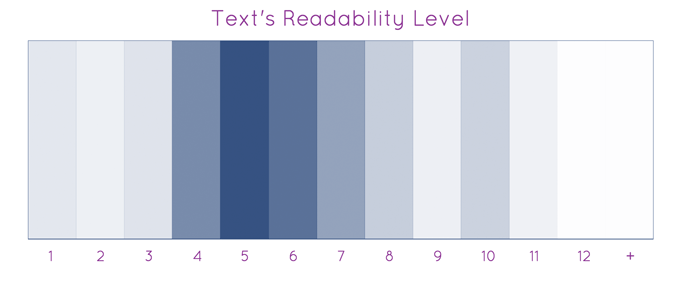 Monthly subscriptions
For monthly subscription options starting at 4.99 USD available on the official Snap&Read page. Follow the link here.
*Note: if your organization has restrictions on out-of-country purchases, or other considerations, please contact Bridges to facilitate your purchase. 
Bridges accepts institutional P.O's (purchase orders).
Call us for a quote or just fax or email a P.O. on your letter head.
How secure is my online order?
Any information submitted through the web store is safe and secure. Bridges uses state-of-the-art security encryption methods to ensure the highest standards of security for its online customers.
What payment methods are accepted?
We accept Visa and MasterCard for online orders.
What if I do not have a credit card?
If you do not have a credit card, please call us at 1-800-353-1107 (8:30am - 4:30pm EST) to discuss alternative payment methods.
How do I know if you have received my order?
When your order has been completed, you will receive a confirmation e-mail that will be sent to the e-mail address that you entered in the "Registration" page before checkout.
Shipping 
PLEASE NOTE that the COVID-19 crisis is impacting delivery times. Couriers are experiencing reduced capacity due to new hygiene procedures, increased volumes and/or emergency conditions. Your patience and understanding is greatly appreciated.
Is your school or office limited as to when it can receive goods? When you place your order, in the comments area, please let us know if you cannot receive your order during regular business hours to avoid additional shipping charges. We will make every attempt to accommodate you, but we cannot guarantee that this will be possible.
What shipping options are available?
Most of our items are shipped by Canpar, which takes 3-5 business days to reach the customer. Where service is not available, or due to the special requirements of the product, we will also use UPS, Puralator or Canada Post. Please allow 10-15 days for order processing.
Ordering multiple, heavy-weighted items? 
If our store can't calculate your shipping costs during checkout, your order may fall outside weight, size, or destination restrictions, for online ordering.
Sorry about that. 
Just contact us by email or phone and we'll figure out another way to get your order to you. 
How much does shipping cost?
Shipping is calculated individually depending on the weight and size of the item. This will be calculated automatically upon checkout and will be included in the total price when you go to the checkout.
How long does it take for me to receive my order?
Order processing time depends on availability of the product from the manufacturer, but typically products are shipped within 10-15 business days after the order is placed. See shipping options for the number of days it will take to reach you after it leaves our warehouse.
Do you ship internationally?
No, we currently sell our products and services only in Canada.
How can I track my order?
When the order is shipped out, you will receive an e-mail with a tracking number. If you do not receive this e-mail, please call 1-800-353-1107 (8:30am - 4:30pm EST) to receive your tracking number.
Returns
Do you offer a money back guarantee?
We offer a 21-day money-back guarantee unless otherwise noted. Products must be returned in a resalable condition as determined by Bridges. Returns are subject to a 20 percent restocking fee after 21-days. Many of our manufacturers offer additional limited warranties of longer durations on their products. Returns will no longer be accepted after a period of 90 days. Please call us at 1-800-353-1107 (8:30am - 4:30pm EST) or send an e-mail to info@bridges-canada.com for more information about manufacturer's warranties or returning your product.
Please note, customers cannot return software for a refund.  However, we do offer a store credit for the full amount if returned within 21 days. After 21 days a restocking fee may apply.
How do I return a product?
To return a product you need to get a Return Authorization (R.A.) number from us. Please call us at 1-800-353-1107 (8:30am - 4:30pm EST), e-mail us at info@bridges-canada.com or fax us at 905-542-7242 to get an R.A. number and further instructions. Please note, Bridges will not accept returns without an R.A. number. The customer is responsible for shipping costs of returned products.