{"id":4781506494546,"title":"Kurzweil 3000 English Web License - single user 3 year license","handle":"kurzweil-3000-3-year-web-license","description":"\u003cp\u003eK3000 is a literacy support software with powerful reading, writing, test-taking, and study skills tools that makes curriculum accessible to all students.\u003cbr\u003e\u003c\/p\u003e\n\u003cp\u003eAnd with the Web License you get access to the Kurzweil for the Web Browsers for full literacy supports on Chromebooks, Android, tablets and reading on iPads.\u003c\/p\u003e\n\u003cp\u003eNew Chrome extensions and apps means it's never been easier to read, research and write on the web. Ideal for Google Apps for Education (GAFE) environments.  \u003cbr\u003eAnd with Kurzweil web license you can now have offline access for exams, bad internet connections, deadzones, etc.\u003c\/p\u003e\n\u003cp\u003eIt is particularly appropriate for students with learning disabilities such as Dyslexia, those who require reading intervention, students struggling with reading comprehension and English Language Learners (ELL). It is an ideal literacy instructional tool for any sized education community that is putting UDL (Universal Design for Learning) or an RTI (Response to Intervention) in action.\u003c\/p\u003e\n\u003cp\u003e\u003cbr\u003eKurzweil 3000 literacy software is a cost-effective solution for providing support in the classroom, at home and with the web license -- anywhere, on virtually any platform.\u003c\/p\u003e\n\u003cp\u003e \u003c\/p\u003e\n\u003cp style=\"text-align: center;\"\u003e\u003cstrong\u003eSpecial pricing available for unlimited school or district wide web licensing.\u003c\/strong\u003e\u003c\/p\u003e\n\u003cp style=\"text-align: center;\"\u003e\u003cstrong\u003e\u003ca href=\"mailto:info@bridges-canada.com\" title=\"Email Request Quote for unlimited K3000 web license\" target=\"_blank\"\u003eContact Bridges for a Quote\u003c\/a\u003e\u003c\/strong\u003e\u003c\/p\u003e\n\u003cp style=\"text-align: center;\"\u003e \u003c\/p\u003e\n\u003ch5\u003eAdvantages of Web License\u003c\/h5\u003e\n\u003cdiv id=\"ctl00_placeholderBody_ctl06_rpRepeater_ctl00_pContentBody\" style=\"text-align: center;\"\u003e\n\u003cdiv id=\"ctl00_placeholderBody_ctl06_rpRepeater_ctl00_ctl01_panelBody\" style=\"float: left;\"\u003e\n\u003cp style=\"text-align: left;\"\u003e \u003c\/p\u003e\n\u003cp style=\"text-align: left;\"\u003e\u003cspan\u003eWith a K3000 Unlimited Web License for your school district everyone - staff, students -- get access to K3000 files through the tool of their choice:  Windows or Mac, school or home computer, through any web browser and the iPad app.\u003c\/span\u003e\u003c\/p\u003e\n\u003cp style=\"text-align: left;\"\u003e\u003cspan\u003eK3000 Unlimited Web License -- Imagine the Possibilities:\u003c\/span\u003e\u003c\/p\u003e\n\u003cp style=\"float: right;\"\u003e\u003cspan\u003e\u003cbr\u003e\u003cbr\u003e\u003c\/span\u003e\u003c\/p\u003e\n\u003cul\u003e\n\u003cli style=\"text-align: left;\"\u003e\u003cspan\u003eNo individual license management\u003c\/span\u003e\u003c\/li\u003e\n\u003cli style=\"float: right; text-align: left;\"\u003eComes with a cloud-based Universal Library so students and teachers can get access to books anywhere\u003c\/li\u003e\n\u003cli style=\"text-align: left;\"\u003e\u003cspan\u003eTeach with K3000 to all your students -- ELL's, adult education learners, RTI programs -- it's UDL implemented\u003c\/span\u003e\u003c\/li\u003e\n\u003cli style=\"text-align: left;\"\u003e\u003cspan\u003eGenuine universal access for all via web browser: library, friend's house, internet cafes\u003c\/span\u003e\u003c\/li\u003e\n\u003cli style=\"text-align: left;\"\u003e\u003cspan\u003eRoaming profiles follow the user so they can read how they like wherever they can access the net -- even on their smartphone \u003c\/span\u003e\u003c\/li\u003e\n\u003cli style=\"text-align: left;\"\u003e\u003cspan\u003eIdeal for Bring Your Own Device (BYOD) initiatives -- Mac, Windows, iPhone, Android phones tablets and iPads\u003c\/span\u003e\u003c\/li\u003e\n\u003c\/ul\u003e\n\u003cp\u003e \u003c\/p\u003e\n\u003cdiv align=\"center\"\u003e\u003cstrong\u003eAdvantages of Web Licensing\u003c\/strong\u003e\u003c\/div\u003e\n\u003cp\u003e \u003c\/p\u003e\n\u003cdiv style=\"text-align: left;\"\u003e\u003cstrong\u003e\u003cimg alt=\"\" src=\"\/\/cdn.shopify.com\/s\/files\/1\/1192\/0390\/files\/how-does-it-work_large.jpg?18099098029971435261\" style=\"display: block; margin-left: auto; margin-right: auto;\"\u003e\u003c\/strong\u003e\u003c\/div\u003e\n\u003cdiv style=\"text-align: center;\"\u003e\u003cstrong\u003eFor all\u003c\/strong\u003e\u003c\/div\u003e\n\u003cdiv style=\"text-align: left;\"\u003e\u003cstrong\u003e\u003c\/strong\u003e\u003c\/div\u003e\n\u003cdiv style=\"float: right;\"\u003e\n\u003cbr\u003e\n\u003cul\u003e\n\u003cli style=\"text-align: left;\"\u003e\u003cspan style=\"line-height: 1.5;\"\u003eChrome App \u003c\/span\u003e\u003c\/li\u003e\n\u003cli style=\"text-align: left;\"\u003e\u003cspan style=\"line-height: 1.5;\"\u003eChrome Read-the-Web extension \u003cspan\u003e(available on Chromebooks only)\u003c\/span\u003e\u003c\/span\u003e\u003c\/li\u003e\n\u003cli style=\"text-align: left;\"\u003e\u003cspan style=\"line-height: 1.5;\"\u003eWeb app means K3000 reading and writing supports on any PC: get docs directly from Google Drive, Upload PDF from the desktop or thumb drives or use Universal library. From school, home, public library, friend or family PC etc.\u003c\/span\u003e\u003c\/li\u003e\n\u003cli style=\"text-align: left;\"\u003e\u003cspan style=\"line-height: 1.5;\"\u003eFree iPad App\u003c\/span\u003e\u003c\/li\u003e\n\u003cli style=\"text-align: left;\"\u003e\u003cspan style=\"line-height: 1.5;\"\u003eGlobal availability makes it easy for individuals to maintain their customized preferences\u003c\/span\u003e\u003c\/li\u003e\n\u003cli style=\"text-align: left;\"\u003e\u003cspan style=\"line-height: 1.5;\"\u003eAccessible tools wherever, whenever needed\u003c\/span\u003e\u003c\/li\u003e\n\u003cli style=\"text-align: left;\"\u003e\u003cspan style=\"line-height: 1.5;\"\u003eWeb Universal Library (\"cloud\" storage) allows sharing of differentiated curriculum, wherever, whenever needed\u003c\/span\u003e\u003c\/li\u003e\n\u003c\/ul\u003e\n\u003c\/div\u003e\n\u003cdiv style=\"text-align: left;\"\u003e\u003cstrong\u003e\u003c\/strong\u003e\u003c\/div\u003e\n\u003cdiv\u003e\u003cspan\u003e\u003c\/span\u003e\u003c\/div\u003e\n\u003cdiv\u003e\u003cspan\u003e\u003c\/span\u003e\u003c\/div\u003e\n\u003cdiv\u003e\u003cspan\u003e\u003c\/span\u003e\u003c\/div\u003e\n\u003cdiv\u003e\u003cspan\u003e\u003c\/span\u003e\u003c\/div\u003e\n\u003cdiv\u003e\u003cspan\u003e\u003c\/span\u003e\u003c\/div\u003e\n\u003cp\u003e \u003c\/p\u003e\n\u003cdiv style=\"text-align: center;\"\u003e\n\u003cspan\u003e\u003cspan\u003e\u003cb\u003e\u003cimg alt=\"\" src=\"\/\/cdn.shopify.com\/s\/files\/1\/1192\/0390\/files\/what-is-it_large.jpg?8835810426023428587\"\u003e\u003c\/b\u003e\u003cbr\u003e\u003c\/span\u003e\u003c\/span\u003e\u003cbr\u003e\u003cspan\u003e\u003cstrong\u003eTeachers, Specialists, Curriculum Directors \u0026amp; Superintendents\u003c\/strong\u003e\u003c\/span\u003e\n\u003c\/div\u003e\n\u003cul\u003e\n\u003cli\u003e\u003cspan style=\"line-height: 1.5;\"\u003eHome access for teachers and\/or students for homework and assignment building\u003c\/span\u003e\u003c\/li\u003e\n\u003cli\u003e\u003cspan style=\"line-height: 1.5;\"\u003eAssigning and receiving student work so that IEP benchmarks can be easily targeted\u003c\/span\u003e\u003c\/li\u003e\n\u003cli\u003e\u003cspan style=\"line-height: 1.5;\"\u003eTrack usage at any level: student, teacher, class, school, and district\/campus\u003c\/span\u003e\u003c\/li\u003e\n\u003cli\u003e\u003cspan style=\"line-height: 1.5;\"\u003eAddresses all tiers of Response to Intervention (RtI) anywhere, anytime\u003c\/span\u003e\u003c\/li\u003e\n\u003cli\u003e\u003cspan style=\"line-height: 1.5;\"\u003eAutomated scoring of true\/false, multiple choice, and matching questions\u003c\/span\u003e\u003c\/li\u003e\n\u003c\/ul\u003e\n\u003cp\u003e \u003c\/p\u003e\n\u003cp style=\"text-align: center;\"\u003e\u003cstrong\u003e\u003cspan style=\"line-height: 1.5;\"\u003eBuilding and District IT Administrators\u003c\/span\u003e\u003c\/strong\u003e\u003c\/p\u003e\n\u003cp style=\"text-align: center;\"\u003e \u003cimg alt=\"\" src=\"\/\/cdn.shopify.com\/s\/files\/1\/1192\/0390\/files\/overview-cover_large.jpg?4927140388652118572\"\u003e\u003c\/p\u003e\n\u003cp style=\"text-align: center;\"\u003e \u003c\/p\u003e\n\u003cul\u003e\n\u003cli style=\"text-align: left;\"\u003e\u003cspan style=\"line-height: 1.5;\"\u003eEasy universal cross-platform access at home: Mac, Win or browser\u003c\/span\u003e\u003c\/li\u003e\n\u003cli style=\"text-align: left;\"\u003e\u003cspan\u003eLicense management occurs via URL-based login, leaving day-to-day administration to others\u003c\/span\u003e\u003c\/li\u003e\n\u003cli style=\"text-align: left;\"\u003e\u003cspan\u003e\"Cloud-based\" Web Universal Library means no server space required for file storage\u003c\/span\u003e\u003c\/li\u003e\n\u003cli style=\"text-align: left;\"\u003e\u003cspan\u003eManagement system delivers access to license management and usage data\u003c\/span\u003e\u003c\/li\u003e\n\u003c\/ul\u003e\n\u003c\/div\u003e\n\u003cdiv style=\"float: right; text-align: left;\"\u003e\u003c\/div\u003e\n\u003cdiv style=\"float: right; text-align: left;\"\u003e\n\u003cbr\u003e\n\u003cdiv\u003e\u003cspan\u003e\u003cstrong\u003e\u003c\/strong\u003e\u003c\/span\u003e\u003c\/div\u003e\n\u003cp\u003e \u003c\/p\u003e\n\u003c\/div\u003e\n\u003cdiv style=\"text-align: left;\"\u003e\u003c\/div\u003e\n\u003cp style=\"text-align: left;\"\u003e \u003c\/p\u003e\n\u003cp\u003e\u003cspan\u003eThe iPad app is exclusive and free to all Kurzweil 3000 Web License customers. Easy, effective mobile access with the popular, portable device.\u003c\/span\u003e\u003c\/p\u003e\n\u003cp\u003e \u003c\/p\u003e\n\u003ch5\u003eK3000 for Chromebook, web access via Kurzweil for Web Browsers\u003c\/h5\u003e\n\u003cp\u003e \u003c\/p\u003e\n\u003cp style=\"text-align: left;\"\u003eWith a web license, Kurzweil for Web Browsers gives you access to Kurzweil books and PDFs through the web browser on any computer: Windows, Mac and Chromebook. There's even a direct shortcut to your Google Drive if you've gone GAFE (Google Apps for Education).\u003c\/p\u003e\n\u003cp style=\"text-align: left;\"\u003eAll these features work on Chromebook and through the new Chromebook App. \u003c\/p\u003e\n\u003ch1 style=\"text-align: center;\"\u003e Web-based Reading\u003c\/h1\u003e\n\u003cp\u003e\u003cimg src=\"https:\/\/www.kurzweiledu.com\/content\/images\/web-based-reading.png\" title=\"firefly on the browser\" style=\"display: block; margin-left: auto; margin-right: auto;\"\u003e\u003c\/p\u003e\n\u003cp\u003e \u003c\/p\u003e\n\u003cp\u003e \u003c\/p\u003e\n\u003cb style=\"text-align: center;\"\u003eClick to open\u003c\/b\u003e\u003cspan style=\"text-align: center;\"\u003e files from Google Docs, Bookshare, Reading A-Z\u003c\/span\u003e\u003cbr\u003e\u003cb style=\"text-align: center;\"\u003eRead text in \u003c\/b\u003e\u003cspan style=\"text-align: center;\"\u003eWord, PDF, RTF, JPG\u003c\/span\u003e\u003cbr\u003e\u003cb style=\"text-align: center;\"\u003eRead the Web\u003c\/b\u003e\u003cspan style=\"text-align: center;\"\u003e Chrome extension with customizable options\u003c\/span\u003e\u003cbr\u003e\u003cb style=\"text-align: center;\"\u003eCustomize reading options;\u003c\/b\u003e\u003cspan style=\"text-align: center;\"\u003e speed, mode and units\u003c\/span\u003e\u003cbr\u003e\u003cb style=\"text-align: center;\"\u003eZoom\u003c\/b\u003e\u003cspan style=\"text-align: center;\"\u003e in for low vision\u003c\/span\u003e\u003cbr\u003e\u003cspan style=\"text-align: center;\"\u003e31 Natural \u003c\/span\u003e\u003cb style=\"text-align: center;\"\u003eText-to-Speech\u003c\/b\u003e\u003cspan style=\"text-align: center;\"\u003e voices\u003c\/span\u003e\u003cbr\u003e\u003cstrong style=\"text-align: center;\"\u003etext-to-speech\u003c\/strong\u003e\u003cspan style=\"text-align: center;\"\u003e in 18 languages and dialects\u003c\/span\u003e\n\u003c\/div\u003e\n\u003cdiv style=\"text-align: center;\"\u003e\u003cspan style=\"text-align: center;\"\u003e\u003c\/span\u003e\u003c\/div\u003e\n\u003cdiv style=\"text-align: center;\"\u003e\u003cspan style=\"text-align: center;\"\u003e\u003c\/span\u003e\u003c\/div\u003e\n\u003cdiv style=\"text-align: center;\"\u003e\u003cspan style=\"text-align: center;\"\u003e\u003c\/span\u003e\u003c\/div\u003e\n\u003cdiv style=\"text-align: center;\"\u003e\u003cspan style=\"text-align: center;\"\u003e\u003c\/span\u003e\u003c\/div\u003e\n\u003ch1 style=\"text-align: center;\"\u003e\u003cspan style=\"text-align: center;\"\u003eWeb-based Comprehension\u003c\/span\u003e\u003c\/h1\u003e\n\u003cp style=\"text-align: center;\"\u003e\u003cstrong\u003eHighlight\u003c\/strong\u003e in yellow, blue, green and pink\u003cbr\u003e\u003cstrong\u003eExtract notes\u003c\/strong\u003e and highlighters into a Study Guide\u003cbr\u003eAccess \u003cstrong\u003eDefinitions\u003c\/strong\u003e instantly with American Heritage Fifth Edition, Children's, College writers dictionaries\u003cbr\u003e\u003cstrong\u003eTranslate\u003c\/strong\u003e full sentences and passages\u003cbr\u003eRead embedded \u003cstrong\u003eText Notes\u003c\/strong\u003e and \u003cstrong\u003eSticky Notes\u003c\/strong\u003e (or hide them)\u003c\/p\u003e\n\u003cp\u003e \u003c\/p\u003e\n\u003ch1 style=\"text-align: center;\"\u003eWeb-based Writing and Assignments\u003c\/h1\u003e\n\u003cp\u003e\u003cimg src=\"https:\/\/www.kurzweiledu.com\/content\/images\/web-based-writing.png\" title=\"firefly on the browser\" style=\"display: block; margin-left: auto; margin-right: auto;\"\u003e\u003c\/p\u003e\n\u003cp style=\"text-align: center;\"\u003e\u003cstrong\u003eWrite or edit\u003c\/strong\u003e documents online with the Web Editor\u003cbr\u003e\u003cstrong\u003eCustomize\u003c\/strong\u003e text-to-speech reading options\u003cbr\u003e\u003cstrong\u003eCorrect \u003c\/strong\u003emisspellings with Taking spell-checker\u003cbr\u003e\u003cstrong\u003eWord prediction\u003c\/strong\u003e recommends words based on frequency\u003cbr\u003e\u003cstrong\u003eCross-out text\u003c\/strong\u003e in assignments and tests online\u003c\/p\u003e\n\u003cp style=\"text-align: center;\"\u003e \u003c\/p\u003e\n\u003ch1 style=\"text-align: center;\"\u003eWeb-based Management\u003c\/h1\u003e\n\u003cp\u003e\u003cimg src=\"https:\/\/www.kurzweiledu.com\/content\/images\/web-based-management.png\" title=\"firefly on the browser\" style=\"display: block; margin-left: auto; margin-right: auto;\"\u003e\u003c\/p\u003e\n\u003cp style=\"text-align: center;\"\u003eCentralized and flexible \u003cstrong\u003euser management\u003c\/strong\u003e\u003cbr\u003e\u003cstrong\u003eUsage reporting\u003c\/strong\u003e school or district-wide\u003cbr\u003e\u003cstrong\u003eOnline Library\u003c\/strong\u003e—no file storage limit\u003c\/p\u003e\n\u003cp\u003e \u003c\/p\u003e\n\u003ch5\u003eOffline Mode \u003c\/h5\u003e\n\u003cp\u003e \u003c\/p\u003e\n\u003cp\u003eKurzweil's new offline mode offers users with a Web Access subscription the opportunity to access k3000 when internet connections are spotty or simply not available. Students who are traveling, or on break for the holidays, can get the supports they need while they're away. \u003c\/p\u003e\n\u003cp\u003eOffline mode also has great applications for providing test-taking accommodations on disconnected computers.\u003c\/p\u003e\n\u003cp\u003e \u003c\/p\u003e\n\u003cp\u003e\u003cstrong\u003eHow Does Offline Mode Work? \u003c\/strong\u003e\u003c\/p\u003e\n\u003cp\u003eLog in to k3000 when the computer is connected to the internet. The k3000 credentials are saved in a secure location on the computer. When internet connectivity is either low or gone, users will be prompted to work in Offline Mode. Any work saved to the computer can then be uploaded to the k3000 online library when the internet connection is restored. Note that web-based features, such as online reference and translation will be grayed out until the computer is re-connected to the internet.\u003c\/p\u003e\n\u003cp\u003e \u003c\/p\u003e\n\u003ch5\u003e\u003c\/h5\u003e\n\u003ch5\u003eNew Desktop User Interface \u003c\/h5\u003e\n\u003cp\u003e \u003c\/p\u003e\n\u003ch1\u003e\u003cspan\u003eNow Available for free to all Web License Users! \u003c\/span\u003e\u003c\/h1\u003e\n\u003cp\u003eThe new user interface for the Windows\/Mac desktop, is simpler and more intuitive to use for new users, but keeps all the rich functionality that experienced Kurzweil users have grown to expect.  The update includes a new start screen, but the navigation at the top still acts the same.\u003c\/p\u003e\n\u003cp\u003eWeb license customers receive this upgrade and all upgrades to their k3000 at no cost.\u003c\/p\u003e\n\u003cp\u003eJust run the update on your k3000 and you'll get the new version.  \u003c\/p\u003e\n\u003cp\u003eTo run an update, just open k3000 from your desktop, select \"Options" in the main navigation and click on \"Updates." \u003c\/p\u003e\n\u003cdiv\u003e\u003cstrong\u003e\u003c\/strong\u003e\u003c\/div\u003e\n\u003cp style=\"text-align: center;\"\u003e\u003cimg alt=\"Kurzweil new user interface\" src=\"\/\/cdn.shopify.com\/s\/files\/1\/1192\/0390\/files\/laptop_image_large.JPG?310497214086076981\" style=\"float: none;\"\u003e\u003c\/p\u003e\n\u003cp\u003e \u003c\/p\u003e\n\u003cdiv\u003e\u003c\/div\u003e\n\u003cdiv\u003e\u003c\/div\u003e\n\u003cdiv\u003e\u003cspan\u003e \u003c\/span\u003e\u003c\/div\u003e\n\u003cdiv\u003e\u003cspan\u003eIf you are able to run the update and decide that you prefer to navigate the old way you can switch back.   See Technical Support below for details\u003c\/span\u003e\u003c\/div\u003e\n\u003cdiv\u003e\u003cspan\u003e\u003c\/span\u003e\u003c\/div\u003e\n\u003cdiv\u003e\u003cspan\u003e\u003c\/span\u003e\u003c\/div\u003e\n\u003cdiv style=\"text-align: center;\"\u003e\u003cimg alt=\"Kurzweil news article in new user interface\" src=\"\/\/cdn.shopify.com\/s\/files\/1\/1192\/0390\/files\/laptop-read-2016_large.png?17830144231122134999\" style=\"float: none;\"\u003e\u003c\/div\u003e\n\u003cdiv\u003e\u003cspan\u003e \u003c\/span\u003e\u003c\/div\u003e\n\u003cdiv\u003e\u003cspan\u003e \u003c\/span\u003e\u003c\/div\u003e\n\u003cdiv\u003e\u003ca href=\"http:\/\/www.bridges-canada.com\/resources\/site1\/general\/Kurzweil\/get-to-classic-mode-in-k3000.jpg\" title=\"Screenshot showing how to switch back to the old Kurzweil interface\" rel=\"lightbox\" target=\"_blank\"\u003e\u003c\/a\u003e\u003c\/div\u003e\n\u003cdiv\u003e\u003c\/div\u003e\n\u003cdiv\u003e\u003c\/div\u003e\n\u003cdiv\u003e\u003c\/div\u003e\n\u003ch5\u003eReading Supports\u003c\/h5\u003e\n\u003cp\u003eEncouraging active reading -- an educator can embed bubble note questions right in the text! Use for comprehension, making connections, vocabulary development... the teaching possibilities are endless. And this is just one kind of note. K3000 has footnotes, text notes, stickies and even voice notes, too.\u003c\/p\u003e\n\u003cp\u003e \u003c\/p\u003e\n\u003cdiv\u003e\u003c\/div\u003e\n\u003cdiv style=\"text-align: center;\"\u003e\n\u003cdiv\u003e\u003cimg src=\"\/\/cdn.shopify.com\/s\/files\/1\/1192\/0390\/files\/what-you-get-cover_large.jpg?11587596610499837762\" alt=\"Sticky notes features in Kurzweil\"\u003e\u003c\/div\u003e\n\u003cspan\u003e\u003cspan\u003e\u003cbr\u003e\u003c\/span\u003e\u003cspan\u003e\u003cbr\u003e\u003c\/span\u003e\u003c\/span\u003e\u003cspan\u003e\u003cspan\u003e\u003cspan\u003eNEW! \u003c\/span\u003e\u003cspan\u003eImage Reader \u003c\/span\u003e\u003c\/span\u003e\u003cspan\u003ereads locked text, such as \u003c\/span\u003e\u003c\/span\u003e\u003cspan\u003e\u003cspan\u003eimages, PDFs and even text in a Flash player!\u003c\/span\u003e\u003c\/span\u003e\n\u003c\/div\u003e\n\u003cdiv\u003e\u003cspan\u003e\u003c\/span\u003e\u003c\/div\u003e\n\u003cdiv style=\"text-align: center;\"\u003e\n\u003cspan\u003e\u003cbr\u003e\u003c\/span\u003e\n\u003cdiv\u003e\u003c\/div\u003e\n\u003cdiv\u003e\u003c\/div\u003e\n\u003cdiv\u003e\u003c\/div\u003e\n\u003cp style=\"text-align: center;\"\u003e\u003cstrong\u003e\u003cspan style=\"line-height: 1.5; color: #00ff00;\"\u003e\u003cimg alt=\"\" src=\"\/\/cdn.shopify.com\/s\/files\/1\/1192\/0390\/files\/ipad-sideby-side_large.png?4744162336414656104\" style=\"float: none;\"\u003e\u003c\/span\u003e\u003c\/strong\u003e\u003c\/p\u003e\n\u003cp style=\"text-align: center;\"\u003e\u003cspan style=\"line-height: 1.5;\"\u003eNatural\u003c\/span\u003e\u003cspan style=\"line-height: 1.5;\"\u003e, high-quality acapella text-to-speech \u003c\/span\u003e\u003cspan style=\"line-height: 1.5;\"\u003evoices\u003c\/span\u003e\u003cbr\u003e\u003cspan style=\"line-height: 1.5;\"\u003eText-to-speech in 18 languages and dialects including French\u003c\/span\u003e\u003cbr\u003e\u003cspan style=\"line-height: 1.5;\"\u003eEPUB now supported, updates to PDF and \u003c\/span\u003e\u003cspan style=\"line-height: 1.5;\"\u003eadditional new file supports\u003c\/span\u003e\u003cbr\u003e\u003cspan style=\"line-height: 1.5;\"\u003e\u003cspan style=\"color: #00ff00;\"\u003e\u003cspan style=\"color: #000000;\"\u003eMicrosoft Speech support—11 new voices\u003c\/span\u003e\u003c\/span\u003e\u003cspan style=\"color: #000000;\"\u003e \u003c\/span\u003e\u003c\/span\u003e\u003cbr\u003e\u003cspan style=\"line-height: 1.5;\"\u003eOpen Dyslexic font\u003c\/span\u003e\u003cbr\u003e\u003cspan style=\"line-height: 1.5;\"\u003eFineReader® OCR—the highest quality \u003c\/span\u003e\u003cspan style=\"line-height: 1.5;\"\u003eavailable\u003c\/span\u003e\u003c\/p\u003e\n\u003cp style=\"text-align: center;\"\u003e \u003c\/p\u003e\n\u003cp style=\"text-align: center;\"\u003e\u003cimg alt=\"\" src=\"\/\/cdn.shopify.com\/s\/files\/1\/1192\/0390\/files\/Read_image_grande.jpg?12873460573535019292\" style=\"float: none;\"\u003e\u003c\/p\u003e\n\u003cp style=\"text-align: center;\"\u003e \u003c\/p\u003e\n\u003cul\u003e\n\u003cli style=\"text-align: left;\"\u003e\u003cspan style=\"line-height: 1.4;\"\u003eMultiple note formats for pre, during and post-reading questions\u003c\/span\u003e\u003c\/li\u003e\n\u003cli style=\"text-align: left;\"\u003e\u003cspan style=\"line-height: 1.4;\"\u003eOpen multiple formats ideal for high speed scanners: pdf, tiff, jpg, docx, etc.\u003c\/span\u003e\u003c\/li\u003e\n\u003cli style=\"text-align: left;\"\u003e\u003cspan style=\"line-height: 1.4;\"\u003eOptical Character Recognition that works -- recognize scanned text books and work sheets, even with multiple fonts, graphics and highlighted text\u003c\/span\u003e\u003c\/li\u003e\n\u003cli style=\"text-align: left;\"\u003e\u003cspan style=\"line-height: 1.4;\"\u003eEasy, multi-level editing of OCR'd text and pronunciation of words\u003c\/span\u003e\u003c\/li\u003e\n\u003cli style=\"text-align: left;\"\u003e\u003cspan style=\"line-height: 1.4;\"\u003eAutomated high speed OCR'ing tool\u003c\/span\u003e\u003c\/li\u003e\n\u003cli style=\"text-align: left;\"\u003e\u003cspan style=\"line-height: 1.4;\"\u003eHighlight key text and extract for note-taking, learning key vocabulary etc.\u003c\/span\u003e\u003c\/li\u003e\n\u003cli style=\"text-align: left;\"\u003e\u003cspan style=\"line-height: 1.4;\"\u003e2 English Dictionary, French, Spanish, German and other duo-language dictionaries, picture dictionary, syllabification and thesaurus \u003c\/span\u003e\u003c\/li\u003e\n\u003cli style=\"text-align: left;\"\u003e\u003cspan style=\"line-height: 1.4;\"\u003eHighest quality voice synthesizers\u003c\/span\u003e\u003c\/li\u003e\n\u003cli style=\"text-align: left;\"\u003e\u003cspan style=\"line-height: 1.4;\"\u003eRead the Web with Internet Explorer® 7 and 8\u003c\/span\u003e\u003c\/li\u003e\n\u003cli style=\"text-align: left;\"\u003e\u003cspan style=\"line-height: 1.4;\"\u003eBuilt-in MathPlayer from Design Science, Inc. to read MathML content\u003c\/span\u003e\u003c\/li\u003e\n\u003cli style=\"text-align: left;\"\u003e\u003cspan style=\"line-height: 1.4;\"\u003eLanguage translations \"on the fly" with Google Translate™\u003c\/span\u003e\u003c\/li\u003e\n\u003cli style=\"text-align: left;\"\u003e\u003cspan style=\"line-height: 1.4;\"\u003ePDF Bookmarks preservation\u003c\/span\u003e\u003c\/li\u003e\n\u003cli style=\"text-align: left;\"\u003e\u003cspan style=\"line-height: 1.4;\"\u003eUse sticky notes for instructions, call outs or pre-reading questions.\u003c\/span\u003e\u003c\/li\u003e\n\u003cli style=\"text-align: left;\"\u003e\u003cspan style=\"line-height: 1.4;\"\u003eDictionary and thesaurus support is always just a click away.\u003c\/span\u003e\u003c\/li\u003e\n\u003c\/ul\u003e\n\u003cp\u003e \u003c\/p\u003e\n\u003c\/div\u003e\n\u003cdiv\u003e\n\u003cdiv\u003e\u003cspan\u003e\u003c\/span\u003e\u003c\/div\u003e\n\u003c\/div\u003e\n\u003ch5\u003eWriting Supports\u003c\/h5\u003e\n\u003cp\u003e \u003c\/p\u003e\n\u003cdiv style=\"text-align: center;\"\u003e\n\u003cspan style=\"text-align: center; line-height: 1.5;\"\u003e10 writing templates\u003c\/span\u003e\u003cbr\u003e\u003cspan style=\"text-align: center; line-height: 1.5;\"\u003eTier 2 academic vocabulary list\u003c\/span\u003e\u003cbr\u003e\u003cspan style=\"text-align: center; line-height: 1.5;\"\u003eUPDATED Word prediction\u003c\/span\u003e\u003cbr\u003e\u003cspan style=\"text-align: center; line-height: 1.5;\"\u003eUPDATED Fill-in-the-blank—now with color\u003c\/span\u003e\n\u003c\/div\u003e\n\u003cdiv style=\"text-align: center;\"\u003e\u003cspan style=\"text-align: center; line-height: 1.5;\"\u003e\u003c\/span\u003e\u003c\/div\u003e\n\u003cp\u003e \u003c\/p\u003e\n\u003cdiv style=\"text-align: center;\"\u003e\u003c\/div\u003e\n\u003cdiv style=\"text-align: center;\"\u003e\u003cimg alt=\"\" src=\"\/\/cdn.shopify.com\/s\/files\/1\/1192\/0390\/files\/features-cover_grande.jpg?12873460573535019292\" style=\"float: none;\"\u003e\u003c\/div\u003e\n\u003cdiv style=\"text-align: center;\"\u003e\u003c\/div\u003e\n\u003cdiv style=\"text-align: center;\"\u003e\n\u003cbr\u003e\n\u003cul\u003e\n\u003cli style=\"text-align: left;\"\u003e\u003cspan style=\"line-height: 1.5;\"\u003eTemplates to assist writers with pre-writing organization in both text-based and graphical formats\u003c\/span\u003e\u003c\/li\u003e\n\u003cli style=\"text-align: left;\"\u003e\u003cspan style=\"line-height: 1.5;\"\u003eBuilt in Word processor\u003c\/span\u003e\u003c\/li\u003e\n\u003cli style=\"text-align: left;\"\u003e\u003cspan style=\"line-height: 1.5;\"\u003eWord Prediction\u003c\/span\u003e\u003c\/li\u003e\n\u003cli style=\"text-align: left;\"\u003e\u003cspan style=\"line-height: 1.5;\"\u003eWord lists\u003c\/span\u003e\u003c\/li\u003e\n\u003cli style=\"text-align: left;\"\u003e\u003cspan style=\"line-height: 1.5;\"\u003eKey writing habits, check lists\u003c\/span\u003e\u003c\/li\u003e\n\u003cli style=\"text-align: left;\"\u003e\u003cspan style=\"line-height: 1.5;\"\u003eA \"Start Writing" button and a newly reorganized Write menu to streamline the beginning of the writing process\u003c\/span\u003e\u003c\/li\u003e\n\u003cli style=\"text-align: left;\"\u003e\u003cspan style=\"line-height: 1.5;\"\u003eA \"Create" button that converts the outline to a draft\u003c\/span\u003e\u003c\/li\u003e\n\u003c\/ul\u003e\n\u003cdiv\u003e\u003cspan\u003e \u003c\/span\u003e\u003c\/div\u003e\n\u003c\/div\u003e\n\u003cdiv\u003e\u003c\/div\u003e\n\u003cdiv\u003e\u003cspan\u003eWord prediction is better than ever and word lists are an effective way to incorporate new vocabulary into writing.\u003c\/span\u003e\u003c\/div\u003e\n\u003cdiv\u003e\u003cspan\u003e\u003c\/span\u003e\u003c\/div\u003e\n\u003cdiv\u003e\u003c\/div\u003e\n\u003ch5\u003eStudy Skills\u003c\/h5\u003e\n\u003cdiv\u003e\n\u003cdiv style=\"text-align: center;\"\u003e\n\u003cspan style=\"line-height: 1.5;\"\u003eVocabulary study guides; English \u003c\/span\u003e\u003cspan style=\"line-height: 1.5;\"\u003eand bilingual\u003c\/span\u003e\n\u003c\/div\u003e\n\u003cdiv style=\"text-align: left;\"\u003e\n\u003cbr\u003e\n\u003cul\u003e\n\u003cli\u003e\u003cspan style=\"line-height: 1.5;\"\u003eSix colours for highlighting and extraction; quickly create study notes, vocabulary lists and writing outlines\u003c\/span\u003e\u003c\/li\u003e\n\u003cli\u003e\u003cspan style=\"line-height: 1.5;\"\u003eExtract highlights to column-style notes (see below).  A strategy developed at Cornell University proven effective for students who need a clear simple layout to their notes\u003c\/span\u003e\u003c\/li\u003e\n\u003cli\u003e\u003cspan style=\"line-height: 1.5;\"\u003eHyperlink feature that lets you add quick links to web pages and documents\u003c\/span\u003e\u003c\/li\u003e\n\u003cli\u003e\u003cspan style=\"line-height: 1.5;\"\u003eEmbed voice notes \u003c\/span\u003e\u003c\/li\u003e\n\u003cli\u003e\u003cspan style=\"line-height: 1.5;\"\u003eFootnote, Sticky Note, Text Note, Voice Note, Bubble Note, and Bookmark\u003c\/span\u003e\u003c\/li\u003e\n\u003cli\u003e\u003cspan style=\"line-height: 1.5;\"\u003eMP3, DAISY 2 (NEW!), and WAV audio\u003c\/span\u003e\u003c\/li\u003e\n\u003c\/ul\u003e\n\u003c\/div\u003e\n\u003c\/div\u003e\n\u003cdiv\u003e\n\u003cdiv\u003e\u003cspan\u003e \u003c\/span\u003e\u003c\/div\u003e\n\u003cdiv\u003e\u003cspan\u003eTurn highlights into an outline right in K3000 with just a click...  \u003c\/span\u003e\u003c\/div\u003e\n\u003cdiv\u003e\u003cspan\u003e\u003c\/span\u003e\u003c\/div\u003e\n\u003cdiv style=\"text-align: center;\"\u003e\u003cimg alt=\"\" src=\"\/\/cdn.shopify.com\/s\/files\/1\/1192\/0390\/files\/laptop-outline-2016_grande.png?4371952052537685108\" style=\"float: none;\"\u003e\u003c\/div\u003e\n\u003c\/div\u003e\n\u003cdiv\u003e\u003cspan\u003e \u003c\/span\u003e\u003c\/div\u003e\n\u003cdiv\u003e\u003cspan\u003e...or use the automated \"Extract to Vocabulary Study Guide\" to build curricular vocabulary with one click...\u003c\/span\u003e\u003c\/div\u003e\n\u003cdiv\u003e\u003c\/div\u003e\n\u003cdiv\u003e\n\u003cdiv\u003e\u003c\/div\u003e\n\u003cdiv\u003e\u003cspan\u003e \u003c\/span\u003e\u003c\/div\u003e\n\u003c\/div\u003e\n\u003cdiv\u003e\u003c\/div\u003e\n\u003cdiv\u003e\u003cspan\u003e...or use \"Extract to Graphic Organizer\" too!\u003c\/span\u003e\u003c\/div\u003e\n\u003cp\u003e \u003c\/p\u003e\n\u003ch5\u003eComprehension and Test-taking AND Test Preparation Support\u003c\/h5\u003e\n\u003cdiv\u003e\n\u003cdiv\u003e\n\u003cdiv\u003e\n\u003cspan\u003eTest-taking and test making feature i\u003c\/span\u003encluding auto fill-in-the blank, circling answers and locking-out features for high-stakes testing.   \u003c\/div\u003e\n\u003c\/div\u003e\n\u003cdiv\u003e\u003c\/div\u003e\n\u003cdiv\u003e\u003c\/div\u003e\n\u003cdiv style=\"text-align: center;\"\u003e\u003cimg alt=\"\" src=\"\/\/cdn.shopify.com\/s\/files\/1\/1192\/0390\/files\/laptop-test-2016_1_grande.png?5911034099083364509\" style=\"float: none;\"\u003e\u003c\/div\u003e\n\u003cdiv\u003e\u003c\/div\u003e\n\u003cdiv\u003e\u003c\/div\u003e\n\u003c\/div\u003e\n\u003cdiv style=\"text-align: center;\"\u003e\n\u003cspan style=\"line-height: 1.5;\"\u003eTemplates to support active reading, note \u003c\/span\u003e\u003cspan style=\"line-height: 1.5;\"\u003etaking, and chapter summaries\u003c\/span\u003e\u003cbr\u003e\u003cspan style=\"line-height: 1.5;\"\u003eUPDATED! American Heritage® dictionaries—the \u003c\/span\u003e\u003cspan style=\"line-height: 1.5;\"\u003emost up to date\u003c\/span\u003e\u003cbr\u003e\u003cspan style=\"line-height: 1.5;\"\u003e\u003c\/span\u003e\n\u003c\/div\u003e\n\u003cdiv style=\"text-align: center;\"\u003e\u003cspan style=\"line-height: 1.5;\"\u003e\u003c\/span\u003e\u003c\/div\u003e\n\u003cdiv style=\"text-align: left;\"\u003e\n\u003cul\u003e\n\u003cli\u003e\u003cspan style=\"line-height: 1.5;\"\u003eHuman Voice Pronunciations\u003c\/span\u003e\u003c\/li\u003e\n\u003cli\u003e\u003cspan style=\"line-height: 1.5;\"\u003eThe multi language Recognition Option\u003c\/span\u003e\u003c\/li\u003e\n\u003cli\u003e\u003cspan style=\"line-height: 1.5;\"\u003eAdditional Support for Phrases\u003c\/span\u003e\u003c\/li\u003e\n\u003cli\u003e\u003cspan style=\"line-height: 1.5;\"\u003eQuestion and Response Formats\u003c\/span\u003e\u003c\/li\u003e\n\u003cli\u003e\u003cspan style=\"line-height: 1.5;\"\u003eFill-in-the-Blanks for scanned in work sheets\u003c\/span\u003e\u003c\/li\u003e\n\u003cli\u003e\u003cspan style=\"line-height: 1.5;\"\u003eHighest level encryption -- lock out features for high stakes testing\u003c\/span\u003e\u003c\/li\u003e\n\u003cli\u003e\u003cspan style=\"line-height: 1.5;\"\u003eRecord Responses with audio notes\u003c\/span\u003e\u003c\/li\u003e\n\u003c\/ul\u003e\n\u003c\/div\u003e\n\u003cdiv style=\"text-align: center;\"\u003e\u003cspan style=\"line-height: 1.5;\"\u003e\u003c\/span\u003e\u003c\/div\u003e\n\u003cdiv\u003eNow K3000 standalone is dual platform, Mac and Windows on the same media -- you no longer have to specify the operating system when you order. \u003c\/div\u003e\n\u003cdiv\u003e\u003c\/div\u003e\n\u003cdiv\u003e\u003c\/div\u003e\n\u003ch2\u003e\u003c\/h2\u003e\n\u003ch5\u003eVocabulary Building\u003c\/h5\u003e\n\u003cdiv\u003eFor academic success students have to constantly add to their vocabulary.  Whether just beginning long answer writing in the primary grades, English Language Learners at Levels 1 or 2 or curricular specific terminology at all stages, Kurzweil has the tools you need. \u003c\/div\u003e\n\u003cdiv\u003e\n\u003cdiv\u003e\n\u003cdiv\u003e\u003c\/div\u003e\n\u003cdiv\u003e\u003cspan\u003eWidgit's 40,000 word symbol vocabulary is used for curricular vocabulary support and differentiating confusables.\u003c\/span\u003e\u003c\/div\u003e\n\u003cdiv\u003e\u003cspan\u003e \u003c\/span\u003e\u003c\/div\u003e\n\u003c\/div\u003e\n\u003cdiv style=\"text-align: center;\"\u003e\n\u003cimg alt=\"\" src=\"\/\/cdn.shopify.com\/s\/files\/1\/1192\/0390\/files\/widgit_grande.png?13197031887240798241\" style=\"float: none;\"\u003e\u003cbr\u003e\n\u003cdiv\u003e\u003cspan\u003e \u003c\/span\u003e\u003c\/div\u003e\n\u003c\/div\u003e\n\u003cdiv\u003e\u003c\/div\u003e\n\u003cdiv\u003e\u003c\/div\u003e\n\u003c\/div\u003e\n\u003cdiv\u003e\u003c\/div\u003e\n\u003ch5\u003eK3000 on the iPad, and Web\u003c\/h5\u003e\n\u003ch1\u003e\u003cspan\u003e\u003c\/span\u003e\u003c\/h1\u003e\n\u003ch1\u003e\u003cspan\u003eK3000 subscription: Universally accessible web-based literacy solution!\u003c\/span\u003e\u003c\/h1\u003e\n\u003cp\u003e \u003c\/p\u003e\n\u003cdiv style=\"text-align: center;\"\u003e\u003cimg alt=\"\" src=\"\/\/cdn.shopify.com\/s\/files\/1\/1192\/0390\/files\/laptop-web-based-ff_grande.png?4803340221315062793\" style=\"float: none;\"\u003e\u003c\/div\u003e\n\u003ch1\u003e\u003c\/h1\u003e\n\u003cp\u003e\u003cspan\u003eAnytime, anywhere access to digital, text-based content, supplemented by powerful literacy tools that enable individuals with the cognitive ability, but not the literacy skills, to achieve their academic or personal goals.\u003c\/span\u003e\u003c\/p\u003e\n\u003cp\u003e\u003cspan\u003eKurzweil on the web gives you the ability to use many of the great features of Kurzweil 3000 from anywhere you have an internet connection.\u003c\/span\u003e\u003c\/p\u003e\n\u003cdiv\u003e\n\u003ctable align=\"left\" width=\"\"\u003e\n\u003ctbody\u003e\n\u003ctr\u003e\n\u003ctd\u003e\u003cstrong\u003eAnytime, Anywhere access via the Internet \u003c\/strong\u003e\u003c\/td\u003e\n\u003ctd\u003e\u003cstrong\u003eKey Features\u003c\/strong\u003e\u003c\/td\u003e\n\u003c\/tr\u003e\n\u003ctr\u003e\n\u003ctd\u003e\n\u003cul\u003e\n\u003cli\u003e\u003cspan\u003eOperates equally well on Windows® and Macintosh® platforms\u003c\/span\u003e\u003c\/li\u003e\n\u003cli\u003e\u003cspan\u003eModern and engaging user interface\u003c\/span\u003e\u003c\/li\u003e\n\u003cli\u003e\u003cspan\u003eConstantly improving solution eliminates installation, maintenance, and upgrade hassles\u003c\/span\u003e\u003c\/li\u003e\n\u003cli\u003e\u003cspan\u003eAccessible to students with physical limitations\u003c\/span\u003e\u003c\/li\u003e\n\u003cli\u003e\u003cspan\u003eRoaming profiles follow the user so they can read how they like anywhere\u003c\/span\u003e\u003c\/li\u003e\n\u003cli\u003e\u003cspan\u003eSimple easy-to-use navigation so users get started right away\u003c\/span\u003e\u003c\/li\u003e\n\u003c\/ul\u003e\n\u003c\/td\u003e\n\u003ctd\u003e\n\u003cul\u003e\n\u003cli\u003e\u003cspan\u003eRead text by word, line, sentence or paragraph\u003c\/span\u003e\u003c\/li\u003e\n\u003cli\u003e\n\u003cspan lang=\"X-NONE\"\u003eCustomize reading to continuous, word by word or self\u003c\/span\u003e\u003cspan\u003epaced and by reading speed\u003c\/span\u003e\n\u003c\/li\u003e\n\u003cli\u003e\u003cspan\u003eEmphasize key text with different coloured highlighters\u003c\/span\u003e\u003c\/li\u003e\n\u003cli\u003e\u003cspan\u003eIncrease or decrease size of display\u003c\/span\u003e\u003c\/li\u003e\n\u003cli\u003e\u003cspan\u003eLook up definitions\u003c\/span\u003e\u003c\/li\u003e\n\u003cli\u003e\u003cspan\u003eTranslate Text\u003c\/span\u003e\u003c\/li\u003e\n\u003cli\u003e\u003cspan\u003eChoose from 4 different high quality voices\u003c\/span\u003e\u003c\/li\u003e\n\u003cli\u003e\u003cspan\u003eCloud storage for digital files\u003c\/span\u003e\u003c\/li\u003e\n\u003cli\u003e\u003cspan\u003eFlexible user management system\u003c\/span\u003e\u003c\/li\u003e\n\u003c\/ul\u003e\n\u003c\/td\u003e\n\u003c\/tr\u003e\n\u003c\/tbody\u003e\n\u003c\/table\u003e\n\u003c\/div\u003e\n\u003cdiv\u003e\n\u003cspan p=\"\"\u003e\u003cspan p=\"\"\u003e\u003cbr\u003e\u003c\/span\u003e\u003c\/span\u003e\n\u003cdiv\u003e\n\u003cdiv\u003e\n\u003cspan\u003e\u003c\/span\u003e\n\u003cp\u003e\u003cspan\u003e \u003c\/span\u003e\u003c\/p\u003e\n\u003cp style=\"text-align: center;\"\u003e\u003cspan\u003e \u003c\/span\u003e\u003cstrong\u003e Free with a Kurzweil 3000 web subscription!\u003c\/strong\u003e\u003c\/p\u003e\n\u003cp\u003e\u003cspan\u003e \u003c\/span\u003e\u003c\/p\u003e\n\u003c\/div\u003e\n\u003c\/div\u003e\n\u003c\/div\u003e\n\u003ch2 style=\"text-align: center;\"\u003e\u003cspan\u003eK3000 for the iPad\u003c\/span\u003e\u003c\/h2\u003e\n\u003cp\u003e \u003c\/p\u003e\n\u003cp style=\"text-align: center;\"\u003e\u003cimg src=\"\/\/cdn.shopify.com\/s\/files\/1\/1192\/0390\/files\/ipad-reading_large.png?3082797950074191517\" alt=\"\"\u003e\u003c\/p\u003e\n\u003cp style=\"text-align: center;\"\u003e\u003cimg src=\"\/\/cdn.shopify.com\/s\/files\/1\/1192\/0390\/files\/ipad-read_large.png?3082797950074191517\" alt=\"\"\u003e\u003c\/p\u003e\n\u003cp style=\"text-align: center;\"\u003e\u003cimg src=\"\/\/cdn.shopify.com\/s\/files\/1\/1192\/0390\/files\/ipad-lang_large.png?3082797950074191517\" alt=\"\"\u003e\u003c\/p\u003e\n\u003cp style=\"text-align: center;\"\u003e  \u003c\/p\u003e\n\u003cp\u003eF\u003cspan\u003eully designed and built to work on the iPad, the app makes accessing and reading digital files from your Kurzweil 3000 Universal Library simple and easy! Just download the K3000 app from the App Store and use your existing login credentials to access your private and public documents from your Universal Library. The iPad app delivers mobile anytime, anywhere access to your files — from the desk at school to your bedroom at home.\u003c\/span\u003e\u003c\/p\u003e\n\u003cp\u003e\u003cspan\u003eThe K3000 iPad app can be obtained from the App Store by searching the education category using the keywords \"K3000 or Kurzweil 3000.\"\u003c\/span\u003e\u003c\/p\u003e\n\u003cdiv\u003e\n\u003cul\u003e\n\u003cli\u003e\u003cspan\u003eMobile access to instructional materials\u003c\/span\u003e\u003c\/li\u003e\n\u003cli\u003e\u003cspan\u003eFree to Kurzweil 3000 customers, the iPad app is simple to install and use\u003c\/span\u003e\u003c\/li\u003e\n\u003cli\u003e\u003cspan\u003eModern and engaging user interface\u003c\/span\u003e\u003c\/li\u003e\n\u003cli\u003e\u003cspan\u003eAccessible to many students with physical limitation\u003c\/span\u003e\u003c\/li\u003e\n\u003c\/ul\u003e\n\u003c\/div\u003e\n\u003cp\u003e\u003ciframe src=\"\/\/www.youtube.com\/embed\/QC2p6aJesuA\" height=\"315\" width=\"560\" allowfullscreen=\"\" frameborder=\"0\"\u003e\u003c\/iframe\u003e\u003c\/p\u003e\n\u003cp\u003e \u003c\/p\u003e\n\u003ch5\u003eWhy Choose Bridges for Kurzweil 3000?\u003c\/h5\u003e\n\u003cp\u003eBridges, the Canadian Kurzweil 3000 Experts.\u003c\/p\u003e\n\u003cdiv\u003eBridges trains across Canada in English and French. We've presented at home and abroad on K3000 at international conferences. \u003c\/div\u003e\n\u003cdiv\u003e\u003c\/div\u003e\n\u003cdiv\u003eBridges literally wrote the book on Kurzweil training! It was Bridges that Kurzweil contracted to create the training manual they use around the world, Kurzweil 3000 Foundations.\u003cbr\u003e\n\u003cul\u003e\n\u003cli\u003e\u003cspan style=\"line-height: 1.5;\"\u003eBridges can get the most out of your purchase. We've counselled dozens of school districts across the country on how to turn old licenses, single copies, Mac, and old versions into network licenses for a fraction of the cost of buying. We were the first to implement web-based licensing for a school district, not just in Canada but anywhere.\u003c\/span\u003e\u003c\/li\u003e\n\u003cli\u003eBridges stocks a substantial warehouse with inventory to reduce shipping and turnaround time.\u003c\/li\u003e\n\u003cli\u003eBridges tracks and records all serial numbers easing future upgrading, maximizing licensing discounts or replacing lost software. We can issue reports on volumes, serial numbers\/customer shipping locations, etc. at your request.\u003c\/li\u003e\n\u003cli\u003eBridges has expert technical support In-house in English or French.\u003c\/li\u003e\n\u003c\/ul\u003e\n\u003cp\u003e\u003cstrong\u003ePLEASE NOTE: \u003c\/strong\u003eCustomers cannot return software for a refund.  However, we do offer a store credit for the full amount if returned within 21 days. After 21 days a restocking fee may apply.\u003c\/p\u003e\n\u003cdiv\u003e\n\u003cspan\u003e \u003c\/span\u003e\u003cimg alt=\"Kurzweil news article in new user interface\" src=\"https:\/\/cdn.shopify.com\/s\/files\/1\/1192\/0390\/files\/laptop-read-2016_large.png?17830144231122134999\" style=\"float: none;\"\u003e\n\u003c\/div\u003e\n\u003c\/div\u003e\n\u003cdiv\u003e\u003c\/div\u003e\n\u003ch5\u003eSystem Requirements\u003c\/h5\u003e\n\u003cdiv id=\"web\" class=\"tab_content\" style=\"padding: 5px;\"\u003e\n\u003ch1 style=\"margin-left: 0;\"\u003eKurzweil 3000 for Web Browser\u003c\/h1\u003e\n\u003cp\u003eAccess content and common literacy supports any device or computer with internet access and dive deeper with the most comprehensive suite of literacy tools installed directly to Mac and Windows computers.\u003c\/p\u003e\n\u003chr\u003e\n\u003ch1\u003eSYSTEM REQUIREMENTS\u003c\/h1\u003e\n\u003cb\u003eSubscription\u003c\/b\u003e\n\u003cul\u003e\n\u003cli\u003eInternet Connection\u003c\/li\u003e\n\u003cli\u003eInternet Browser (latest version recommended):\u003cbr\u003e Windows: Internet Explorer (minimum version 10.0), Firefox (minimum version 3.0), Chrome\u003cbr\u003e Macintosh: Firefox (minimum version 3.0), Safari (minimum version 3.0), Chrome\u003cbr\u003e Cookies must be enabled\u003c\/li\u003e\n\u003cli\u003eMinimum bandwidth of 512kbps for each active Kurzweil 3000 session\u003c\/li\u003e\n\u003cli\u003eNetwork Connectivity Firewalls, proxy servers, and content filters must all permit access: HTTP (TCP port 80) HTTP and HTTPS\u003c\/li\u003e\n\u003c\/ul\u003e\n\u003c\/div\u003e","published_at":"2020-09-15T10:37:45-04:00","created_at":"2020-09-15T10:34:21-04:00","vendor":"Kurzweil Education","type":"Download","tags":["Compatibility_Chromebook","Compatibility_Mac OS","Compatibility_Windows PC","Learning Area_Daily Living: School","Learning Area_ESL\/ELL","Learning Area_Literacy","Learning Area_Post-Secondary","Learning Area_Writing","Type_Exclusives","Type_Software"],"price":101500,"price_min":101500,"price_max":101500,"available":true,"price_varies":false,"compare_at_price":null,"compare_at_price_min":0,"compare_at_price_max":0,"compare_at_price_varies":false,"variants":[{"id":32862077878354,"title":"Default Title","option1":"Default Title","option2":null,"option3":null,"sku":"15374037V203YR","requires_shipping":false,"taxable":true,"featured_image":null,"available":true,"name":"Kurzweil 3000 English Web License - single user 3 year license","public_title":null,"options":["Default Title"],"price":101500,"weight":140,"compare_at_price":null,"inventory_quantity":-15,"inventory_management":"shopify","inventory_policy":"continue","barcode":"","requires_selling_plan":false,"selling_plan_allocations":[]}],"images":["\/\/cdn.shopify.com\/s\/files\/1\/1192\/0390\/products\/kurzweil-3000-english-web-license-single-user-3-year-license-download-kurzweil-education-assistive-technology-481332.jpg?v=1600201282","\/\/cdn.shopify.com\/s\/files\/1\/1192\/0390\/products\/kurzweil-3000-english-web-license-single-user-3-year-license-download-kurzweil-education-assistive-technology-104920.jpg?v=1600201282","\/\/cdn.shopify.com\/s\/files\/1\/1192\/0390\/products\/kurzweil-3000-english-web-license-single-user-3-year-license-download-kurzweil-education-assistive-technology-620814.jpg?v=1600201283","\/\/cdn.shopify.com\/s\/files\/1\/1192\/0390\/products\/kurzweil-3000-english-web-license-single-user-3-year-license-download-kurzweil-education-assistive-technology-343011.jpg?v=1600201284","\/\/cdn.shopify.com\/s\/files\/1\/1192\/0390\/products\/kurzweil-3000-english-web-license-single-user-3-year-license-download-kurzweil-education-assistive-technology-266787.jpg?v=1600201284","\/\/cdn.shopify.com\/s\/files\/1\/1192\/0390\/products\/kurzweil-3000-english-web-license-single-user-3-year-license-download-kurzweil-education-assistive-technology-413250.jpg?v=1600201285","\/\/cdn.shopify.com\/s\/files\/1\/1192\/0390\/products\/kurzweil-3000-english-web-license-single-user-3-year-license-download-kurzweil-education-assistive-technology-627679.gif?v=1600201285","\/\/cdn.shopify.com\/s\/files\/1\/1192\/0390\/products\/kurzweil-3000-english-web-license-single-user-3-year-license-download-kurzweil-education-assistive-technology-331443.jpg?v=1600201286","\/\/cdn.shopify.com\/s\/files\/1\/1192\/0390\/products\/kurzweil-3000-english-web-license-single-user-3-year-license-download-kurzweil-education-assistive-technology-378322.jpg?v=1600201286","\/\/cdn.shopify.com\/s\/files\/1\/1192\/0390\/products\/kurzweil-3000-english-web-license-single-user-3-year-license-download-kurzweil-education-assistive-technology-716596.jpg?v=1600201287","\/\/cdn.shopify.com\/s\/files\/1\/1192\/0390\/products\/kurzweil-3000-english-web-license-single-user-3-year-license-download-kurzweil-education-assistive-technology-334470.jpg?v=1600201287"],"featured_image":"\/\/cdn.shopify.com\/s\/files\/1\/1192\/0390\/products\/kurzweil-3000-english-web-license-single-user-3-year-license-download-kurzweil-education-assistive-technology-481332.jpg?v=1600201282","options":["Title"],"media":[{"alt":"Kurzweil 3000 English Web License - single user 3 year license - Bridges Canada","id":7859579060306,"position":1,"preview_image":{"aspect_ratio":1.478,"height":441,"width":652,"src":"https:\/\/cdn.shopify.com\/s\/files\/1\/1192\/0390\/products\/kurzweil-3000-english-web-license-single-user-3-year-license-download-kurzweil-education-assistive-technology-481332.jpg?v=1600190262"},"aspect_ratio":1.478,"height":441,"media_type":"image","src":"https:\/\/cdn.shopify.com\/s\/files\/1\/1192\/0390\/products\/kurzweil-3000-english-web-license-single-user-3-year-license-download-kurzweil-education-assistive-technology-481332.jpg?v=1600190262","width":652},{"alt":"Kurzweil 3000 English Web License - single user 3 year license - Bridges Canada","id":7859580829778,"position":2,"preview_image":{"aspect_ratio":1.337,"height":359,"width":480,"src":"https:\/\/cdn.shopify.com\/s\/files\/1\/1192\/0390\/products\/kurzweil-3000-english-web-license-single-user-3-year-license-download-kurzweil-education-assistive-technology-104920.jpg?v=1600190278"},"aspect_ratio":1.337,"height":359,"media_type":"image","src":"https:\/\/cdn.shopify.com\/s\/files\/1\/1192\/0390\/products\/kurzweil-3000-english-web-license-single-user-3-year-license-download-kurzweil-education-assistive-technology-104920.jpg?v=1600190278","width":480},{"alt":"Kurzweil 3000 English Web License - single user 3 year license - Bridges Canada","id":7859581321298,"position":3,"preview_image":{"aspect_ratio":1.667,"height":360,"width":600,"src":"https:\/\/cdn.shopify.com\/s\/files\/1\/1192\/0390\/products\/kurzweil-3000-english-web-license-single-user-3-year-license-download-kurzweil-education-assistive-technology-620814.jpg?v=1600190283"},"aspect_ratio":1.667,"height":360,"media_type":"image","src":"https:\/\/cdn.shopify.com\/s\/files\/1\/1192\/0390\/products\/kurzweil-3000-english-web-license-single-user-3-year-license-download-kurzweil-education-assistive-technology-620814.jpg?v=1600190283","width":600},{"alt":"Kurzweil 3000 English Web License - single user 3 year license - Bridges Canada","id":7859576799314,"position":4,"preview_image":{"aspect_ratio":1.667,"height":780,"width":1300,"src":"https:\/\/cdn.shopify.com\/s\/files\/1\/1192\/0390\/products\/kurzweil-3000-english-web-license-single-user-3-year-license-download-kurzweil-education-assistive-technology-343011.jpg?v=1600190241"},"aspect_ratio":1.667,"height":780,"media_type":"image","src":"https:\/\/cdn.shopify.com\/s\/files\/1\/1192\/0390\/products\/kurzweil-3000-english-web-license-single-user-3-year-license-download-kurzweil-education-assistive-technology-343011.jpg?v=1600190241","width":1300},{"alt":"Kurzweil 3000 English Web License - single user 3 year license - Bridges Canada","id":7859584008274,"position":5,"preview_image":{"aspect_ratio":1.667,"height":780,"width":1300,"src":"https:\/\/cdn.shopify.com\/s\/files\/1\/1192\/0390\/products\/kurzweil-3000-english-web-license-single-user-3-year-license-download-kurzweil-education-assistive-technology-266787.jpg?v=1600190300"},"aspect_ratio":1.667,"height":780,"media_type":"image","src":"https:\/\/cdn.shopify.com\/s\/files\/1\/1192\/0390\/products\/kurzweil-3000-english-web-license-single-user-3-year-license-download-kurzweil-education-assistive-technology-266787.jpg?v=1600190300","width":1300},{"alt":"Kurzweil 3000 English Web License - single user 3 year license - Bridges Canada","id":7859582009426,"position":6,"preview_image":{"aspect_ratio":1.478,"height":441,"width":652,"src":"https:\/\/cdn.shopify.com\/s\/files\/1\/1192\/0390\/products\/kurzweil-3000-english-web-license-single-user-3-year-license-download-kurzweil-education-assistive-technology-413250.jpg?v=1600190289"},"aspect_ratio":1.478,"height":441,"media_type":"image","src":"https:\/\/cdn.shopify.com\/s\/files\/1\/1192\/0390\/products\/kurzweil-3000-english-web-license-single-user-3-year-license-download-kurzweil-education-assistive-technology-413250.jpg?v=1600190289","width":652},{"alt":"Kurzweil 3000 English Web License - single user 3 year license - Bridges Canada","id":7859576078418,"position":7,"preview_image":{"aspect_ratio":1.22,"height":492,"width":600,"src":"https:\/\/cdn.shopify.com\/s\/files\/1\/1192\/0390\/products\/kurzweil-3000-english-web-license-single-user-3-year-license-download-kurzweil-education-assistive-technology-627679.gif?v=1600190236"},"aspect_ratio":1.22,"height":492,"media_type":"image","src":"https:\/\/cdn.shopify.com\/s\/files\/1\/1192\/0390\/products\/kurzweil-3000-english-web-license-single-user-3-year-license-download-kurzweil-education-assistive-technology-627679.gif?v=1600190236","width":600},{"alt":"Kurzweil 3000 English Web License - single user 3 year license - Bridges Canada","id":7859578404946,"position":8,"preview_image":{"aspect_ratio":1.5,"height":320,"width":480,"src":"https:\/\/cdn.shopify.com\/s\/files\/1\/1192\/0390\/products\/kurzweil-3000-english-web-license-single-user-3-year-license-download-kurzweil-education-assistive-technology-331443.jpg?v=1600190258"},"aspect_ratio":1.5,"height":320,"media_type":"image","src":"https:\/\/cdn.shopify.com\/s\/files\/1\/1192\/0390\/products\/kurzweil-3000-english-web-license-single-user-3-year-license-download-kurzweil-education-assistive-technology-331443.jpg?v=1600190258","width":480},{"alt":"Kurzweil 3000 English Web License - single user 3 year license - Bridges Canada","id":7859580141650,"position":9,"preview_image":{"aspect_ratio":1.093,"height":439,"width":480,"src":"https:\/\/cdn.shopify.com\/s\/files\/1\/1192\/0390\/products\/kurzweil-3000-english-web-license-single-user-3-year-license-download-kurzweil-education-assistive-technology-378322.jpg?v=1600190273"},"aspect_ratio":1.093,"height":439,"media_type":"image","src":"https:\/\/cdn.shopify.com\/s\/files\/1\/1192\/0390\/products\/kurzweil-3000-english-web-license-single-user-3-year-license-download-kurzweil-education-assistive-technology-378322.jpg?v=1600190273","width":480},{"alt":"Kurzweil 3000 English Web License - single user 3 year license - Bridges Canada","id":7859579682898,"position":10,"preview_image":{"aspect_ratio":1.48,"height":354,"width":524,"src":"https:\/\/cdn.shopify.com\/s\/files\/1\/1192\/0390\/products\/kurzweil-3000-english-web-license-single-user-3-year-license-download-kurzweil-education-assistive-technology-716596.jpg?v=1600190267"},"aspect_ratio":1.48,"height":354,"media_type":"image","src":"https:\/\/cdn.shopify.com\/s\/files\/1\/1192\/0390\/products\/kurzweil-3000-english-web-license-single-user-3-year-license-download-kurzweil-education-assistive-technology-716596.jpg?v=1600190267","width":524},{"alt":"Kurzweil 3000 English Web License - single user 3 year license - Bridges Canada","id":7859577880658,"position":11,"preview_image":{"aspect_ratio":1.48,"height":354,"width":524,"src":"https:\/\/cdn.shopify.com\/s\/files\/1\/1192\/0390\/products\/kurzweil-3000-english-web-license-single-user-3-year-license-download-kurzweil-education-assistive-technology-334470.jpg?v=1600190253"},"aspect_ratio":1.48,"height":354,"media_type":"image","src":"https:\/\/cdn.shopify.com\/s\/files\/1\/1192\/0390\/products\/kurzweil-3000-english-web-license-single-user-3-year-license-download-kurzweil-education-assistive-technology-334470.jpg?v=1600190253","width":524}],"requires_selling_plan":false,"selling_plan_groups":[],"content":"\u003cp\u003eK3000 is a literacy support software with powerful reading, writing, test-taking, and study skills tools that makes curriculum accessible to all students.\u003cbr\u003e\u003c\/p\u003e\n\u003cp\u003eAnd with the Web License you get access to the Kurzweil for the Web Browsers for full literacy supports on Chromebooks, Android, tablets and reading on iPads.\u003c\/p\u003e\n\u003cp\u003eNew Chrome extensions and apps means it's never been easier to read, research and write on the web. Ideal for Google Apps for Education (GAFE) environments.  \u003cbr\u003eAnd with Kurzweil web license you can now have offline access for exams, bad internet connections, deadzones, etc.\u003c\/p\u003e\n\u003cp\u003eIt is particularly appropriate for students with learning disabilities such as Dyslexia, those who require reading intervention, students struggling with reading comprehension and English Language Learners (ELL). It is an ideal literacy instructional tool for any sized education community that is putting UDL (Universal Design for Learning) or an RTI (Response to Intervention) in action.\u003c\/p\u003e\n\u003cp\u003e\u003cbr\u003eKurzweil 3000 literacy software is a cost-effective solution for providing support in the classroom, at home and with the web license -- anywhere, on virtually any platform.\u003c\/p\u003e\n\u003cp\u003e \u003c\/p\u003e\n\u003cp style=\"text-align: center;\"\u003e\u003cstrong\u003eSpecial pricing available for unlimited school or district wide web licensing.\u003c\/strong\u003e\u003c\/p\u003e\n\u003cp style=\"text-align: center;\"\u003e\u003cstrong\u003e\u003ca href=\"mailto:info@bridges-canada.com\" title=\"Email Request Quote for unlimited K3000 web license\" target=\"_blank\"\u003eContact Bridges for a Quote\u003c\/a\u003e\u003c\/strong\u003e\u003c\/p\u003e\n\u003cp style=\"text-align: center;\"\u003e \u003c\/p\u003e\n\u003ch5\u003eAdvantages of Web License\u003c\/h5\u003e\n\u003cdiv id=\"ctl00_placeholderBody_ctl06_rpRepeater_ctl00_pContentBody\" style=\"text-align: center;\"\u003e\n\u003cdiv id=\"ctl00_placeholderBody_ctl06_rpRepeater_ctl00_ctl01_panelBody\" style=\"float: left;\"\u003e\n\u003cp style=\"text-align: left;\"\u003e \u003c\/p\u003e\n\u003cp style=\"text-align: left;\"\u003e\u003cspan\u003eWith a K3000 Unlimited Web License for your school district everyone - staff, students -- get access to K3000 files through the tool of their choice:  Windows or Mac, school or home computer, through any web browser and the iPad app.\u003c\/span\u003e\u003c\/p\u003e\n\u003cp style=\"text-align: left;\"\u003e\u003cspan\u003eK3000 Unlimited Web License -- Imagine the Possibilities:\u003c\/span\u003e\u003c\/p\u003e\n\u003cp style=\"float: right;\"\u003e\u003cspan\u003e\u003cbr\u003e\u003cbr\u003e\u003c\/span\u003e\u003c\/p\u003e\n\u003cul\u003e\n\u003cli style=\"text-align: left;\"\u003e\u003cspan\u003eNo individual license management\u003c\/span\u003e\u003c\/li\u003e\n\u003cli style=\"float: right; text-align: left;\"\u003eComes with a cloud-based Universal Library so students and teachers can get access to books anywhere\u003c\/li\u003e\n\u003cli style=\"text-align: left;\"\u003e\u003cspan\u003eTeach with K3000 to all your students -- ELL's, adult education learners, RTI programs -- it's UDL implemented\u003c\/span\u003e\u003c\/li\u003e\n\u003cli style=\"text-align: left;\"\u003e\u003cspan\u003eGenuine universal access for all via web browser: library, friend's house, internet cafes\u003c\/span\u003e\u003c\/li\u003e\n\u003cli style=\"text-align: left;\"\u003e\u003cspan\u003eRoaming profiles follow the user so they can read how they like wherever they can access the net -- even on their smartphone \u003c\/span\u003e\u003c\/li\u003e\n\u003cli style=\"text-align: left;\"\u003e\u003cspan\u003eIdeal for Bring Your Own Device (BYOD) initiatives -- Mac, Windows, iPhone, Android phones tablets and iPads\u003c\/span\u003e\u003c\/li\u003e\n\u003c\/ul\u003e\n\u003cp\u003e \u003c\/p\u003e\n\u003cdiv align=\"center\"\u003e\u003cstrong\u003eAdvantages of Web Licensing\u003c\/strong\u003e\u003c\/div\u003e\n\u003cp\u003e \u003c\/p\u003e\n\u003cdiv style=\"text-align: left;\"\u003e\u003cstrong\u003e\u003cimg alt=\"\" src=\"\/\/cdn.shopify.com\/s\/files\/1\/1192\/0390\/files\/how-does-it-work_large.jpg?18099098029971435261\" style=\"display: block; margin-left: auto; margin-right: auto;\"\u003e\u003c\/strong\u003e\u003c\/div\u003e\n\u003cdiv style=\"text-align: center;\"\u003e\u003cstrong\u003eFor all\u003c\/strong\u003e\u003c\/div\u003e\n\u003cdiv style=\"text-align: left;\"\u003e\u003cstrong\u003e\u003c\/strong\u003e\u003c\/div\u003e\n\u003cdiv style=\"float: right;\"\u003e\n\u003cbr\u003e\n\u003cul\u003e\n\u003cli style=\"text-align: left;\"\u003e\u003cspan style=\"line-height: 1.5;\"\u003eChrome App \u003c\/span\u003e\u003c\/li\u003e\n\u003cli style=\"text-align: left;\"\u003e\u003cspan style=\"line-height: 1.5;\"\u003eChrome Read-the-Web extension \u003cspan\u003e(available on Chromebooks only)\u003c\/span\u003e\u003c\/span\u003e\u003c\/li\u003e\n\u003cli style=\"text-align: left;\"\u003e\u003cspan style=\"line-height: 1.5;\"\u003eWeb app means K3000 reading and writing supports on any PC: get docs directly from Google Drive, Upload PDF from the desktop or thumb drives or use Universal library. From school, home, public library, friend or family PC etc.\u003c\/span\u003e\u003c\/li\u003e\n\u003cli style=\"text-align: left;\"\u003e\u003cspan style=\"line-height: 1.5;\"\u003eFree iPad App\u003c\/span\u003e\u003c\/li\u003e\n\u003cli style=\"text-align: left;\"\u003e\u003cspan style=\"line-height: 1.5;\"\u003eGlobal availability makes it easy for individuals to maintain their customized preferences\u003c\/span\u003e\u003c\/li\u003e\n\u003cli style=\"text-align: left;\"\u003e\u003cspan style=\"line-height: 1.5;\"\u003eAccessible tools wherever, whenever needed\u003c\/span\u003e\u003c\/li\u003e\n\u003cli style=\"text-align: left;\"\u003e\u003cspan style=\"line-height: 1.5;\"\u003eWeb Universal Library (\"cloud\" storage) allows sharing of differentiated curriculum, wherever, whenever needed\u003c\/span\u003e\u003c\/li\u003e\n\u003c\/ul\u003e\n\u003c\/div\u003e\n\u003cdiv style=\"text-align: left;\"\u003e\u003cstrong\u003e\u003c\/strong\u003e\u003c\/div\u003e\n\u003cdiv\u003e\u003cspan\u003e\u003c\/span\u003e\u003c\/div\u003e\n\u003cdiv\u003e\u003cspan\u003e\u003c\/span\u003e\u003c\/div\u003e\n\u003cdiv\u003e\u003cspan\u003e\u003c\/span\u003e\u003c\/div\u003e\n\u003cdiv\u003e\u003cspan\u003e\u003c\/span\u003e\u003c\/div\u003e\n\u003cdiv\u003e\u003cspan\u003e\u003c\/span\u003e\u003c\/div\u003e\n\u003cp\u003e \u003c\/p\u003e\n\u003cdiv style=\"text-align: center;\"\u003e\n\u003cspan\u003e\u003cspan\u003e\u003cb\u003e\u003cimg alt=\"\" src=\"\/\/cdn.shopify.com\/s\/files\/1\/1192\/0390\/files\/what-is-it_large.jpg?8835810426023428587\"\u003e\u003c\/b\u003e\u003cbr\u003e\u003c\/span\u003e\u003c\/span\u003e\u003cbr\u003e\u003cspan\u003e\u003cstrong\u003eTeachers, Specialists, Curriculum Directors \u0026amp; Superintendents\u003c\/strong\u003e\u003c\/span\u003e\n\u003c\/div\u003e\n\u003cul\u003e\n\u003cli\u003e\u003cspan style=\"line-height: 1.5;\"\u003eHome access for teachers and\/or students for homework and assignment building\u003c\/span\u003e\u003c\/li\u003e\n\u003cli\u003e\u003cspan style=\"line-height: 1.5;\"\u003eAssigning and receiving student work so that IEP benchmarks can be easily targeted\u003c\/span\u003e\u003c\/li\u003e\n\u003cli\u003e\u003cspan style=\"line-height: 1.5;\"\u003eTrack usage at any level: student, teacher, class, school, and district\/campus\u003c\/span\u003e\u003c\/li\u003e\n\u003cli\u003e\u003cspan style=\"line-height: 1.5;\"\u003eAddresses all tiers of Response to Intervention (RtI) anywhere, anytime\u003c\/span\u003e\u003c\/li\u003e\n\u003cli\u003e\u003cspan style=\"line-height: 1.5;\"\u003eAutomated scoring of true\/false, multiple choice, and matching questions\u003c\/span\u003e\u003c\/li\u003e\n\u003c\/ul\u003e\n\u003cp\u003e \u003c\/p\u003e\n\u003cp style=\"text-align: center;\"\u003e\u003cstrong\u003e\u003cspan style=\"line-height: 1.5;\"\u003eBuilding and District IT Administrators\u003c\/span\u003e\u003c\/strong\u003e\u003c\/p\u003e\n\u003cp style=\"text-align: center;\"\u003e \u003cimg alt=\"\" src=\"\/\/cdn.shopify.com\/s\/files\/1\/1192\/0390\/files\/overview-cover_large.jpg?4927140388652118572\"\u003e\u003c\/p\u003e\n\u003cp style=\"text-align: center;\"\u003e \u003c\/p\u003e\n\u003cul\u003e\n\u003cli style=\"text-align: left;\"\u003e\u003cspan style=\"line-height: 1.5;\"\u003eEasy universal cross-platform access at home: Mac, Win or browser\u003c\/span\u003e\u003c\/li\u003e\n\u003cli style=\"text-align: left;\"\u003e\u003cspan\u003eLicense management occurs via URL-based login, leaving day-to-day administration to others\u003c\/span\u003e\u003c\/li\u003e\n\u003cli style=\"text-align: left;\"\u003e\u003cspan\u003e\"Cloud-based\" Web Universal Library means no server space required for file storage\u003c\/span\u003e\u003c\/li\u003e\n\u003cli style=\"text-align: left;\"\u003e\u003cspan\u003eManagement system delivers access to license management and usage data\u003c\/span\u003e\u003c\/li\u003e\n\u003c\/ul\u003e\n\u003c\/div\u003e\n\u003cdiv style=\"float: right; text-align: left;\"\u003e\u003c\/div\u003e\n\u003cdiv style=\"float: right; text-align: left;\"\u003e\n\u003cbr\u003e\n\u003cdiv\u003e\u003cspan\u003e\u003cstrong\u003e\u003c\/strong\u003e\u003c\/span\u003e\u003c\/div\u003e\n\u003cp\u003e \u003c\/p\u003e\n\u003c\/div\u003e\n\u003cdiv style=\"text-align: left;\"\u003e\u003c\/div\u003e\n\u003cp style=\"text-align: left;\"\u003e \u003c\/p\u003e\n\u003cp\u003e\u003cspan\u003eThe iPad app is exclusive and free to all Kurzweil 3000 Web License customers. Easy, effective mobile access with the popular, portable device.\u003c\/span\u003e\u003c\/p\u003e\n\u003cp\u003e \u003c\/p\u003e\n\u003ch5\u003eK3000 for Chromebook, web access via Kurzweil for Web Browsers\u003c\/h5\u003e\n\u003cp\u003e \u003c\/p\u003e\n\u003cp style=\"text-align: left;\"\u003eWith a web license, Kurzweil for Web Browsers gives you access to Kurzweil books and PDFs through the web browser on any computer: Windows, Mac and Chromebook. There's even a direct shortcut to your Google Drive if you've gone GAFE (Google Apps for Education).\u003c\/p\u003e\n\u003cp style=\"text-align: left;\"\u003eAll these features work on Chromebook and through the new Chromebook App. \u003c\/p\u003e\n\u003ch1 style=\"text-align: center;\"\u003e Web-based Reading\u003c\/h1\u003e\n\u003cp\u003e\u003cimg src=\"https:\/\/www.kurzweiledu.com\/content\/images\/web-based-reading.png\" title=\"firefly on the browser\" style=\"display: block; margin-left: auto; margin-right: auto;\"\u003e\u003c\/p\u003e\n\u003cp\u003e \u003c\/p\u003e\n\u003cp\u003e \u003c\/p\u003e\n\u003cb style=\"text-align: center;\"\u003eClick to open\u003c\/b\u003e\u003cspan style=\"text-align: center;\"\u003e files from Google Docs, Bookshare, Reading A-Z\u003c\/span\u003e\u003cbr\u003e\u003cb style=\"text-align: center;\"\u003eRead text in \u003c\/b\u003e\u003cspan style=\"text-align: center;\"\u003eWord, PDF, RTF, JPG\u003c\/span\u003e\u003cbr\u003e\u003cb style=\"text-align: center;\"\u003eRead the Web\u003c\/b\u003e\u003cspan style=\"text-align: center;\"\u003e Chrome extension with customizable options\u003c\/span\u003e\u003cbr\u003e\u003cb style=\"text-align: center;\"\u003eCustomize reading options;\u003c\/b\u003e\u003cspan style=\"text-align: center;\"\u003e speed, mode and units\u003c\/span\u003e\u003cbr\u003e\u003cb style=\"text-align: center;\"\u003eZoom\u003c\/b\u003e\u003cspan style=\"text-align: center;\"\u003e in for low vision\u003c\/span\u003e\u003cbr\u003e\u003cspan style=\"text-align: center;\"\u003e31 Natural \u003c\/span\u003e\u003cb style=\"text-align: center;\"\u003eText-to-Speech\u003c\/b\u003e\u003cspan style=\"text-align: center;\"\u003e voices\u003c\/span\u003e\u003cbr\u003e\u003cstrong style=\"text-align: center;\"\u003etext-to-speech\u003c\/strong\u003e\u003cspan style=\"text-align: center;\"\u003e in 18 languages and dialects\u003c\/span\u003e\n\u003c\/div\u003e\n\u003cdiv style=\"text-align: center;\"\u003e\u003cspan style=\"text-align: center;\"\u003e\u003c\/span\u003e\u003c\/div\u003e\n\u003cdiv style=\"text-align: center;\"\u003e\u003cspan style=\"text-align: center;\"\u003e\u003c\/span\u003e\u003c\/div\u003e\n\u003cdiv style=\"text-align: center;\"\u003e\u003cspan style=\"text-align: center;\"\u003e\u003c\/span\u003e\u003c\/div\u003e\n\u003cdiv style=\"text-align: center;\"\u003e\u003cspan style=\"text-align: center;\"\u003e\u003c\/span\u003e\u003c\/div\u003e\n\u003ch1 style=\"text-align: center;\"\u003e\u003cspan style=\"text-align: center;\"\u003eWeb-based Comprehension\u003c\/span\u003e\u003c\/h1\u003e\n\u003cp style=\"text-align: center;\"\u003e\u003cstrong\u003eHighlight\u003c\/strong\u003e in yellow, blue, green and pink\u003cbr\u003e\u003cstrong\u003eExtract notes\u003c\/strong\u003e and highlighters into a Study Guide\u003cbr\u003eAccess \u003cstrong\u003eDefinitions\u003c\/strong\u003e instantly with American Heritage Fifth Edition, Children's, College writers dictionaries\u003cbr\u003e\u003cstrong\u003eTranslate\u003c\/strong\u003e full sentences and passages\u003cbr\u003eRead embedded \u003cstrong\u003eText Notes\u003c\/strong\u003e and \u003cstrong\u003eSticky Notes\u003c\/strong\u003e (or hide them)\u003c\/p\u003e\n\u003cp\u003e \u003c\/p\u003e\n\u003ch1 style=\"text-align: center;\"\u003eWeb-based Writing and Assignments\u003c\/h1\u003e\n\u003cp\u003e\u003cimg src=\"https:\/\/www.kurzweiledu.com\/content\/images\/web-based-writing.png\" title=\"firefly on the browser\" style=\"display: block; margin-left: auto; margin-right: auto;\"\u003e\u003c\/p\u003e\n\u003cp style=\"text-align: center;\"\u003e\u003cstrong\u003eWrite or edit\u003c\/strong\u003e documents online with the Web Editor\u003cbr\u003e\u003cstrong\u003eCustomize\u003c\/strong\u003e text-to-speech reading options\u003cbr\u003e\u003cstrong\u003eCorrect \u003c\/strong\u003emisspellings with Taking spell-checker\u003cbr\u003e\u003cstrong\u003eWord prediction\u003c\/strong\u003e recommends words based on frequency\u003cbr\u003e\u003cstrong\u003eCross-out text\u003c\/strong\u003e in assignments and tests online\u003c\/p\u003e\n\u003cp style=\"text-align: center;\"\u003e \u003c\/p\u003e\n\u003ch1 style=\"text-align: center;\"\u003eWeb-based Management\u003c\/h1\u003e\n\u003cp\u003e\u003cimg src=\"https:\/\/www.kurzweiledu.com\/content\/images\/web-based-management.png\" title=\"firefly on the browser\" style=\"display: block; margin-left: auto; margin-right: auto;\"\u003e\u003c\/p\u003e\n\u003cp style=\"text-align: center;\"\u003eCentralized and flexible \u003cstrong\u003euser management\u003c\/strong\u003e\u003cbr\u003e\u003cstrong\u003eUsage reporting\u003c\/strong\u003e school or district-wide\u003cbr\u003e\u003cstrong\u003eOnline Library\u003c\/strong\u003e—no file storage limit\u003c\/p\u003e\n\u003cp\u003e \u003c\/p\u003e\n\u003ch5\u003eOffline Mode \u003c\/h5\u003e\n\u003cp\u003e \u003c\/p\u003e\n\u003cp\u003eKurzweil's new offline mode offers users with a Web Access subscription the opportunity to access k3000 when internet connections are spotty or simply not available. Students who are traveling, or on break for the holidays, can get the supports they need while they're away. \u003c\/p\u003e\n\u003cp\u003eOffline mode also has great applications for providing test-taking accommodations on disconnected computers.\u003c\/p\u003e\n\u003cp\u003e \u003c\/p\u003e\n\u003cp\u003e\u003cstrong\u003eHow Does Offline Mode Work? \u003c\/strong\u003e\u003c\/p\u003e\n\u003cp\u003eLog in to k3000 when the computer is connected to the internet. The k3000 credentials are saved in a secure location on the computer. When internet connectivity is either low or gone, users will be prompted to work in Offline Mode. Any work saved to the computer can then be uploaded to the k3000 online library when the internet connection is restored. Note that web-based features, such as online reference and translation will be grayed out until the computer is re-connected to the internet.\u003c\/p\u003e\n\u003cp\u003e \u003c\/p\u003e\n\u003ch5\u003e\u003c\/h5\u003e\n\u003ch5\u003eNew Desktop User Interface \u003c\/h5\u003e\n\u003cp\u003e \u003c\/p\u003e\n\u003ch1\u003e\u003cspan\u003eNow Available for free to all Web License Users! \u003c\/span\u003e\u003c\/h1\u003e\n\u003cp\u003eThe new user interface for the Windows\/Mac desktop, is simpler and more intuitive to use for new users, but keeps all the rich functionality that experienced Kurzweil users have grown to expect.  The update includes a new start screen, but the navigation at the top still acts the same.\u003c\/p\u003e\n\u003cp\u003eWeb license customers receive this upgrade and all upgrades to their k3000 at no cost.\u003c\/p\u003e\n\u003cp\u003eJust run the update on your k3000 and you'll get the new version.  \u003c\/p\u003e\n\u003cp\u003eTo run an update, just open k3000 from your desktop, select \"Options" in the main navigation and click on \"Updates." \u003c\/p\u003e\n\u003cdiv\u003e\u003cstrong\u003e\u003c\/strong\u003e\u003c\/div\u003e\n\u003cp style=\"text-align: center;\"\u003e\u003cimg alt=\"Kurzweil new user interface\" src=\"\/\/cdn.shopify.com\/s\/files\/1\/1192\/0390\/files\/laptop_image_large.JPG?310497214086076981\" style=\"float: none;\"\u003e\u003c\/p\u003e\n\u003cp\u003e \u003c\/p\u003e\n\u003cdiv\u003e\u003c\/div\u003e\n\u003cdiv\u003e\u003c\/div\u003e\n\u003cdiv\u003e\u003cspan\u003e \u003c\/span\u003e\u003c\/div\u003e\n\u003cdiv\u003e\u003cspan\u003eIf you are able to run the update and decide that you prefer to navigate the old way you can switch back.   See Technical Support below for details\u003c\/span\u003e\u003c\/div\u003e\n\u003cdiv\u003e\u003cspan\u003e\u003c\/span\u003e\u003c\/div\u003e\n\u003cdiv\u003e\u003cspan\u003e\u003c\/span\u003e\u003c\/div\u003e\n\u003cdiv style=\"text-align: center;\"\u003e\u003cimg alt=\"Kurzweil news article in new user interface\" src=\"\/\/cdn.shopify.com\/s\/files\/1\/1192\/0390\/files\/laptop-read-2016_large.png?17830144231122134999\" style=\"float: none;\"\u003e\u003c\/div\u003e\n\u003cdiv\u003e\u003cspan\u003e \u003c\/span\u003e\u003c\/div\u003e\n\u003cdiv\u003e\u003cspan\u003e \u003c\/span\u003e\u003c\/div\u003e\n\u003cdiv\u003e\u003ca href=\"http:\/\/www.bridges-canada.com\/resources\/site1\/general\/Kurzweil\/get-to-classic-mode-in-k3000.jpg\" title=\"Screenshot showing how to switch back to the old Kurzweil interface\" rel=\"lightbox\" target=\"_blank\"\u003e\u003c\/a\u003e\u003c\/div\u003e\n\u003cdiv\u003e\u003c\/div\u003e\n\u003cdiv\u003e\u003c\/div\u003e\n\u003cdiv\u003e\u003c\/div\u003e\n\u003ch5\u003eReading Supports\u003c\/h5\u003e\n\u003cp\u003eEncouraging active reading -- an educator can embed bubble note questions right in the text! Use for comprehension, making connections, vocabulary development... the teaching possibilities are endless. And this is just one kind of note. K3000 has footnotes, text notes, stickies and even voice notes, too.\u003c\/p\u003e\n\u003cp\u003e \u003c\/p\u003e\n\u003cdiv\u003e\u003c\/div\u003e\n\u003cdiv style=\"text-align: center;\"\u003e\n\u003cdiv\u003e\u003cimg src=\"\/\/cdn.shopify.com\/s\/files\/1\/1192\/0390\/files\/what-you-get-cover_large.jpg?11587596610499837762\" alt=\"Sticky notes features in Kurzweil\"\u003e\u003c\/div\u003e\n\u003cspan\u003e\u003cspan\u003e\u003cbr\u003e\u003c\/span\u003e\u003cspan\u003e\u003cbr\u003e\u003c\/span\u003e\u003c\/span\u003e\u003cspan\u003e\u003cspan\u003e\u003cspan\u003eNEW! \u003c\/span\u003e\u003cspan\u003eImage Reader \u003c\/span\u003e\u003c\/span\u003e\u003cspan\u003ereads locked text, such as \u003c\/span\u003e\u003c\/span\u003e\u003cspan\u003e\u003cspan\u003eimages, PDFs and even text in a Flash player!\u003c\/span\u003e\u003c\/span\u003e\n\u003c\/div\u003e\n\u003cdiv\u003e\u003cspan\u003e\u003c\/span\u003e\u003c\/div\u003e\n\u003cdiv style=\"text-align: center;\"\u003e\n\u003cspan\u003e\u003cbr\u003e\u003c\/span\u003e\n\u003cdiv\u003e\u003c\/div\u003e\n\u003cdiv\u003e\u003c\/div\u003e\n\u003cdiv\u003e\u003c\/div\u003e\n\u003cp style=\"text-align: center;\"\u003e\u003cstrong\u003e\u003cspan style=\"line-height: 1.5; color: #00ff00;\"\u003e\u003cimg alt=\"\" src=\"\/\/cdn.shopify.com\/s\/files\/1\/1192\/0390\/files\/ipad-sideby-side_large.png?4744162336414656104\" style=\"float: none;\"\u003e\u003c\/span\u003e\u003c\/strong\u003e\u003c\/p\u003e\n\u003cp style=\"text-align: center;\"\u003e\u003cspan style=\"line-height: 1.5;\"\u003eNatural\u003c\/span\u003e\u003cspan style=\"line-height: 1.5;\"\u003e, high-quality acapella text-to-speech \u003c\/span\u003e\u003cspan style=\"line-height: 1.5;\"\u003evoices\u003c\/span\u003e\u003cbr\u003e\u003cspan style=\"line-height: 1.5;\"\u003eText-to-speech in 18 languages and dialects including French\u003c\/span\u003e\u003cbr\u003e\u003cspan style=\"line-height: 1.5;\"\u003eEPUB now supported, updates to PDF and \u003c\/span\u003e\u003cspan style=\"line-height: 1.5;\"\u003eadditional new file supports\u003c\/span\u003e\u003cbr\u003e\u003cspan style=\"line-height: 1.5;\"\u003e\u003cspan style=\"color: #00ff00;\"\u003e\u003cspan style=\"color: #000000;\"\u003eMicrosoft Speech support—11 new voices\u003c\/span\u003e\u003c\/span\u003e\u003cspan style=\"color: #000000;\"\u003e \u003c\/span\u003e\u003c\/span\u003e\u003cbr\u003e\u003cspan style=\"line-height: 1.5;\"\u003eOpen Dyslexic font\u003c\/span\u003e\u003cbr\u003e\u003cspan style=\"line-height: 1.5;\"\u003eFineReader® OCR—the highest quality \u003c\/span\u003e\u003cspan style=\"line-height: 1.5;\"\u003eavailable\u003c\/span\u003e\u003c\/p\u003e\n\u003cp style=\"text-align: center;\"\u003e \u003c\/p\u003e\n\u003cp style=\"text-align: center;\"\u003e\u003cimg alt=\"\" src=\"\/\/cdn.shopify.com\/s\/files\/1\/1192\/0390\/files\/Read_image_grande.jpg?12873460573535019292\" style=\"float: none;\"\u003e\u003c\/p\u003e\n\u003cp style=\"text-align: center;\"\u003e \u003c\/p\u003e\n\u003cul\u003e\n\u003cli style=\"text-align: left;\"\u003e\u003cspan style=\"line-height: 1.4;\"\u003eMultiple note formats for pre, during and post-reading questions\u003c\/span\u003e\u003c\/li\u003e\n\u003cli style=\"text-align: left;\"\u003e\u003cspan style=\"line-height: 1.4;\"\u003eOpen multiple formats ideal for high speed scanners: pdf, tiff, jpg, docx, etc.\u003c\/span\u003e\u003c\/li\u003e\n\u003cli style=\"text-align: left;\"\u003e\u003cspan style=\"line-height: 1.4;\"\u003eOptical Character Recognition that works -- recognize scanned text books and work sheets, even with multiple fonts, graphics and highlighted text\u003c\/span\u003e\u003c\/li\u003e\n\u003cli style=\"text-align: left;\"\u003e\u003cspan style=\"line-height: 1.4;\"\u003eEasy, multi-level editing of OCR'd text and pronunciation of words\u003c\/span\u003e\u003c\/li\u003e\n\u003cli style=\"text-align: left;\"\u003e\u003cspan style=\"line-height: 1.4;\"\u003eAutomated high speed OCR'ing tool\u003c\/span\u003e\u003c\/li\u003e\n\u003cli style=\"text-align: left;\"\u003e\u003cspan style=\"line-height: 1.4;\"\u003eHighlight key text and extract for note-taking, learning key vocabulary etc.\u003c\/span\u003e\u003c\/li\u003e\n\u003cli style=\"text-align: left;\"\u003e\u003cspan style=\"line-height: 1.4;\"\u003e2 English Dictionary, French, Spanish, German and other duo-language dictionaries, picture dictionary, syllabification and thesaurus \u003c\/span\u003e\u003c\/li\u003e\n\u003cli style=\"text-align: left;\"\u003e\u003cspan style=\"line-height: 1.4;\"\u003eHighest quality voice synthesizers\u003c\/span\u003e\u003c\/li\u003e\n\u003cli style=\"text-align: left;\"\u003e\u003cspan style=\"line-height: 1.4;\"\u003eRead the Web with Internet Explorer® 7 and 8\u003c\/span\u003e\u003c\/li\u003e\n\u003cli style=\"text-align: left;\"\u003e\u003cspan style=\"line-height: 1.4;\"\u003eBuilt-in MathPlayer from Design Science, Inc. to read MathML content\u003c\/span\u003e\u003c\/li\u003e\n\u003cli style=\"text-align: left;\"\u003e\u003cspan style=\"line-height: 1.4;\"\u003eLanguage translations \"on the fly" with Google Translate™\u003c\/span\u003e\u003c\/li\u003e\n\u003cli style=\"text-align: left;\"\u003e\u003cspan style=\"line-height: 1.4;\"\u003ePDF Bookmarks preservation\u003c\/span\u003e\u003c\/li\u003e\n\u003cli style=\"text-align: left;\"\u003e\u003cspan style=\"line-height: 1.4;\"\u003eUse sticky notes for instructions, call outs or pre-reading questions.\u003c\/span\u003e\u003c\/li\u003e\n\u003cli style=\"text-align: left;\"\u003e\u003cspan style=\"line-height: 1.4;\"\u003eDictionary and thesaurus support is always just a click away.\u003c\/span\u003e\u003c\/li\u003e\n\u003c\/ul\u003e\n\u003cp\u003e \u003c\/p\u003e\n\u003c\/div\u003e\n\u003cdiv\u003e\n\u003cdiv\u003e\u003cspan\u003e\u003c\/span\u003e\u003c\/div\u003e\n\u003c\/div\u003e\n\u003ch5\u003eWriting Supports\u003c\/h5\u003e\n\u003cp\u003e \u003c\/p\u003e\n\u003cdiv style=\"text-align: center;\"\u003e\n\u003cspan style=\"text-align: center; line-height: 1.5;\"\u003e10 writing templates\u003c\/span\u003e\u003cbr\u003e\u003cspan style=\"text-align: center; line-height: 1.5;\"\u003eTier 2 academic vocabulary list\u003c\/span\u003e\u003cbr\u003e\u003cspan style=\"text-align: center; line-height: 1.5;\"\u003eUPDATED Word prediction\u003c\/span\u003e\u003cbr\u003e\u003cspan style=\"text-align: center; line-height: 1.5;\"\u003eUPDATED Fill-in-the-blank—now with color\u003c\/span\u003e\n\u003c\/div\u003e\n\u003cdiv style=\"text-align: center;\"\u003e\u003cspan style=\"text-align: center; line-height: 1.5;\"\u003e\u003c\/span\u003e\u003c\/div\u003e\n\u003cp\u003e \u003c\/p\u003e\n\u003cdiv style=\"text-align: center;\"\u003e\u003c\/div\u003e\n\u003cdiv style=\"text-align: center;\"\u003e\u003cimg alt=\"\" src=\"\/\/cdn.shopify.com\/s\/files\/1\/1192\/0390\/files\/features-cover_grande.jpg?12873460573535019292\" style=\"float: none;\"\u003e\u003c\/div\u003e\n\u003cdiv style=\"text-align: center;\"\u003e\u003c\/div\u003e\n\u003cdiv style=\"text-align: center;\"\u003e\n\u003cbr\u003e\n\u003cul\u003e\n\u003cli style=\"text-align: left;\"\u003e\u003cspan style=\"line-height: 1.5;\"\u003eTemplates to assist writers with pre-writing organization in both text-based and graphical formats\u003c\/span\u003e\u003c\/li\u003e\n\u003cli style=\"text-align: left;\"\u003e\u003cspan style=\"line-height: 1.5;\"\u003eBuilt in Word processor\u003c\/span\u003e\u003c\/li\u003e\n\u003cli style=\"text-align: left;\"\u003e\u003cspan style=\"line-height: 1.5;\"\u003eWord Prediction\u003c\/span\u003e\u003c\/li\u003e\n\u003cli style=\"text-align: left;\"\u003e\u003cspan style=\"line-height: 1.5;\"\u003eWord lists\u003c\/span\u003e\u003c\/li\u003e\n\u003cli style=\"text-align: left;\"\u003e\u003cspan style=\"line-height: 1.5;\"\u003eKey writing habits, check lists\u003c\/span\u003e\u003c\/li\u003e\n\u003cli style=\"text-align: left;\"\u003e\u003cspan style=\"line-height: 1.5;\"\u003eA \"Start Writing" button and a newly reorganized Write menu to streamline the beginning of the writing process\u003c\/span\u003e\u003c\/li\u003e\n\u003cli style=\"text-align: left;\"\u003e\u003cspan style=\"line-height: 1.5;\"\u003eA \"Create" button that converts the outline to a draft\u003c\/span\u003e\u003c\/li\u003e\n\u003c\/ul\u003e\n\u003cdiv\u003e\u003cspan\u003e \u003c\/span\u003e\u003c\/div\u003e\n\u003c\/div\u003e\n\u003cdiv\u003e\u003c\/div\u003e\n\u003cdiv\u003e\u003cspan\u003eWord prediction is better than ever and word lists are an effective way to incorporate new vocabulary into writing.\u003c\/span\u003e\u003c\/div\u003e\n\u003cdiv\u003e\u003cspan\u003e\u003c\/span\u003e\u003c\/div\u003e\n\u003cdiv\u003e\u003c\/div\u003e\n\u003ch5\u003eStudy Skills\u003c\/h5\u003e\n\u003cdiv\u003e\n\u003cdiv style=\"text-align: center;\"\u003e\n\u003cspan style=\"line-height: 1.5;\"\u003eVocabulary study guides; English \u003c\/span\u003e\u003cspan style=\"line-height: 1.5;\"\u003eand bilingual\u003c\/span\u003e\n\u003c\/div\u003e\n\u003cdiv style=\"text-align: left;\"\u003e\n\u003cbr\u003e\n\u003cul\u003e\n\u003cli\u003e\u003cspan style=\"line-height: 1.5;\"\u003eSix colours for highlighting and extraction; quickly create study notes, vocabulary lists and writing outlines\u003c\/span\u003e\u003c\/li\u003e\n\u003cli\u003e\u003cspan style=\"line-height: 1.5;\"\u003eExtract highlights to column-style notes (see below).  A strategy developed at Cornell University proven effective for students who need a clear simple layout to their notes\u003c\/span\u003e\u003c\/li\u003e\n\u003cli\u003e\u003cspan style=\"line-height: 1.5;\"\u003eHyperlink feature that lets you add quick links to web pages and documents\u003c\/span\u003e\u003c\/li\u003e\n\u003cli\u003e\u003cspan style=\"line-height: 1.5;\"\u003eEmbed voice notes \u003c\/span\u003e\u003c\/li\u003e\n\u003cli\u003e\u003cspan style=\"line-height: 1.5;\"\u003eFootnote, Sticky Note, Text Note, Voice Note, Bubble Note, and Bookmark\u003c\/span\u003e\u003c\/li\u003e\n\u003cli\u003e\u003cspan style=\"line-height: 1.5;\"\u003eMP3, DAISY 2 (NEW!), and WAV audio\u003c\/span\u003e\u003c\/li\u003e\n\u003c\/ul\u003e\n\u003c\/div\u003e\n\u003c\/div\u003e\n\u003cdiv\u003e\n\u003cdiv\u003e\u003cspan\u003e \u003c\/span\u003e\u003c\/div\u003e\n\u003cdiv\u003e\u003cspan\u003eTurn highlights into an outline right in K3000 with just a click...  \u003c\/span\u003e\u003c\/div\u003e\n\u003cdiv\u003e\u003cspan\u003e\u003c\/span\u003e\u003c\/div\u003e\n\u003cdiv style=\"text-align: center;\"\u003e\u003cimg alt=\"\" src=\"\/\/cdn.shopify.com\/s\/files\/1\/1192\/0390\/files\/laptop-outline-2016_grande.png?4371952052537685108\" style=\"float: none;\"\u003e\u003c\/div\u003e\n\u003c\/div\u003e\n\u003cdiv\u003e\u003cspan\u003e \u003c\/span\u003e\u003c\/div\u003e\n\u003cdiv\u003e\u003cspan\u003e...or use the automated \"Extract to Vocabulary Study Guide\" to build curricular vocabulary with one click...\u003c\/span\u003e\u003c\/div\u003e\n\u003cdiv\u003e\u003c\/div\u003e\n\u003cdiv\u003e\n\u003cdiv\u003e\u003c\/div\u003e\n\u003cdiv\u003e\u003cspan\u003e \u003c\/span\u003e\u003c\/div\u003e\n\u003c\/div\u003e\n\u003cdiv\u003e\u003c\/div\u003e\n\u003cdiv\u003e\u003cspan\u003e...or use \"Extract to Graphic Organizer\" too!\u003c\/span\u003e\u003c\/div\u003e\n\u003cp\u003e \u003c\/p\u003e\n\u003ch5\u003eComprehension and Test-taking AND Test Preparation Support\u003c\/h5\u003e\n\u003cdiv\u003e\n\u003cdiv\u003e\n\u003cdiv\u003e\n\u003cspan\u003eTest-taking and test making feature i\u003c\/span\u003encluding auto fill-in-the blank, circling answers and locking-out features for high-stakes testing.   \u003c\/div\u003e\n\u003c\/div\u003e\n\u003cdiv\u003e\u003c\/div\u003e\n\u003cdiv\u003e\u003c\/div\u003e\n\u003cdiv style=\"text-align: center;\"\u003e\u003cimg alt=\"\" src=\"\/\/cdn.shopify.com\/s\/files\/1\/1192\/0390\/files\/laptop-test-2016_1_grande.png?5911034099083364509\" style=\"float: none;\"\u003e\u003c\/div\u003e\n\u003cdiv\u003e\u003c\/div\u003e\n\u003cdiv\u003e\u003c\/div\u003e\n\u003c\/div\u003e\n\u003cdiv style=\"text-align: center;\"\u003e\n\u003cspan style=\"line-height: 1.5;\"\u003eTemplates to support active reading, note \u003c\/span\u003e\u003cspan style=\"line-height: 1.5;\"\u003etaking, and chapter summaries\u003c\/span\u003e\u003cbr\u003e\u003cspan style=\"line-height: 1.5;\"\u003eUPDATED! American Heritage® dictionaries—the \u003c\/span\u003e\u003cspan style=\"line-height: 1.5;\"\u003emost up to date\u003c\/span\u003e\u003cbr\u003e\u003cspan style=\"line-height: 1.5;\"\u003e\u003c\/span\u003e\n\u003c\/div\u003e\n\u003cdiv style=\"text-align: center;\"\u003e\u003cspan style=\"line-height: 1.5;\"\u003e\u003c\/span\u003e\u003c\/div\u003e\n\u003cdiv style=\"text-align: left;\"\u003e\n\u003cul\u003e\n\u003cli\u003e\u003cspan style=\"line-height: 1.5;\"\u003eHuman Voice Pronunciations\u003c\/span\u003e\u003c\/li\u003e\n\u003cli\u003e\u003cspan style=\"line-height: 1.5;\"\u003eThe multi language Recognition Option\u003c\/span\u003e\u003c\/li\u003e\n\u003cli\u003e\u003cspan style=\"line-height: 1.5;\"\u003eAdditional Support for Phrases\u003c\/span\u003e\u003c\/li\u003e\n\u003cli\u003e\u003cspan style=\"line-height: 1.5;\"\u003eQuestion and Response Formats\u003c\/span\u003e\u003c\/li\u003e\n\u003cli\u003e\u003cspan style=\"line-height: 1.5;\"\u003eFill-in-the-Blanks for scanned in work sheets\u003c\/span\u003e\u003c\/li\u003e\n\u003cli\u003e\u003cspan style=\"line-height: 1.5;\"\u003eHighest level encryption -- lock out features for high stakes testing\u003c\/span\u003e\u003c\/li\u003e\n\u003cli\u003e\u003cspan style=\"line-height: 1.5;\"\u003eRecord Responses with audio notes\u003c\/span\u003e\u003c\/li\u003e\n\u003c\/ul\u003e\n\u003c\/div\u003e\n\u003cdiv style=\"text-align: center;\"\u003e\u003cspan style=\"line-height: 1.5;\"\u003e\u003c\/span\u003e\u003c\/div\u003e\n\u003cdiv\u003eNow K3000 standalone is dual platform, Mac and Windows on the same media -- you no longer have to specify the operating system when you order. \u003c\/div\u003e\n\u003cdiv\u003e\u003c\/div\u003e\n\u003cdiv\u003e\u003c\/div\u003e\n\u003ch2\u003e\u003c\/h2\u003e\n\u003ch5\u003eVocabulary Building\u003c\/h5\u003e\n\u003cdiv\u003eFor academic success students have to constantly add to their vocabulary.  Whether just beginning long answer writing in the primary grades, English Language Learners at Levels 1 or 2 or curricular specific terminology at all stages, Kurzweil has the tools you need. \u003c\/div\u003e\n\u003cdiv\u003e\n\u003cdiv\u003e\n\u003cdiv\u003e\u003c\/div\u003e\n\u003cdiv\u003e\u003cspan\u003eWidgit's 40,000 word symbol vocabulary is used for curricular vocabulary support and differentiating confusables.\u003c\/span\u003e\u003c\/div\u003e\n\u003cdiv\u003e\u003cspan\u003e \u003c\/span\u003e\u003c\/div\u003e\n\u003c\/div\u003e\n\u003cdiv style=\"text-align: center;\"\u003e\n\u003cimg alt=\"\" src=\"\/\/cdn.shopify.com\/s\/files\/1\/1192\/0390\/files\/widgit_grande.png?13197031887240798241\" style=\"float: none;\"\u003e\u003cbr\u003e\n\u003cdiv\u003e\u003cspan\u003e \u003c\/span\u003e\u003c\/div\u003e\n\u003c\/div\u003e\n\u003cdiv\u003e\u003c\/div\u003e\n\u003cdiv\u003e\u003c\/div\u003e\n\u003c\/div\u003e\n\u003cdiv\u003e\u003c\/div\u003e\n\u003ch5\u003eK3000 on the iPad, and Web\u003c\/h5\u003e\n\u003ch1\u003e\u003cspan\u003e\u003c\/span\u003e\u003c\/h1\u003e\n\u003ch1\u003e\u003cspan\u003eK3000 subscription: Universally accessible web-based literacy solution!\u003c\/span\u003e\u003c\/h1\u003e\n\u003cp\u003e \u003c\/p\u003e\n\u003cdiv style=\"text-align: center;\"\u003e\u003cimg alt=\"\" src=\"\/\/cdn.shopify.com\/s\/files\/1\/1192\/0390\/files\/laptop-web-based-ff_grande.png?4803340221315062793\" style=\"float: none;\"\u003e\u003c\/div\u003e\n\u003ch1\u003e\u003c\/h1\u003e\n\u003cp\u003e\u003cspan\u003eAnytime, anywhere access to digital, text-based content, supplemented by powerful literacy tools that enable individuals with the cognitive ability, but not the literacy skills, to achieve their academic or personal goals.\u003c\/span\u003e\u003c\/p\u003e\n\u003cp\u003e\u003cspan\u003eKurzweil on the web gives you the ability to use many of the great features of Kurzweil 3000 from anywhere you have an internet connection.\u003c\/span\u003e\u003c\/p\u003e\n\u003cdiv\u003e\n\u003ctable align=\"left\" width=\"\"\u003e\n\u003ctbody\u003e\n\u003ctr\u003e\n\u003ctd\u003e\u003cstrong\u003eAnytime, Anywhere access via the Internet \u003c\/strong\u003e\u003c\/td\u003e\n\u003ctd\u003e\u003cstrong\u003eKey Features\u003c\/strong\u003e\u003c\/td\u003e\n\u003c\/tr\u003e\n\u003ctr\u003e\n\u003ctd\u003e\n\u003cul\u003e\n\u003cli\u003e\u003cspan\u003eOperates equally well on Windows® and Macintosh® platforms\u003c\/span\u003e\u003c\/li\u003e\n\u003cli\u003e\u003cspan\u003eModern and engaging user interface\u003c\/span\u003e\u003c\/li\u003e\n\u003cli\u003e\u003cspan\u003eConstantly improving solution eliminates installation, maintenance, and upgrade hassles\u003c\/span\u003e\u003c\/li\u003e\n\u003cli\u003e\u003cspan\u003eAccessible to students with physical limitations\u003c\/span\u003e\u003c\/li\u003e\n\u003cli\u003e\u003cspan\u003eRoaming profiles follow the user so they can read how they like anywhere\u003c\/span\u003e\u003c\/li\u003e\n\u003cli\u003e\u003cspan\u003eSimple easy-to-use navigation so users get started right away\u003c\/span\u003e\u003c\/li\u003e\n\u003c\/ul\u003e\n\u003c\/td\u003e\n\u003ctd\u003e\n\u003cul\u003e\n\u003cli\u003e\u003cspan\u003eRead text by word, line, sentence or paragraph\u003c\/span\u003e\u003c\/li\u003e\n\u003cli\u003e\n\u003cspan lang=\"X-NONE\"\u003eCustomize reading to continuous, word by word or self\u003c\/span\u003e\u003cspan\u003epaced and by reading speed\u003c\/span\u003e\n\u003c\/li\u003e\n\u003cli\u003e\u003cspan\u003eEmphasize key text with different coloured highlighters\u003c\/span\u003e\u003c\/li\u003e\n\u003cli\u003e\u003cspan\u003eIncrease or decrease size of display\u003c\/span\u003e\u003c\/li\u003e\n\u003cli\u003e\u003cspan\u003eLook up definitions\u003c\/span\u003e\u003c\/li\u003e\n\u003cli\u003e\u003cspan\u003eTranslate Text\u003c\/span\u003e\u003c\/li\u003e\n\u003cli\u003e\u003cspan\u003eChoose from 4 different high quality voices\u003c\/span\u003e\u003c\/li\u003e\n\u003cli\u003e\u003cspan\u003eCloud storage for digital files\u003c\/span\u003e\u003c\/li\u003e\n\u003cli\u003e\u003cspan\u003eFlexible user management system\u003c\/span\u003e\u003c\/li\u003e\n\u003c\/ul\u003e\n\u003c\/td\u003e\n\u003c\/tr\u003e\n\u003c\/tbody\u003e\n\u003c\/table\u003e\n\u003c\/div\u003e\n\u003cdiv\u003e\n\u003cspan p=\"\"\u003e\u003cspan p=\"\"\u003e\u003cbr\u003e\u003c\/span\u003e\u003c\/span\u003e\n\u003cdiv\u003e\n\u003cdiv\u003e\n\u003cspan\u003e\u003c\/span\u003e\n\u003cp\u003e\u003cspan\u003e \u003c\/span\u003e\u003c\/p\u003e\n\u003cp style=\"text-align: center;\"\u003e\u003cspan\u003e \u003c\/span\u003e\u003cstrong\u003e Free with a Kurzweil 3000 web subscription!\u003c\/strong\u003e\u003c\/p\u003e\n\u003cp\u003e\u003cspan\u003e \u003c\/span\u003e\u003c\/p\u003e\n\u003c\/div\u003e\n\u003c\/div\u003e\n\u003c\/div\u003e\n\u003ch2 style=\"text-align: center;\"\u003e\u003cspan\u003eK3000 for the iPad\u003c\/span\u003e\u003c\/h2\u003e\n\u003cp\u003e \u003c\/p\u003e\n\u003cp style=\"text-align: center;\"\u003e\u003cimg src=\"\/\/cdn.shopify.com\/s\/files\/1\/1192\/0390\/files\/ipad-reading_large.png?3082797950074191517\" alt=\"\"\u003e\u003c\/p\u003e\n\u003cp style=\"text-align: center;\"\u003e\u003cimg src=\"\/\/cdn.shopify.com\/s\/files\/1\/1192\/0390\/files\/ipad-read_large.png?3082797950074191517\" alt=\"\"\u003e\u003c\/p\u003e\n\u003cp style=\"text-align: center;\"\u003e\u003cimg src=\"\/\/cdn.shopify.com\/s\/files\/1\/1192\/0390\/files\/ipad-lang_large.png?3082797950074191517\" alt=\"\"\u003e\u003c\/p\u003e\n\u003cp style=\"text-align: center;\"\u003e  \u003c\/p\u003e\n\u003cp\u003eF\u003cspan\u003eully designed and built to work on the iPad, the app makes accessing and reading digital files from your Kurzweil 3000 Universal Library simple and easy! Just download the K3000 app from the App Store and use your existing login credentials to access your private and public documents from your Universal Library. The iPad app delivers mobile anytime, anywhere access to your files — from the desk at school to your bedroom at home.\u003c\/span\u003e\u003c\/p\u003e\n\u003cp\u003e\u003cspan\u003eThe K3000 iPad app can be obtained from the App Store by searching the education category using the keywords \"K3000 or Kurzweil 3000.\"\u003c\/span\u003e\u003c\/p\u003e\n\u003cdiv\u003e\n\u003cul\u003e\n\u003cli\u003e\u003cspan\u003eMobile access to instructional materials\u003c\/span\u003e\u003c\/li\u003e\n\u003cli\u003e\u003cspan\u003eFree to Kurzweil 3000 customers, the iPad app is simple to install and use\u003c\/span\u003e\u003c\/li\u003e\n\u003cli\u003e\u003cspan\u003eModern and engaging user interface\u003c\/span\u003e\u003c\/li\u003e\n\u003cli\u003e\u003cspan\u003eAccessible to many students with physical limitation\u003c\/span\u003e\u003c\/li\u003e\n\u003c\/ul\u003e\n\u003c\/div\u003e\n\u003cp\u003e\u003ciframe src=\"\/\/www.youtube.com\/embed\/QC2p6aJesuA\" height=\"315\" width=\"560\" allowfullscreen=\"\" frameborder=\"0\"\u003e\u003c\/iframe\u003e\u003c\/p\u003e\n\u003cp\u003e \u003c\/p\u003e\n\u003ch5\u003eWhy Choose Bridges for Kurzweil 3000?\u003c\/h5\u003e\n\u003cp\u003eBridges, the Canadian Kurzweil 3000 Experts.\u003c\/p\u003e\n\u003cdiv\u003eBridges trains across Canada in English and French. We've presented at home and abroad on K3000 at international conferences. \u003c\/div\u003e\n\u003cdiv\u003e\u003c\/div\u003e\n\u003cdiv\u003eBridges literally wrote the book on Kurzweil training! It was Bridges that Kurzweil contracted to create the training manual they use around the world, Kurzweil 3000 Foundations.\u003cbr\u003e\n\u003cul\u003e\n\u003cli\u003e\u003cspan style=\"line-height: 1.5;\"\u003eBridges can get the most out of your purchase. We've counselled dozens of school districts across the country on how to turn old licenses, single copies, Mac, and old versions into network licenses for a fraction of the cost of buying. We were the first to implement web-based licensing for a school district, not just in Canada but anywhere.\u003c\/span\u003e\u003c\/li\u003e\n\u003cli\u003eBridges stocks a substantial warehouse with inventory to reduce shipping and turnaround time.\u003c\/li\u003e\n\u003cli\u003eBridges tracks and records all serial numbers easing future upgrading, maximizing licensing discounts or replacing lost software. We can issue reports on volumes, serial numbers\/customer shipping locations, etc. at your request.\u003c\/li\u003e\n\u003cli\u003eBridges has expert technical support In-house in English or French.\u003c\/li\u003e\n\u003c\/ul\u003e\n\u003cp\u003e\u003cstrong\u003ePLEASE NOTE: \u003c\/strong\u003eCustomers cannot return software for a refund.  However, we do offer a store credit for the full amount if returned within 21 days. After 21 days a restocking fee may apply.\u003c\/p\u003e\n\u003cdiv\u003e\n\u003cspan\u003e \u003c\/span\u003e\u003cimg alt=\"Kurzweil news article in new user interface\" src=\"https:\/\/cdn.shopify.com\/s\/files\/1\/1192\/0390\/files\/laptop-read-2016_large.png?17830144231122134999\" style=\"float: none;\"\u003e\n\u003c\/div\u003e\n\u003c\/div\u003e\n\u003cdiv\u003e\u003c\/div\u003e\n\u003ch5\u003eSystem Requirements\u003c\/h5\u003e\n\u003cdiv id=\"web\" class=\"tab_content\" style=\"padding: 5px;\"\u003e\n\u003ch1 style=\"margin-left: 0;\"\u003eKurzweil 3000 for Web Browser\u003c\/h1\u003e\n\u003cp\u003eAccess content and common literacy supports any device or computer with internet access and dive deeper with the most comprehensive suite of literacy tools installed directly to Mac and Windows computers.\u003c\/p\u003e\n\u003chr\u003e\n\u003ch1\u003eSYSTEM REQUIREMENTS\u003c\/h1\u003e\n\u003cb\u003eSubscription\u003c\/b\u003e\n\u003cul\u003e\n\u003cli\u003eInternet Connection\u003c\/li\u003e\n\u003cli\u003eInternet Browser (latest version recommended):\u003cbr\u003e Windows: Internet Explorer (minimum version 10.0), Firefox (minimum version 3.0), Chrome\u003cbr\u003e Macintosh: Firefox (minimum version 3.0), Safari (minimum version 3.0), Chrome\u003cbr\u003e Cookies must be enabled\u003c\/li\u003e\n\u003cli\u003eMinimum bandwidth of 512kbps for each active Kurzweil 3000 session\u003c\/li\u003e\n\u003cli\u003eNetwork Connectivity Firewalls, proxy servers, and content filters must all permit access: HTTP (TCP port 80) HTTP and HTTPS\u003c\/li\u003e\n\u003c\/ul\u003e\n\u003c\/div\u003e"}
Kurzweil 3000 English Web License - single user 3 year license
Kurzweil 3000 English Web License - single user 3 year license
K3000 is a literacy support software with powerful reading, writing, test-taking, and study skills tools that makes curriculum accessible to all students.

And with the Web License you get access to the Kurzweil for the Web Browsers for full literacy supports on Chromebooks, Android, tablets and reading on iPads.
New Chrome extensions and apps means it's never been easier to read, research and write on the web. Ideal for Google Apps for Education (GAFE) environments. 
And with Kurzweil web license you can now have offline access for exams, bad internet connections, deadzones, etc.
It is particularly appropriate for students with learning disabilities such as Dyslexia, those who require reading intervention, students struggling with reading comprehension and English Language Learners (ELL). It is an ideal literacy instructional tool for any sized education community that is putting UDL (Universal Design for Learning) or an RTI (Response to Intervention) in action.

Kurzweil 3000 literacy software is a cost-effective solution for providing support in the classroom, at home and with the web license -- anywhere, on virtually any platform.
Special pricing available for unlimited school or district wide web licensing.
Advantages of Web License
With a K3000 Unlimited Web License for your school district everyone - staff, students -- get access to K3000 files through the tool of their choice:  Windows or Mac, school or home computer, through any web browser and the iPad app.
K3000 Unlimited Web License -- Imagine the Possibilities:
No individual license management

Comes with a cloud-based Universal Library so students and teachers can get access to books anywhere

Teach with K3000 to all your students -- ELL's, adult education learners, RTI programs -- it's UDL implemented

Genuine universal access for all via web browser: library, friend's house, internet cafes

Roaming profiles follow the user so they can read how they like wherever they can access the net -- even on their smartphone 

Ideal for Bring Your Own Device (BYOD) initiatives -- Mac, Windows, iPhone, Android phones tablets and iPads
Advantages of Web Licensing
For all
Chrome App 

Chrome Read-the-Web extension 

(available on Chromebooks only)

Web app means K3000 reading and writing supports on any PC: get docs directly from Google Drive, Upload PDF from the desktop or thumb drives or use Universal library. From school, home, public library, friend or family PC etc.

Free iPad App

Global availability makes it easy for individuals to maintain their customized preferences

Accessible tools wherever, whenever needed

Web Universal Library ("cloud" storage) allows sharing of differentiated curriculum, wherever, whenever needed
Teachers, Specialists, Curriculum Directors & Superintendents
Home access for teachers and/or students for homework and assignment building

Assigning and receiving student work so that IEP benchmarks can be easily targeted

Track usage at any level: student, teacher, class, school, and district/campus

Addresses all tiers of Response to Intervention (RtI) anywhere, anytime

Automated scoring of true/false, multiple choice, and matching questions
Building and District IT Administrators
Easy universal cross-platform access at home: Mac, Win or browser

License management occurs via URL-based login, leaving day-to-day administration to others

"Cloud-based" Web Universal Library means no server space required for file storage

Management system delivers access to license management and usage data
The iPad app is exclusive and free to all Kurzweil 3000 Web License customers. Easy, effective mobile access with the popular, portable device.
K3000 for Chromebook, web access via Kurzweil for Web Browsers
With a web license, Kurzweil for Web Browsers gives you access to Kurzweil books and PDFs through the web browser on any computer: Windows, Mac and Chromebook. There's even a direct shortcut to your Google Drive if you've gone GAFE (Google Apps for Education).
All these features work on Chromebook and through the new Chromebook App. 
 Web-based Reading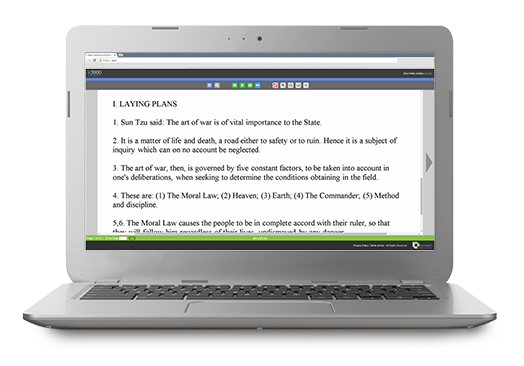 Click to open
files from Google Docs, Bookshare, Reading A-Z
Read text in
Word, PDF, RTF, JPG
Read the Web
Chrome extension with customizable options
Customize reading options;
speed, mode and units
Zoom
in for low vision
31 Natural
Text-to-Speech
voices
text-to-speech
in 18 languages and dialects
Web-based Comprehension
Highlight in yellow, blue, green and pink
Extract notes and highlighters into a Study Guide
Access Definitions instantly with American Heritage Fifth Edition, Children's, College writers dictionaries
Translate full sentences and passages
Read embedded Text Notes and Sticky Notes (or hide them)
Web-based Writing and Assignments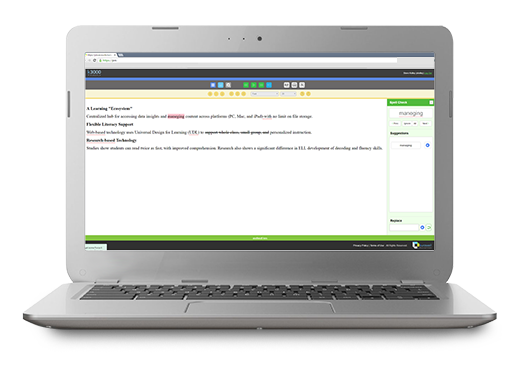 Write or edit documents online with the Web Editor
Customize text-to-speech reading options
Correct misspellings with Taking spell-checker
Word prediction recommends words based on frequency
Cross-out text in assignments and tests online
Web-based Management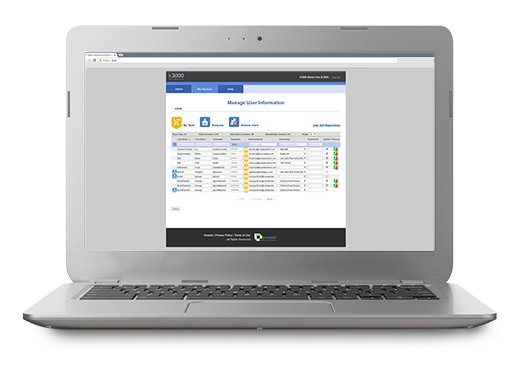 Centralized and flexible user management
Usage reporting school or district-wide
Online Library—no file storage limit
Offline Mode 
Kurzweil's new offline mode offers users with a Web Access subscription the opportunity to access k3000 when internet connections are spotty or simply not available. Students who are traveling, or on break for the holidays, can get the supports they need while they're away. 
Offline mode also has great applications for providing test-taking accommodations on disconnected computers.
How Does Offline Mode Work? 
Log in to k3000 when the computer is connected to the internet. The k3000 credentials are saved in a secure location on the computer. When internet connectivity is either low or gone, users will be prompted to work in Offline Mode. Any work saved to the computer can then be uploaded to the k3000 online library when the internet connection is restored. Note that web-based features, such as online reference and translation will be grayed out until the computer is re-connected to the internet.
New Desktop User Interface 
Now Available for free to all Web License Users! 
The new user interface for the Windows/Mac desktop, is simpler and more intuitive to use for new users, but keeps all the rich functionality that experienced Kurzweil users have grown to expect.  The update includes a new start screen, but the navigation at the top still acts the same.
Web license customers receive this upgrade and all upgrades to their k3000 at no cost.
Just run the update on your k3000 and you'll get the new version.  
To run an update, just open k3000 from your desktop, select "Options" in the main navigation and click on "Updates." 
If you are able to run the update and decide that you prefer to navigate the old way you can switch back.   See Technical Support below for details
Reading Supports
Encouraging active reading -- an educator can embed bubble note questions right in the text! Use for comprehension, making connections, vocabulary development... the teaching possibilities are endless. And this is just one kind of note. K3000 has footnotes, text notes, stickies and even voice notes, too.
NEW! 
Image Reader 
reads locked text, such as 
images, PDFs and even text in a Flash player!
Natural, high-quality acapella text-to-speech voices
Text-to-speech in 18 languages and dialects including French
EPUB now supported, updates to PDF and additional new file supports
Microsoft Speech support—11 new voices 
Open Dyslexic font
FineReader® OCR—the highest quality available
Multiple note formats for pre, during and post-reading questions

Open multiple formats ideal for high speed scanners: pdf, tiff, jpg, docx, etc.

Optical Character Recognition that works -- recognize scanned text books and work sheets, even with multiple fonts, graphics and highlighted text

Easy, multi-level editing of OCR'd text and pronunciation of words

Automated high speed OCR'ing tool

Highlight key text and extract for note-taking, learning key vocabulary etc.

2 English Dictionary, French, Spanish, German and other duo-language dictionaries, picture dictionary, syllabification and thesaurus 

Highest quality voice synthesizers

Read the Web with Internet Explorer® 7 and 8

Built-in MathPlayer from Design Science, Inc. to read MathML content

Language translations "on the fly" with Google Translate™

PDF Bookmarks preservation

Use sticky notes for instructions, call outs or pre-reading questions.

Dictionary and thesaurus support is always just a click away.
Writing Supports
10 writing templates
Tier 2 academic vocabulary list
UPDATED Word prediction
UPDATED Fill-in-the-blank—now with color
Templates to assist writers with pre-writing organization in both text-based and graphical formats

Built in Word processor

Word Prediction

Word lists

Key writing habits, check lists

A "Start Writing" button and a newly reorganized Write menu to streamline the beginning of the writing process

A "Create" button that converts the outline to a draft
Word prediction is better than ever and word lists are an effective way to incorporate new vocabulary into writing.
Study Skills
Vocabulary study guides; English 
and bilingual
Six colours for highlighting and extraction; quickly create study notes, vocabulary lists and writing outlines

Extract highlights to column-style notes (see below).  A strategy developed at Cornell University proven effective for students who need a clear simple layout to their notes

Hyperlink feature that lets you add quick links to web pages and documents

Embed voice notes 

Footnote, Sticky Note, Text Note, Voice Note, Bubble Note, and Bookmark

MP3, DAISY 2 (NEW!), and WAV audio
Turn highlights into an outline right in K3000 with just a click...  
...or use the automated "Extract to Vocabulary Study Guide" to build curricular vocabulary with one click...
...or use "Extract to Graphic Organizer" too!
Comprehension and Test-taking AND Test Preparation Support
Test-taking and test making feature i
ncluding auto fill-in-the blank, circling answers and locking-out features for high-stakes testing.   
Templates to support active reading, note 
taking, and chapter summaries
UPDATED! American Heritage® dictionaries—the 
most up to date
Human Voice Pronunciations

The multi language Recognition Option

Additional Support for Phrases

Question and Response Formats

Fill-in-the-Blanks for scanned in work sheets

Highest level encryption -- lock out features for high stakes testing

Record Responses with audio notes
Now K3000 standalone is dual platform, Mac and Windows on the same media -- you no longer have to specify the operating system when you order. 
Vocabulary Building
For academic success students have to constantly add to their vocabulary.  Whether just beginning long answer writing in the primary grades, English Language Learners at Levels 1 or 2 or curricular specific terminology at all stages, Kurzweil has the tools you need. 
Widgit's 40,000 word symbol vocabulary is used for curricular vocabulary support and differentiating confusables.
K3000 on the iPad, and Web
K3000 subscription: Universally accessible web-based literacy solution!
Anytime, anywhere access to digital, text-based content, supplemented by powerful literacy tools that enable individuals with the cognitive ability, but not the literacy skills, to achieve their academic or personal goals.
Kurzweil on the web gives you the ability to use many of the great features of Kurzweil 3000 from anywhere you have an internet connection.
Anytime, Anywhere access via the Internet
Key Features

Operates equally well on Windows® and Macintosh® platforms

Modern and engaging user interface

Constantly improving solution eliminates installation, maintenance, and upgrade hassles

Accessible to students with physical limitations

Roaming profiles follow the user so they can read how they like anywhere

Simple easy-to-use navigation so users get started right away

Read text by word, line, sentence or paragraph

Customize reading to continuous, word by word or self

paced and by reading speed

Emphasize key text with different coloured highlighters

Increase or decrease size of display

Look up definitions

Translate Text

Choose from 4 different high quality voices

Cloud storage for digital files

Flexible user management system
  Free with a Kurzweil 3000 web subscription!
K3000 for the iPad
Fully designed and built to work on the iPad, the app makes accessing and reading digital files from your Kurzweil 3000 Universal Library simple and easy! Just download the K3000 app from the App Store and use your existing login credentials to access your private and public documents from your Universal Library. The iPad app delivers mobile anytime, anywhere access to your files — from the desk at school to your bedroom at home.
The K3000 iPad app can be obtained from the App Store by searching the education category using the keywords "K3000 or Kurzweil 3000."
Mobile access to instructional materials

Free to Kurzweil 3000 customers, the iPad app is simple to install and use

Modern and engaging user interface

Accessible to many students with physical limitation
Why Choose Bridges for Kurzweil 3000?
Bridges, the Canadian Kurzweil 3000 Experts.
Bridges trains across Canada in English and French. We've presented at home and abroad on K3000 at international conferences. 
Bridges literally wrote the book on Kurzweil training! It was Bridges that Kurzweil contracted to create the training manual they use around the world, Kurzweil 3000 Foundations.
Bridges can get the most out of your purchase. We've counselled dozens of school districts across the country on how to turn old licenses, single copies, Mac, and old versions into network licenses for a fraction of the cost of buying. We were the first to implement web-based licensing for a school district, not just in Canada but anywhere.

Bridges stocks a substantial warehouse with inventory to reduce shipping and turnaround time.
Bridges tracks and records all serial numbers easing future upgrading, maximizing licensing discounts or replacing lost software. We can issue reports on volumes, serial numbers/customer shipping locations, etc. at your request.
Bridges has expert technical support In-house in English or French.
PLEASE NOTE: Customers cannot return software for a refund.  However, we do offer a store credit for the full amount if returned within 21 days. After 21 days a restocking fee may apply.
System Requirements
Kurzweil 3000 for Web Browser
Access content and common literacy supports any device or computer with internet access and dive deeper with the most comprehensive suite of literacy tools installed directly to Mac and Windows computers.
---
SYSTEM REQUIREMENTS
Subscription
Internet Connection
Internet Browser (latest version recommended):
Windows: Internet Explorer (minimum version 10.0), Firefox (minimum version 3.0), Chrome
Macintosh: Firefox (minimum version 3.0), Safari (minimum version 3.0), Chrome
Cookies must be enabled
Minimum bandwidth of 512kbps for each active Kurzweil 3000 session
Network Connectivity Firewalls, proxy servers, and content filters must all permit access: HTTP (TCP port 80) HTTP and HTTPS
Bridges accepts institutional P.O's (purchase orders).
Call us for a quote or just fax or email a P.O. on your letter head.
How secure is my online order?
Any information submitted through the web store is safe and secure. Bridges uses state-of-the-art security encryption methods to ensure the highest standards of security for its online customers.
What payment methods are accepted?
We accept Visa and MasterCard for online orders.
What if I do not have a credit card?
If you do not have a credit card, please call us at 1-800-353-1107 (8:30am - 4:30pm EST) to discuss alternative payment methods.
How do I know if you have received my order?
When your order has been completed, you will receive a confirmation e-mail that will be sent to the e-mail address that you entered in the "Registration" page before checkout.
Shipping 
PLEASE NOTE that the COVID-19 crisis is impacting delivery times. Couriers are experiencing reduced capacity due to new hygiene procedures, increased volumes and/or emergency conditions. Your patience and understanding is greatly appreciated.
Is your school or office limited as to when it can receive goods? When you place your order, in the comments area, please let us know if you cannot receive your order during regular business hours to avoid additional shipping charges. We will make every attempt to accommodate you, but we cannot guarantee that this will be possible.
What shipping options are available?
Most of our items are shipped by Canpar, which takes 3-5 business days to reach the customer. Where service is not available, or due to the special requirements of the product, we will also use UPS, Puralator or Canada Post. Please allow 10-15 days for order processing.
Ordering multiple, heavy-weighted items? 
If our store can't calculate your shipping costs during checkout, your order may fall outside weight, size, or destination restrictions, for online ordering.
Sorry about that. 
Just contact us by email or phone and we'll figure out another way to get your order to you. 
How much does shipping cost?
Shipping is calculated individually depending on the weight and size of the item. This will be calculated automatically upon checkout and will be included in the total price when you go to the checkout.
How long does it take for me to receive my order?
Order processing time depends on availability of the product from the manufacturer, but typically products are shipped within 10-15 business days after the order is placed. See shipping options for the number of days it will take to reach you after it leaves our warehouse.
Do you ship internationally?
No, we currently sell our products and services only in Canada.
How can I track my order?
When the order is shipped out, you will receive an e-mail with a tracking number. If you do not receive this e-mail, please call 1-800-353-1107 (8:30am - 4:30pm EST) to receive your tracking number.
Returns
Do you offer a money back guarantee?
We offer a 21-day money-back guarantee unless otherwise noted. Products must be returned in a resalable condition as determined by Bridges. Returns are subject to a 20 percent restocking fee after 21-days. Many of our manufacturers offer additional limited warranties of longer durations on their products. Returns will no longer be accepted after a period of 90 days. Please call us at 1-800-353-1107 (8:30am - 4:30pm EST) or send an e-mail to info@bridges-canada.com for more information about manufacturer's warranties or returning your product.
Please note, customers cannot return software for a refund.  However, we do offer a store credit for the full amount if returned within 21 days. After 21 days a restocking fee may apply.
How do I return a product?
To return a product you need to get a Return Authorization (R.A.) number from us. Please call us at 1-800-353-1107 (8:30am - 4:30pm EST), e-mail us at info@bridges-canada.com or fax us at 905-542-7242 to get an R.A. number and further instructions. Please note, Bridges will not accept returns without an R.A. number. The customer is responsible for shipping costs of returned products.